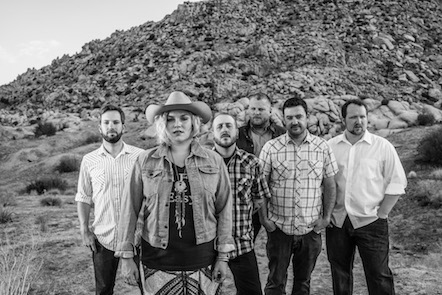 CLICK HERE TO WATCH THE WHISKEY GENTRY'S NEW VIDEO "IF YOU WERE AN ASTRONAUT" VIA PURE VOLUME!
PREMIERE: The Whiskey Gentry — "If You Were An Astronaut"
Atlanta-based Americana ensemble the Whiskey Gentry released their third album, Dead Ringer, earlier this year. The group is sharing a new endearing video for "If You Were An Astronaut." Here, the video was shot in a day and singer/songwriter Lauren Staley drew all of the characters and boards for it. If that's not impressive enough, Staley's husband/bandmate Jason Morrow, along with their pal worked on the animation.
"This song is really special to Jason and I for a bunch of reasons," Staley explains. "Jason created the chords and melody, and I wrote the lyrics. We finished the song in the hotel room in Joshua Tree that Gram Parsons died in. I'd had a hard time thinking of an appropriate final verse to the song, but it came to me in that room. We felt like we were given a little gift from Gram.
We recorded the song live, just Jason and I in the big church room at Echo Mountain. No editing was done to the song after the fact – you can hear the room and the chair creaking and us breathing. It's totally that moment captured in time. Lastly, I drew all of the characters and the boards for the video with school supplies Jason bought at The School Box. We filmed it in one day at our friend Mike's house, and we all did the animation ourselves. Best $150 we've ever spent!"
The Whiskey Gentry's Dead Ringer is out now. Check out their tour dates below:
May 31 – The Broadberry – Richmond, VA
Jun 1 – Hill Country – Washington DC
Jun 2 – Hill Country – New York City, NY
Jun 3 – The Shaskeen – Manchester, NH
Jun 4 – Atwoods Tavern – Cambridge, MA
June 6 – Boot & Saddle – Philadelphia, PA
Jun 7 – Sellersville Theatre – Sellversville, PA
Jun 8 – Howlers – Pittsburgh, PA
Jun 9 – MusicBox Supper Club – Cleveland, OH Jun 10 – RibFest – Chicago, IL
Jul 8 – Court Square Summer Concert Series – Dallas, NC
Jul 16 – Sunset Sessions at Park Tavern, Atlanta, GA
Jul 21 – Sky City – Augusta, GA
Jul 22 – The Pour House – Charleston, SC
http://www.purevolume.com/news/PREMIERE-The-Whiskey-Gentry-If-You-Were-An-Astronaut