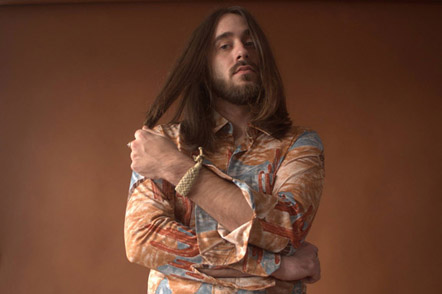 CLICK HERE TO WATCH M ROSS PERKINS' NEW "EVER EVER EVER" VIDEO VIA PURE VOLUME!
PREMIERE: M. Ross Perkins — "Ever Ever Ever"
M. Ross Perkins may hail from Dayton, but his sound is distinctly influenced and sounds like it could have been crafted in Southern California in the '60s. Growing up on the same street as The Snake Pit, the basement studio of Robert Pollard (Guided By Voices). His early material was discovered in 2007 by the band MGMT, who offered him a touring support slot when they were on the rise, but Perkins declined the shows due to anxiety. Perkins channels his groovy sound on his new video for "Ever Ever Ever," which is a hazy clip that takes place in several rooms, and is shot in a specific, lo-fi fashion.
"I wanted to begin the video with a shot of the building's exterior, so that when the door opened, I would be revealed within a rectangular frame," the singer/songwriter explains. "I stole the idea from Hitchcock, who used this type of frame-within-frame composition to represent the finite box of the film screen. I'm interested in how this technique creates an often unsettling sense of displacement for the audience by forcing us to perceive ourselves as tertiary spectators, rather than fully immersed participators in the film's universe. We also included a few shots of me playing guitar as a subtle way of symbolizing that I both own and play a guitar."
M Ross Perkins' self-titled debut album will be released on October 14 via SofaBurn Records. Pre-order the vinyl and CD.
http://www.purevolume.com/news/PREMIERE-M-Ross-Perkins-Ever-Ever-Ever