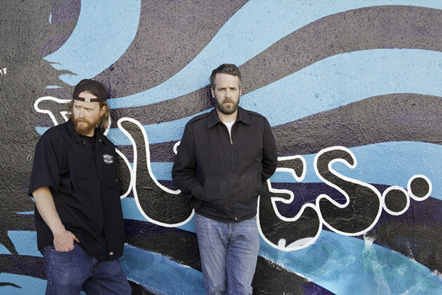 [photo: Robert Matheu]
CLICK HERE TO LISTEN TO KING MUD'S NEW SONG "BACK IT UP" VIA PURE VOLUME!
Fans may not be familiar with King Mud yet, but it's the project of rockers Van Campbell of Black Diamond Heavies and Freddy J IV of Left Lane Cruiser. The duo are joined by Parker Griggs of Radio Moscow to round out the lineup for their upcoming album Victory Motel Sessions, which was created in a rapidfire session in Los Angeles. The band's crunchy chords and sound that's deep rooted in blues rock can be heard on the song we're premiering today in the form of "Back It Up." Channeling vintage Mississippi blues, the song may sound simple, but if you listen deep, you can hear a couple of musicians kicking back and having a great time.
"'Back it Up' is a love song about my wife," Freddy J IV says of the song. "I got the finest lady on the planet. Love to watch her strut. That sweet ass solves all my problems. I wrote the lyrics based around the saying 'hate to see ya go, but I love to watch ya leave."
King Mud's Victory Motel Sessions will be out on February 5, 2016 via Alive Naturalsound Records.