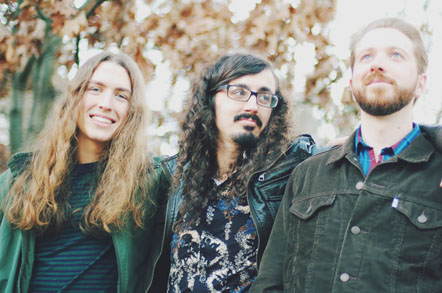 CLICK HERE TO LISTEN TO THE PREMIERE OF DIRTY STREETS NEW SINGLE "WHITE HORSE" VIA PURE VOLUME!
Memphis-based power-trio Dirty Streets are gearing up for the release of their fourth studio album, White Horse (their second for Alive Naturalsound Records) on Black Friday.
Following the release of their well-received 2013 album, Blades of Grass, the band began writing and recording material for this new record. As frontman Justin Toland explained, "We wrote and re-wrote tons of songs and it really ended up hitting a great point as far as expression. We recorded at the renown Ardent Studios in Memphis with our friend Matt Qualls this time, who is a great engineer and really helped in forming the sound of the record. It became a very pure time creatively for us and I feel we locked into something we hadn't previously. Over all, it worked out in a way that we could take more time to find our sound than we previously had."
And judging from these 11 red-raw tracks informed by the band's love of deep soul, funk, blues and heavy boogie & psych-rock it was time well spent.
"This album is definitely more fluid and natural," Toland continued. "We made a big deal out of just feeling out the songs rather than getting them technically perfect. Percussion was definitely a compass as far as groove on this one. If we couldn't play the tambourine, or shaker with feeling then it wasn't cutting it. It was actually Budos Band that was a huge influence as far as groove goes for the writing of this record."
Following various tours throughout the U.S., including a successful run opening for label mates Radio Moscow, Dirty Streets will be bringing their pile-driving live show to a city near you soon (initial tour dates listed below).
Dirty Streets' White Horse will be available on Limited Vinyl, CD & digital formats on Nov. 27th via Alive Naturalsound Records. The stunning psychedelic cover art was created by Joshua Marc Levy of Asheville Art Family.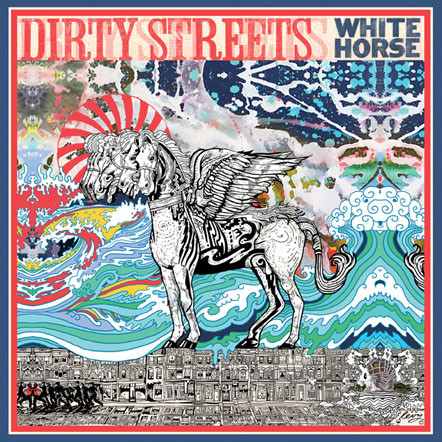 WHITE HORSE TRACK LISTING:
01 Save Me
02 Looking For My Peace
03 Accents
04 Think Twice
05 When I See My Light
06 Good Kind Of Woman
07 The Voices
08 Good Pills
09 Plain
10 Dust
11 White Horse
DIRTY STREETS TOUR DATES:
10/18 Philadelphia PA @ Black Box
10/19 Brooklyn NY @ Nihil Gallery
10/20 Allston MA @ Brighton Music Hall
10/21 Pittsburgh PA @ Brillobox
10/22 Huntington WV @ V Club
10/23 Indianapolis IN @ 5th Quarter Lounge
10/24 Chicago IL @ Red Line Tap
10/25 Kansas City MO @ Riot Room
10/26 Tulsa OK @ Downtown Lounge
10/27 Austin TX @ Lost Well
10/29 Dallas TX @ Three Links
12/5 Shreveport. LA @ Creative Arts Festival
(additional dates to be announced soon)
FOR MORE INFO ON DIRTY STREETS:
http://www.dirtystreetsmusic.com
http://www.alive-records.com/artist/the-dirty-streets
FOR MORE INFO ON ALIVE RECORDS:
http://www.alive-records.com