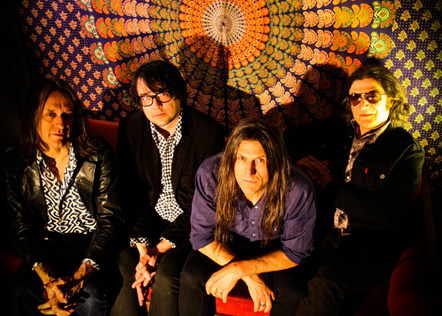 CLICK HERE TO LISTEN TO DATURA4'S NEW SING "TROLLS" VIA PURE VOLUME!
PREMIERE: Datura4 — "Trolls"
Australia has a pretty killer rock scene, and we're not just talking about AC/DC, Tame Impala and Wolfmother. Western Australia's Datura4 are unveiling their second album later this week, and we've got their vintage '70s psych rocker "Trolls" to premiere today. The song is pretty killer, and would have been at home on the Dazed and Confused soundtrack. So, what we're saying is you better jam on this crank the volume to 11.
"Living in the age of the internet troll," Dom Marinai says of the song and video. "Trolls who hide behind computer screens. Trolls who deflect their own emotions creating havoc, being disruptive, often for no real reason at all. It was one of the first songs I brought along for the album. I'd only ever written one other tune in a three-four time signature – it really suited the idea for a song titled 'Trolls' and it was one of the easiest songs to record. We really got into a groove with it and captured something menacing and special if those two things can co-exist."
Datura4's Hairy Mountain will be available on limited hand-mixed starburst vinyl, CD and digital formats October 28th via Alive Naturalsound Records. Buy it here.
http://www.purevolume.com/news/PREMIERE-Datura4-Trolls