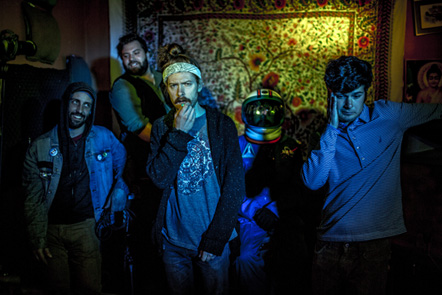 CLICK HERE TO LISTEN TO THE PREMIERE OF AIRCRAFT'S NEW SINGLE "DIG" FROM THEIR NEW EP "7 GEMS FROM THE SPARKLING VOID" VIA PURE VOLUME!
PURE VOLUME: PREMIERE: Aircraft — "Dig A Little Deeper"
Aircraft made a splash in the New York scene after releasing their debut full-length, Sonic Boom, in 2013. Now, two years later, the psych-pop outfit are gearing up to release its follow-up, 7 Gems from the Sparkling Void. The (you guessed it) seven-song collection showcases the four-piece's knack for introspective lyrics and spacy, art-rock instrumentation and today we're excited to give you a sneak peek by premiering "Dig a Little Deeper" off the EP. Stream the surf-tinged track above.
"'Dig' is a concise meditation on the endless layers of 'self,'" vocalist Justin John Smith explains, "and the importance of exploring them so that we may one day understand the complete nature of our inner and outer worlds."
7 Gems from the Sparkling Void is slated for an August 28 release via Admirable Traits Records. Aircraft will be playing a handful of East Coast shows over the summer. Check out a full list of dates below.
AIRCRAFT TOUR DATES
Aug 18 Bidwell Park – Buffalo, NY
Aug 23 107.7 Localized Show – Buffalo, NY
Aug 29 Sugar City – Buffalo, NY
Sep 04 Mahall's – Cleveland, OH
Sep 11 Night Lights Music Festival – Sherman, NY
Sep 18 House Party – Albany, NY
Sep 19 Arlene's Grocery – New York, NY
Sep 25 Bug Jar – Rochester, NY
Sep 26 Snug Harbor – New Paltz, NY
Oct 16 Mohawk Place – Buffalo, NY
http://www.purevolume.com/news/PREMIERE-Aircraft–Dig-A-Little-Deeper