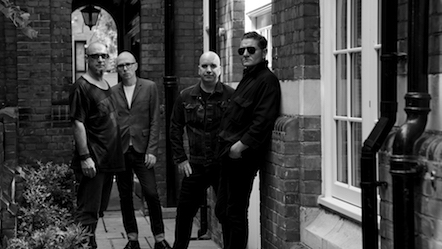 Click here to listen to Nitzer Ebb's rare 12" mix of "Let Your Body Learn" via Punk News.
Listen to a massive 12-inch mix of Nitzer Ebb's "Let Your Body Learn"
Today, Punknews is thrilled to debut a track by Nitzer Ebb!
The English group have been cranking out slab after slab of propulsive, smashing industrial-punk for 36 years, deftly merging the thumping beat of dance music with the harder edge and venomous political bite of the harder genres. The result has been a massive discography including many, many far out extended 12-inch mixes that expand their crushing tunes to their outermost potential.
This Friday, the band is going to release a box set that includes every single one of their albums and FIVE, that's right, five, LPs of 12-inch mixes, rarities, and alt-versions! Whoa.
You can pre-order that right here. Meanwhile, check out the rare 12-inch mix of "Let Your Body Learn" below, wherein the band takes a four-four disco beat and melts a stomping drum and post-apocalyptic grit over the top.
https://www.punknews.org/article/68125/listen-to-a-massive-12-inch-mix-of-nitzer-ebbs-let-your-body-learn