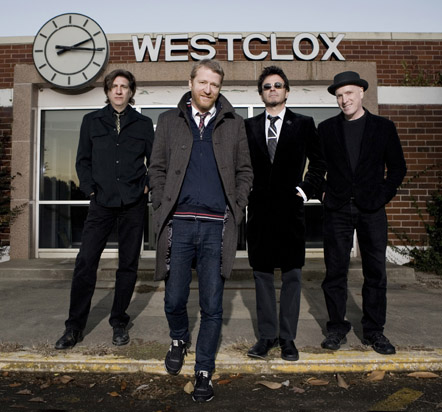 ATHENS EXAMINER (Athens online A&E site) – CampIn preview
Camp In with Cracker, Camper Van Beethoven
John Patrick Gatta
Normally, music festivals are outdoor events. Dealing with the elements becomes as much a part of the adventure as the bands you see and the people you meet. Alternative rock veterans Cracker and Camper Van Beethoven (CVB) have been there, done that.
Aiming for something different, the two bands that are interconnected thanks to leader David Lowry will host their inaugural Camp-In March 1 through 3 at the infamous 40 Watt Club in Athens, Georgia.
The opening night features Lowery and Johnny Hickman as the Cracker Duo headlining with support by Jonny Corndawg and Ponderosa.
Camper Van Beethoven performs on Friday with Matt Hudgins & His Sh*t Hot Country Band and T. Hardy Morris and the Outfit, which features Dead Confederate member Morris.
CVB mixed pop, punk, ska, folk, country and world music. All of its releases are worth checking out but its greatest contribution to the alternative world was the ultra-catchy "Take the Skinheads Bowling."
Advertisement
Then, on Saturday Cracker celebrates the 20th anniversary of the group's self-titled debut with a special performance of that album, which included the hit "Teen Angst." Shonna Tucker from Drive-By Truckers and Clint Maul are the support acts this evening. Earlier that day Lowry will take part in a meet-and-greet at Ted's Most Best.
Individual dates, three-day passes and hotel packages are available. For more information on the Cracker/Camper Van Beethoven Camp-In, visit http://www.crackersoul.com/fr_campinathensga.cfm.
In other CVB news, co-founder and multi-instrumentalist Jonathan Segel will play a free show on Saturday at the Flicker Theatre & Bar in Athens (http://www.flickertheatreandbar.com/). He has a new album, "All Attractions," coming out on March 6. It includes a seven-song improvised jam EP, "Apricot Jam." On the record he's joined by fellow CVB bandmate Victor Krummenacher, Chris Xefos (King Missle), David Immergluck (ex-CVB, Counting Crows) and Brett Netson (Built To Spill).
http://www.examiner.com/music-festival-in-national/camp-with-cracker-camper-van-beethoven
ONLINE ATHENS (Athens A&E site) –Camp-In  feature.
Camp in with Lowery and friends
By Chris Starrs
n 2005, David Lowery, the founder and leader of alternative rock titans Camper Van Beethoven and Cracker, got together with his musical associates to host a three-day musical "camp-out" in the desert enclave of Pioneertown, Calif., some two hours east of Los Angeles.
The original festival was established to commemorate the birthdays of Lowery and Cracker co-founder Johnny Hickman, and has since grown in both breadth and stature, as artists like Built to Spill, Neko Case and John Doe have all joined both of Lowery's bands on the bill at one time or another.
"We recorded our album 'Kerosene Hat' in Pioneertown, and it became Cracker's spiritual home in Southern California," said Lowery, who founded Camper Van Beethoven in 1983 and Cracker in 1990. "We came up with the idea of a festival because there was no place for us to play in Los Angeles, which has always been totally weird. We said, 'Let's celebrate our birthdays and invite the fans,' and the Camp-Out became a friends, family and fan festival."
The Cracker/Camper Van Beethoven Camp-Out West will celebrate its eighth anniversary this fall. Two years ago, Lowery established a similar event, the Camp-Out East, which is held in Crozet, Va., not far from the University of Virginia campus.
Now that Lowery — who in 2010 married Velena Vego, who manages both bands and is the talent booker for the 40 Watt — calls Athens home, he and Vego have created the Cracker Camper Van Beethoven Camp-In, which begins Thursday and continues through Saturday at the 40 Watt.
"Athens has always been an important place to play — it's always been like a hometown," said Lowery, who also serves as an instructor in the University of Georgia's music business program. "Since 1986, Athens has embraced my music."
Although there's an obvious difference from the Camp-Outs, this weekend's soiree will be much like the events in Pioneertown and Crozet, with headlining sets from Camper Van Beethoven and Cracker and performances by friends of the band.
Thursday's kickoff show will feature the Cracker Duo of Lowery and Hickman, Jonny Corndawg and Ponderosa. On Friday, Camper Van Beethoven will headline with Matt Hudgins and His [filtered word]-Hot Country Band and Dead Confederate's T. Hardy Morris and the Outfit, and Saturday night will showcase Cracker and Clint Maul and the return of Shonna Tucker, formerly of Drive-By Truckers (More on Tucker on Page B2).
Vego is particularly enthused about the meet-and-greet set for 3:30 p.m. Saturday at Ted's Most Best across the street from the 40 Watt. At 5 p.m., the action then moves across Washington Street to Flicker Theatre & Bar, which will host short sets from Lowery, his Camper Van Beethoven bandmate Jonathan Segel, and Chris Compton and the Ruby Brunettes.
"It really is a fan festival," said Vego. "The Camp-Outs have become great social events, with people coming from all over the country and Europe to get together, hang out and hear their favorite bands. I wanted to do this to bring attention to our hometown. There will be a lot of out-of-towners here to see the bands and to see Athens, because we talk about Athens all the time."
Now in the middle of mixing the first Camper Van Beethoven album since 2004's "New Roman Times," Lowery said he's enjoying his second full semester as an instructor at Georgia. He said he teaches two classes — about 120 students — in "the Freakonomics of the music industry."
"It's nice," he said, adding he'll be teaching three classes next year. "I had this idea that I would be able to teach and write books, but you've got to prep about 10 hours before every lecture. It takes a lot of research. But I'm working with a bunch of students who are awesome. There's some good critical thinking going on."
When asked which musical incarnation he most looks forward being part of this weekend, Lowery said, "Playing with the Cracker Duo. I've been into this quieter thing lately, although I still like loud rock. The duo is not an acoustic set. It's primitive, stripped-down versions of our songs. That's the most interesting thing to me. It's the most challenging, and I love that challenge."
"Every night is something different," added Vego. "I'm most excited for David's students to see him rock. I think they'll be surprised to see Professor Lowery perform onstage."
http://onlineathens.com/marquee/2012-02-29
FLAGPOLE (Athens weekly) –Camp-In  feature.
Cracker/Camper Van Beethoven
Inaugural Camp-In
Three-day festival explores songwriting of "egalitarian misanthrope" David Lowery.
By Kevin Craig
A brief history: Camper Van Beethoven formed in 1983, garnering some commercial success along the way. The band split in 1990, and soon thereafter vocalist/guitarist/songwriter David Lowery formed the band Cracker. Camper reunited in '99, and since then, Lowery's two bands have sporadically played bills together.
According to Lowery, the upcoming three-day Camp-In is something of a "family reunion" for the bands and the fans. He also hopes the series of shows will serve as an in-depth exploration of the artists' careers.
"We call our thing a 'fanfest,'" says Lowery, "because we dive down into the Cracker and Camper oeuvre. We first show people how these bands are related—why Camper sounds like this and Cracker sounds like that—and sort of break it apart into its components and then put it all back together. I think every band has to be understood in its own environment."
While Lowery insists that his songs don't necessarily have "something to say," he does point to a common lyrical theme shared by both bands.
"A lot of [the songwriting] revolves around this notion that most people are full of shit," he says, "and that the conventional wisdom is wrong. This is sort of an egalitarian version of that…  I try to be sort of an egalitarian misanthrope."
Many younger folks were likely introduced to Camper Van Beethoven through the documentary Bowling for Columbine, which featured the CVB song "Take the Skinheads Bowling." The track comes across as humorously nonsensical. However, the song essentially makes a statement by saying nothing, satirizing the overly serious artistic climate of the early 1980s.
The song doesn't mean anything other than 'take the skinheads bowling,'" says Lowery. "It has absolutely no depth to it… Every time you thought it was going to mean something, the next line would follow and not really lead anywhere… We wrote that song in 1983, when all the other bands really seemed to have something to say." In a sense, CVB fought bullshit with bullshit.
Lowery has often used his unique, tongue-in-cheek humor as a storytelling device, insisting that you don't have to be serious to share a serious story. "You can use tools like irony, humor, absurdity," he says. "People are often like, 'Oh, this band is whacky'… but that's not really the way our fans understand us."
He points to writers like Thomas Pynchon and Kurt Vonnegut as influences. Although "they are regarded as serious writers," says Lowery, "they didn't just write in this dreary, matter-of-fact prose." Musically, both Cracker and Camper are wildly and proudly eclectic. "Camper and Cracker have always taken a little of this and a little of that and mixed it with rock music," says Lowery. "The difference between the bands is that they're choosing different thises and thats."
But from where does this eclecticism come? Lowery provides a historical explanation: "Both the bands formed in this area of Southern California that was known as 'The Inland Empire.' People in L.A. talk about The Inland Empire in sort of the same way that people in New York talk about New Jersey. [The Inland Empire] is sort of the land of big hair, rednecks, immigrants—it's not a very nice term. But what they're getting at is also what influenced our music… it's this weird melting pot—almost a melting pot of misfits and undesirables—that was its reputation. So, in a lot of ways, Camper Van Beethoven and Cracker grew up with this polyglot of American culture all mixed together. And a lot of the bands that came from The Inland Empire reflected that in their music… That's how I think we found that eclecticism that's part of our milieu… It's almost like we didn't have home-grown culture, so we mixed all the stuff together."
Last year, Lowery became a lecturer for UGA's Music Business program. Since he seldom has the chance to speak about the nature of the business as a mere artist, Lowery is excited to "have the university under [his] name," which enables him to emphasize the unpredictability and hypocrisy of the business.
"A lot of my success and a lot of my peers' success always seemed to be driven by a lot of luck, weird flukes or random things that just happened," he says. "Everybody in the music business talks as if they're 'highly skilled'—as if the things they do matter more than they actually do. Part of my mission is to point out that we're all kind of full of shit."
Can we get an amen?
http://flagpole.com/news/2012/feb/29/crackercamper-van-beethoven/
FLAGPOLE (Athens weekly) – Brief Camp-In  preview.
Cracker/Camper Van Beethoven Camp-In Festival: Night 1
When: Thursday, March 1, 8 p.m.
Where: 40 Watt Club, Athens
CRACKER DUO Childhood friends and co-founders of the iconic alt-rock band Cracker, David Lowery and Johnny Hickman play a stripped down set of Cracker songs tonight.
JONNY CORNDAWG Off-kilter, country-flavored, tongue-in-cheek ballads.
PONDEROSA Quartet fronted by Kalen Nash (ex-Gabriel Young) blasts through fiery classic rock, working some pedal steel into the mix and drawing heavily from blues-influenced Texas rock.
Cracker/Camper Van Beethoven Camp-In Festival: Night 3
Cracker/Camper Van Beethoven Camp-In Festival: Night 3
When: Saturday, March 3, 8 p.m.
Where: 40 Watt Club, Athens
CRACKER Perhaps best known for their big radio hit, "Low," these alt-rock icons are celebrating the 20th anniversary of their debut album.
CLINT MAUL Local alt-country singer-songwriter with a set of accessible, engaging tunes.
SHONNA TUCKER Former bassist of the Drive-By Truckers makes her solo debut.
Jonathan Segel
When: Saturday, March 3, 6 p.m.
Where: Flicker Theatre & Bar, Athens
JONATHAN SEGEL Born in France and raised in California, this composer, performer and multi-instrumentalist plays swirling, avant garde rock that's frequently accented by strings. You may also recognize him from his work with Camper Van Beethoven. Early show!
http://www.flagpole.com/events/2012/mar/01/191/
ABANDONED COUCHES (online music blog) – News story on Camp-In with Cracker photo
Camper/Cracker camp-in sets up; Futurebirds hit the slopes
* The 40 Watt has released the full schedule of the Cracker/Camper Van Beethoven Inaugural Camp-In, which is slated from March 1-3. Cracker/Camper leader David Lowery, who last year married his longtime girlfriend/band manager as well as 40 Watt band booker Velena Vego, decided to bring the festival to Athens to join his other fests which take place in California and Virginia. Nine acts in all will play over the three days, with David including a solo set on the final day during an afternoon meet and greet at a downtown restaurant.
Here's how the schedule sets up: On March 1, it will be Cracker duo David Lowery and Johnny Hickman, joined by Jonny Corndawg and Ponderosa as openers. On the 2nd, Camper Van Beethoven takes the stage, with Matt Hudgins & His Shit-Hot Country Band and T. Hardy Morris and The Outfit, while the 3rd has Cracker with Shonna Tucker (from Drive-By Truckers) and Clint Maul. Three day passes at $50, but is well worth it.
http://www.abandonedcouches.com/?p=3231
PASTE MAGAZINE (online music blog) – News story on Camp-In with CVB photo
Cracker, Camper Van Beethoven Announce Athens Camp-In
While we've previously reported on Cracker and Camper Van Beethoven's yearly campouts, the groups will be launching their inaugural camp-in this year. Because it's still way too cold in Georgia to sleep in a tent outside, both David Lowery-led bands will perform various shows at the beloved 40 Watt Club in Athens, Ga. between March 1-3.
Over the course of the three-day festival, many guest musicians like Jonny Corndawg, Ponderosa and members from Dead Confederate and Drive-By Truckers will join Cracker and CVB for special sets. Additionally, Lowery will hold a meet-and-greet session on Saturday and perform a solo set.
Tickets for the weekend fest cost $50 and can be purchased here. Check out the full schedule over at CVB's site.
http://www.pastemagazine.com/articles/2012/01/cracker-camper-van-beethoven-announce-athens-camp-.html
INNOCENT WORDS (online music site) – News story on Camp-In.
http://innocentwords.com/Magazine/ItemDisplay/tabid/807/itemId/3498/catpageid/2/Default.aspx