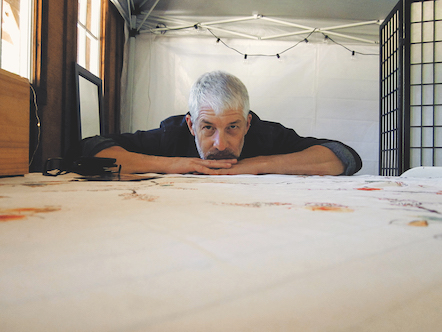 Click here to check out Victor Krummenacher's new track "Blue Pacific" via Glide Magazine
SONG PREMIERE: CAMPER VAN BEETHOVEN'S VICTOR KRUMMENACHER GOES FOR 70S COUNTRY ROCK SOUND WITH "BLUE PACIFIC"
Next spring Victor Krummenacher will be releasing his latest album, Blue Pacific (out March 1st, 2019). This will mark his ninth solo effort away from his two co-founding bands – the pioneering indie-rock group Camper Van Beethoven and the art-rock collective, Monks of Doom. The inception of this emotionally-charged project started nearly a year after his divorce, and, as it turns out, it's one-part exorcism and one-part an effort to heal and put it all behind him.
Despite the fact this record was a direct result of so much pain, heartache and hurdles, musically it turns out to be one of Krummenacher's most rewarding efforts of his lengthy career – be it solo, or with his other bands. From beautifully reflective numbers such as "No One Left To Remember, No One Left To Tell," "Skin & Bones" and "Nowhere Out There On The Line" to the sturdier, high-energy tracks like "The Prettiest Train," "Some Time Ago," "Lawrence in the Desert" and the infectious title track, this is an album that satisfies on so many levels. Throughout this sprawling effort, Krummenacher channels a number of the musicians and bands that have influenced him over the years, such as The Stones, The Dead, The E Street Band, Elvis Costello, The Flying Burrito Brothers and, perhaps more than any other, Pete Townshend.
Today Glide is excited to premiere the title track off Blue Pacific. Dropping in with a catchy guitar and bass hook, Krummenacher seems to have an airy resilience in his voice as he sings "Blue Pacific call my mind". The song brings to mind the West Coast country rock style of groups like the Byrds and Poco as the chorus lingers and beckons the listener to soak up some sunshine and sing along. There is definitely a 70s rock sound to the song, and Krummenacher turns things up with a faster groove and an eruption of soloing and harmonies that drive the lyrics home.
Krummenacher shares his own story behind the song: [CLICK HERE TO READ MORE]
Photo credit: Kelly Van Den Berghe
https://glidemagazine.com/217968/song-premiere-camper-van-beethovens-victor-krummenacher-goes-for-70s-country-rock-sound-with-blue-pacific/