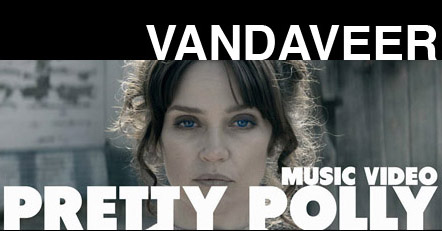 CLICK HERE TO WATCH THE POPMATTERS PREMIERE OF VANDAVEER'S NEW "PRETTY POLLY" VIDEO
"Pretty Polly" is from the DC-by-way-of-Kentucky alt-folk collective's forthcoming studio album of age-old murder ballads Oh, Willie, Please… (out April 30th through Quack!Media).
Along with Vandaveer's Mark Charles Heidinger & Rose Guerin, this stylish video, directed by Jared Varava, also features the talents of The Jesus Lizard's charismatic frontman David Yow and actress Tricia Vessey, among many others.
Heidinger elaborates on both the song & new video, "'Pretty Polly' was brought to the table by Rosie for this record. We knew we were going to make an album of traditional folk songs and murder ballads, but we hadn't settled on a final collection of tunes. Rosie had a lovely recording of this song made by some family folks of hers that was so very striking. We spent a morning working up an arrangement of our own for this song during the session and things progressed quite quickly. We eventually had our good buddy Ben Sollee add a cello part and things really came together. By the time we made our way to California last fall to shoot the video the song had become a beast unto itself. Our friend and director, Jared Varava, cooked up a bombastic idea and we ran with it. We couldn't be happier with result. There are moments when you realize how truly lucky you are as an artist to call what you do a career. This was one such moment."


VANDAVEER: left to right: J. Tom Hnatow, Mark Charles Heidinger, Rose Guerin, Phillips Saylor [photo credit: Sarah Law]
The macabre has long held uneasy sway over the human condition. From ghost stories to creation myths, from CSI to Shakespeare, from cable news voyeurism to Edgar Allan Poe, the subjects of death, murder and all things ghastly have fascinated and frightened for centuries. Songs are no exception. From Old World roots to more recent incarnations in America, the murder ballad has traversed, shapeshifted and persevered. Despite our collective desire to be good and virtuous, people do very bad things. And then we sing about them.
Death, murder and ghosts have long been underlying threads coursing through Vandaveer's original songs, but instead of weaving their own shadowy tales into their latest studio effort, Oh, Willie, Please…, the DC-by-way-of-Kentucky alt-folk collective have tapped into the wellspring of traditional folk's darker side.
Oh, Willie, Please… finds the group operating in a more collaborative spirit. In addition to the core duo of Mark Charles Heidinger and Rose Guerin, the talents of J. Tom Hnatow (These United States, The Mynabirds) and Phillips Saylor (Stripmall Ballads, The Shiftless Rounders) helped expand the project into a formidable ensemble, armed with steel string, resonator and pedal steel guitars, banjos and pianos, voices galore, and a common belief in the quality and relevance of the word 'folk.'
Inspired by their recent participation in The 78 Project, the group gathered in a majestic old home on a picturesque horse farm in Lexington, Kentucky in the spring of 2012 and set to work re-imagining a collection of age-old murder ballads & songs of self ruin plucked almost entirely from the public domain. With longtime producer Duane Lundy once again at the helm, Vandaveer moved swiftly through the selected catalog, recording most of the tracks live in the manor's great room. The result is a spacious, honest album that balances reverence and respect for the source material with a healthy coat of contemporary color.
Vandaveer's Oh, Willie, Please… will be released in North America April 30th on CD, limited edition vinyl and digital formats, courtesy of Quack!Media.
VANDAVEER 2013 TOUR DATES:
4/13 – Columbus Theater – Providence, RI w/ Joe Pug
4/14 –  Brighton Music Hall – Boston, MA w/ Matt Costa
4/15 – Bowery Ballroom – New York, NY w/ Matt Costa
4/17 – Johnny Brenda's – Philadelphia, PA w/ Matt Costa
4/18 – Opera House Live – Shepardstown, WV w/ Matt Costa
4/19 – U Street – Washington, DC w/ Matt Costa
4/20 – Cat's Cradle – Carrboro, NC w/ Matt Costa
4/30 – Higher Ground – Burlington, VT w/ JayMay
5/1 – Cafe 939 – Boston, MA w/ JayMay
5/4 – Club 603 – Baltimore, MD
5/9 – The Garage – Winston-Salem, NC
5/11 – Kirk Avenue Music Hall – Roanoke, VA
5/16 – Rumba Cafe – Columbus, OH
5/17 – Willie's Locally Known – Lexington, KY
5/19 – Space – Studio Room – Evanston, IL
5/20 – The Ark – Ann Arbor, MI
5/21 – Southgate House – Newport, KY
5/22 – Uncle Slayton's – Louisville, KY
5/23 – The High Watt – Nashville, TN
5/24 – The Earl – Atlanta, GA w/ The District Attorneys and Belle Adair
5/26 – Local 506 – Chapel Hill, NC
6/7 – Ogden Theatre – Denver, CO w/ They Might Be Giants
6/8 – The Depot – Salt Lake City, UT w/ They Might Be Giants
6/9 – Egyptian Theatre – Boise, ID w/ They Might Be Giants
FOR MORE INFO ON VANDAVEER:
www.vandaveer.net
https://www.facebook.com/vndvr
FOR MORE INFO ON QUACK!MEDIA:
http://www.quackmedia.com