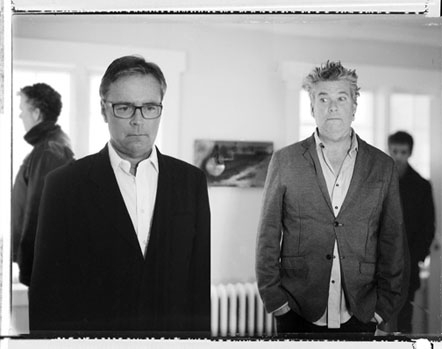 CLICK HERE TO LISTEN TO THE PREMIERE OF THE HENRYS' NEW TRACK "A WEAKER ONE" VIA POPMATTERS!
On Quiet Industry, their first album in six years, The Henrys are once again creating the rich and textured sound they've established over six albums and 21 years. But this time there's a new twist.
With this album, Henrys' leader Don Rooke (Mary Margaret O'Hara, Holy Modal Rounders, Three Metre Day) has written lyrics to 11 of the 14 songs. On tracks like A Weaker One and As I Say I Do, you can now hear the group sound merge beautifully with vocals to create … a normal band! Sort of.
 Sung with feel and emotion by Gregory Hoskins (formerly of The Stickpeople), and as always colored by the uncommon instruments The Henrys prefer – kona guitar (an antique koa wood slide guitar), lap steel, pump organ, bass, drums, violin and an array of hard-to-define sounds – the unique palette is fully established.
 Along with Rooke and Hoskins, Quiet Industry also features most of The Henrys cast including Hugh Marsh (Bruce Cockburn, Don Byron, Jon Hassell), John Sheard (Stuart McLean), Andrew Downing (Kelly Joe Phelps, David Tronzo), Davide DiRenzo (Holly Cole, Cassandra Wilson, Jacksoul), Jonathan Goldsmith (Jane Siberry, Nick Buzz), along with harmony vocalist Tara Dunphy.
The Henrys' Quiet Industry will be available on CD and digital formats June 11th on their own imprint hR2015.
QUIET INDUSTRY TRACK LISTING: 
1. A Weaker One
2. As I Say I Do
3. A Thousand Corners
4. Change for Good
5. Invention of the Atmospheric Engine
6. Reel Me in Gently
7. Was Is
8. I Kneed You
9. When That Far Shore Disappears
10. Dangers of Travel
11. Last One Here
12. Burn the Boat
13. Needs Must
14. The Almighty Inbox
 CLICK HERE TO DOWNLOAD A PDF OF THE LINER NOTES AND LYRICS
HERE'S WHAT PEOPLE HAVE SAID ABOUT THE HENRYS:
For all the beautiful, warm tones you will hear on their new album "Quiet Industry," the lyrics demand equal time.  The Henrys are exquisite wordsmiths.  These songs are romantic, intimate and full of big thoughts.  The words and music trade off moments in holding your attention. Brilliant production, once again from The Henrys.  I have used their CDs to buy two stereos in my lifetime – the sound is that good.  Do your stereo – and your head and heart a favour, let them chew on the Henrys' "Quiet Industry" CD. – Laurie Brown – The Signal / CBC RADIO
The Henrys' new album is a sublime masterpiece… an absolute must. – MOORS MAGAZINE
Don Rooke, the frontman of the Toronto-based folk outfit the Henrys, describes their sound as "old instruments—new sounds." He's not wrong; although there's plenty of old-style folk to be heard in the band's music, due in large part to certain instrumental choices such as Rooke's historic Weissenborn and Kona lap steel guitars, they evoke plenty of current sonic architects as well. Rooke, in particular, evokes the stylings of maestros like Ry Cooder and Bill Frisell. – POPMATTERS
Toronto kona player Don Rooke and his ensemble of like-minded abstract sound architects stand as the high-minded intellectuals in their class, the quiet scientists scratching away at the borders of the folk/time continuum. 'Old instruments, new sounds' is the way Rooke describes what The Henrys do – they extract from a resonator guitar and other plucked acoustic instruments the harmonics, overtones and oblique noises behind the rustic notes to create landscapes that are astonishingly romantic, frightening, sexual, spiritual – and quite beautiful. Brave new music. – TORONTO STAR
The brainchild of Toronto songwriter, multi-instrumentalist and producer Don Rooke, the Henrys have won fans around the globe with their warmly atmospheric, eclectic sounds… tranquil and pleasing to both the eye and the ear… lovely work. – EXCLAIM!
… everything here works on first hearing, and works even better after that. – GLOBE AND MAIL
The Henrys firmly establishes Don Rooke as one of acoustic guitar's greatest unsung heroes. Playing lap-style slide on historic Weissenborn and Kona guitars, he alternately evokes the smooth perfection of Jerry Douglas, the languid soul of Ry Cooder, and the dreamtime whimsy of Bill Frisell. But such comparisons are mere reference points – Rooke is a startling original who seems constitutionally incapable of resorting to slide cliches. His tone is drop-dead gorgeous, his technique mirror-smooth, yet he has a mischievous chromatic streak that keeps things from getting too comfortable. …well worth seeking out. – GUITAR PLAYER
Don Rooke's work on various slide guitars, from the kona to the lap steel to something called a Sonar Zombie, recalls the erudite ramblings of Bill Frisell. – NEW YORK TIMES 
Neither world, blues, country, reggae, new age or rock, but with a healthy dose of each of these categories and more…You have a sonic landscape that may take its energy and influence from one source, but turns it into something new and unique each time. There are sound snippets, slow tunes, funky tunes, menacing tunes. Wonderful! – FOLK ROOTS UK
MORE INFO ON THE HENRYS: 
http://www.thehenrys.ca
MEDIA & INTERVIEW REQUESTS: 
Tony Bonyata
Pavement PR
e: tony@pavementpr.com
http://pavementpr.wpengine.com