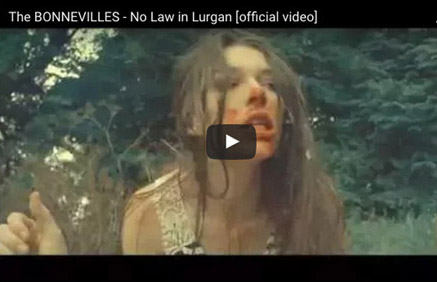 CLICK HERE TO WATCH THE BONNEVILLES' NEW "NO LAW IN LURGAN" VIDEO VIA POPMATTERS! (WARNING: CONTAINS ZOMBIES, TONS OF BLOOD AND SOME BADASS BLUES-ROCK)
NORTHERN IRELAND DUO TO KICK-OFF U.K. TOUR IN BELFAST SEPTEMBER 9TH!
The Bonnevilles – "No Law in Lurgan" (video) (premiere)
As we said back in February about this incredible group, "Northern Ireland's the Bonnevilles are steeped in the blues and they enliven and amp up their sound by playing as a duo with Andrew McGibbon Jr. on vocals and guitar and Chris McMullan on drums. It's a formation that has paid off in spades for both the White Stripes and the Black Keys and the Bonnevilles carry on that tradition of stripped down, blues rock run through with headbanging punk energy."
Sometimes less truly is more as the two-person band set-up of the Bonnevilles allows each musician to shine as well as showcase their prodigious musical talents. Meanwhile, the music rings raw and true and full of heart. You can witness this aestethic on the band's new video, "No Law in Lurgan", from their recent LP Arrow Pierce My Heart.
Singer/guitarist Andrew McGibbon says, "the video was made by Mike Mormecha, the same Mike that recorded the album. I remember during the recording of this track Mike said he'd really love to do a zombie video to it, we had a giggle about it and said no more. Months later Mike comes back and says "ok, lets do that video thing" and that was that. Mike's pretty much a genius and we love him, so when people like that ask to do cool stuff with you, you just say yes. It was a lot of fun channeling our inner zombies."
http://www.popmatters.com/post/the-bonnevilles-no-law-in-lurgan-video-premiere/
THE BONNEVILLES 2016 UK TOUR DATES
September 9 @ Social Sounds Festival — Belfast
September 15 @ The Castle Hotel — Manchester
September 16 @ Stow Fest — London
September 17 @ Zephyr Lounge — Leamington Spa
September 18 @ The Phoenix — Exeter
September 19 @ The Duck and Drake – Leeds
September 20 @ Start The Bus — Bristol
September 21 @ Broadcast — Glasgow
September 22 @ The Cluny — Newcastle Upon Tyne
September 23 @ The Black Abbott — Montrose
September 24 @ Franklin Rock n Roll Club— Edinburgh