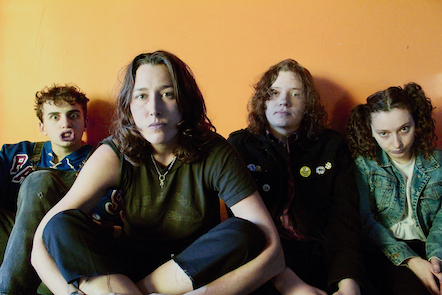 Click here to check out The Bobby Lees' new music video "Wendy" via PopMatters.
Garage Rockers the Bobby Lees Pay Tribute to "Wendy" (premiere)
By Jedd Beaudoin
The Bobby Lees' "Wendy" is a simmering slice of riot 'n' roll that could have come from the garage or the gutter but brims with punk attitude.
The Bobby Lees' new record Skin Suit was produced by punk legend Jon Spencer of the Blues Explosion and will be released 17 July via Alive Naturalsound Records. Orange-colored vinyl is also available. In advance of the record, the group have released "Wendy", a weird, energetic slice of riot 'n' roll that has plenty of punk attitude. Did it crawl from the gutter? The garage? It doesn't matter because it's a full-on assault that will have you hitting the repeat button faster than a Western gunslinger reaches for his piece in the heat of battle.
Bobby Lees' frontwoman Sam Quartin says, "This song is about a really cool old lady I knew named Wendy. I used to give her rides around town because she was disabled and couldn't drive, but she had a great spirit and loved rock and roll, so I wanted to make a song for her."