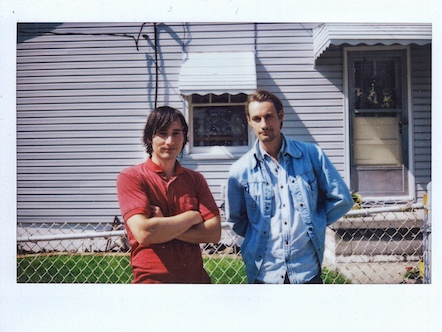 CLICK HERE TO LISTEN TO SWARMING BRANCH'S NEW "SURREAL NUMBER" ALBUM IN ITS ENTIRETY VIA POPMATTERS!
Swarming Branch – 'Surreal Number' (album stream) (premiere)
BY JEDD BEAUDOIN
SWARMING BRANCH RETURNS WITH A TUNEFUL MEDITATION ON THE NATURE OF AUTHENTICITY, CONTEMPORARY LIFE.
With the observational skills of Ray Davies, the freak folk interests of early Beck and a conceptual bent that places the outfit in line with fellow Ohioan Robert Pollard, Swarming Branch's music is as accessible as it is intellectually rewarding. The real pleasure of listening to this collection comes not in peeling away the layers or finding new nomenclature to describe the dizzying array of sounds contained in these tracks. Instead, it's in letting the music work its charms in these brief and brilliant bursts of both sincerity and hilarity.
Whether the Latin-esque "Zsazsur's Real Estate Song," the haunting and unhurried "All I Wanna Do Pt. 22" or the heady, psychedelic mixture that could have only come from minds that had heard both the Beatles and a host of wedding bands working out the intricacies of polka at the local VFW during "In the Garden of the Gods", one is taken by the commitment to the amusing and imaginative juxtapositions that happen throughout.
Band member Andrew Graham elaborates on the record's organic nature as well as its awareness of life in an increasingly manufactured world. "To me, Surreal Number is an album about accepting that synthetic and organic things can work together," he says. "The Romanesco broccoli on the album cover looks computer generated, but it is edible. The bosc pear, sometimes thought to be a symbol of immortality, is gilded in plastic. They're both set in front of artificial grass, whose greenness is 'greener than the real thing.'"
One can easily hear this aesthetic in play across the record with Graham adding, "Drum machines co-exist with the live drums. Synths and upright piano play together. Some of it's recorded to tape, while other parts were recorded digitally." If those juxtapositions are overwhelming for some, the musician adds a small but important reminder: "And just as dissimilar sounds can work together without contradiction, so too can dissimilar lyrics. If the lyrics seem to come from different points of view, it's because each person has the capacity to feel many ways, simultaneously. Purity is overrated and authenticity doesn't need to come from honing in on one idea or opinion."
Surreal Number, out 26 May, may be ordered in both vinyl and CD format.
TOUR DATES
May 28 – Cambridge, MA @ State Park
May 31 – Morgantown, WV @ 123 Pleasant St.
June 1-4 Nelsonville Music Festival
June 6 – Cincinnati, OH – Urban Artifact Brewing
June 7 – Louisville, KY @ TBA
June 8 – St. Louis, MO @ Blank Space
June 28 – Sacramento, CA @ TBA
June 30 – Portland, OR @ House Show
July 2 – Seattle, WA – Victory Lounge
July 5 – Omaha, NE @ O'Leavers
July 6 – Chicago, IL @ Cafe Mustache
July 7 – Akron, OH @ Musica
July 8 – Columbus, OH @ Rumba Cafe
http://www.popmatters.com/post/swarming-branch-surreal-number-album-stream-premiere/