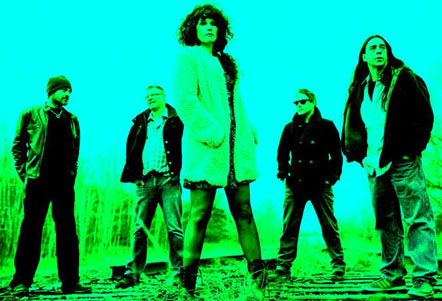 CLICK HERE TO LISTEN TO SULFUR CITY'S NEW TRACK "WHISPERS" VIA POPMATTERS!
Sulfur City – "Whispers" (audio) (premiere)
Canadian rock band Sulfur City's new album features frontwoman Lori Paradis enjoying a bit of musical ecstasy, an image that evokes a Janis Joplin LP cover. It's a clever strategy in making that connection as it highlight the band's greatest asset, their superlative lead vocalist. Thing is, Sulfur City really are a rawk band, not blues/soul band, so Grace Slick is really a better comparison point as Paradis shares Slick's graceful enunciation and more restrained sense of energy and drama. Did I mention this is a serious rock and roll record, something that's vanishing faster than bees these days? Sulfur City is a really honest to goodness working class rock band, the kind you can unwind to with beers and poll games at the local pub. Paradis even possesses the requisite career history as she's been a construction worker, house painter and trucker. Those are careers that make you tough and give you the right rock 'n' roll mindset.
Sulfur City's new album, Talking Loud, releases May 27th via Alive Naturalsound Records and today we're sharing the band's new single, "Whispers", with you. Paradis says, "I was at a funeral and witnessed that even in death we lie. This fascinated me. In writing 'Whispers', I wanted to poke, shake, disturb and scream at the illusions of caring and love by friends and family after someone passes."
http://www.popmatters.com/post/sulfur-city-whispers-audio-premiere