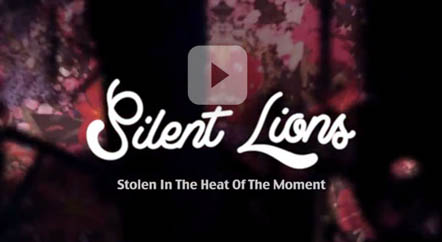 CLICK HERE TO WATCH SILENT LIONS' NEW VIDEO "STOLEN IN THE HEAT OF THE MOMENT" VIA POPMATTERS!
TOLEDO/DETROIT-BASED HEAVY-SOUL DUO KICKS-OFF WINTER TOUR JAN. 11TH!
 
SILENT LIONS TO RELEASE THEIR SOPHOMORE EP THE COMPARTMENTS JANUARY 14, 2014
Conceived in Toledo, OH with a home base in sister city Detroit, Silent Lions are the sinister twosome of heavy-soul. Dean Tartaglia simultaneously plays effected octave bass, sampled synths, and manipulated atmospheric vocals, all while drummer Matt Klein grooves and thrashes beside him, often providing soulful singalong melodies and harmonies. The duo's live shows sound as thick and creamy as they do on record. Their music has been tagged as "spooky soul," "chill punk" and "Hall and Oates stoner rock."
Silent Lions' upcoming sophomore six-song EP, The Compartments, is a deeper exploration into genre manipulation. From hip-hop to stoner rock, Silent Lions create moments of lo-fi chaos out of hi-fi clarity. With their unofficial third member Zach Shipps (Electric Six) producing, The Compartments takes enough risks to turn your head, but never strays from SiLi's visceral, trademark, super sub bass and drum sound.
Dean started making his mark nationally with Detroit local legends The Sights, touring the U.S. and Europe supporting Tenacious D. Silent Lions are proud to continuously share bills with some of the best new artists in the scene (Mr. Gnome, Jamaican Queens, Bad Veins).
Silent Lions' The Compartments EP will be available January 14, 2014 on vinyl, digital & CD formats through the band's own label, Nah Collective.
SILENT LIONS FALL TOUR DATES:
Jan. 11 Ferndale, MI — The Loving Touch
Jan. 15 Ann Arbor, MI — The Blind Pig
Jan. 16 Cleveland, OH — The Grog Shop
Jan. 17 Chicago, IL — Quencher's
Jan. 18 Lafayette, IN — The Bayou
Jan. 19 Bloomington, IN — Root Cellar
Jan. 20 Muncie, IN — Be Here Now
Jan. 22 Charleston, WV — Empty Glass
Jan. 23 Morganton, WV — 123 Pleasant St.
Jan. 24 Washington, D.C. — Jam Jar
Jan. 25 Washington, D.C. — Ezra Mae's
Jan. 27 Boston, MA — Middle East
Jan. 28 Brooklyn, NY — Fireside
Jan. 29 Oil City, PA — Mosaic Cafe
Jan. 31 Columbus, OH — Carabar
Feb. 1 Athens, OH — 2112
Feb. 4 Huntington, WV — Elimination Chamber
Feb. 5 Cincinnati, OH — Mayday
Feb. 6 Dayton, OH — Jimmie's Lounge 11
Feb. 7 Toledo, OH — Ottawa Tavern
(more dates to be announced soon)

SILENT LIONS: Dean Tartaglia & Matt Klein
HERE'S WHAT PEOPLE HAVE BEEN SAYING ABOUT SILENT LIONS:
An urgent explosion of psych-drenched garage rock — 100% emotion, 100% libido —  you couldn't call it anything other than "f**king rock and roll," mate. – INDIE SHUFFLE
"Captivating" – POPMATTERS
Fronted by drums and bass, with a barrage of pedals and effects, Silent Lions are a refreshing new group for the local scene, one that shows signs of genre-pushing experimentation, original instrumentation & songwriting, and rightful confidence in the idea that Toledoans will embrace not just what's good, not just what's weird, and not always what's new – but always what's hard working and different.  – TOLEDO.COM
Sludge-funk trouncing murk-pop. – METRO TIME DETROIT
Silent Lions are re-setting the mold for what an "indie band" can do. – TOLEDO CITY PAPER
These guys really have a sound all their own. Everyone should be listening to this band. – HIP IN DETROIT
Silent Lions create a solid, heavy and distinct sound, one that's fully rounded in all the right places. The band uses a variety of different effects, pedals and echoes to achieve this sound, and the result is a sonic assault on the senses. – DAYTON CITY PAPER
Silent Lions are known to calm the chaos with a smooth does of silky sax. They're a fun show live and equally enjoyable to listen to recorded, so scope out their first EP via Bandcamp and get acquainted. – INDIE SHUFFLE
Dean Tartaglia and Matt Klein band together to bring you titillating bass, thrashing drums, atmospheric synth and some fuzzy vocals. The supergroup's track "ripe•people" has an erie flare, mixed with a melancholy rhythm that will leave you feeling relaxed albeit a bit perplexed. – SSG MUSIC (Seattle)
Silent Lions' "ripe•people" isn't a slow-build, it's not a grand finale; it's one of those songs that's simply good enough to carry on twice as long as your regular pop/rock song without you even realizing. You don't get bored, you don't feel that it's repetitive, it just works. Whether it's the speaker-busting bassline, the reverby vocals or the general power that's generated, they could probably make it 15 minutes long without sacrificing the quality. It's a wall of warm, buzzing noise that feels both urgent and vital, as well as laid-back and chilled. How they manage that is a bit of a mystery, but they do. – SOUND OF CONFUSION (UK)
FOR MORE INFO ON SILENT LIONS:
http://silentlions.bandcamp.com
https://www.facebook.com/SilentLions
FOR MEDIA AND INTERVIEW REQUESTS:
Tony Bonyata
Pavement PR
p: 262.903.7775
e: bonyata@wi.rr.com
https://pavementpr.com