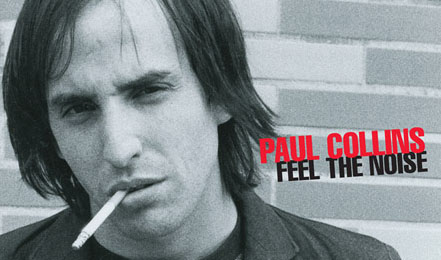 Paul Collins – 'Feel the Noise' (album stream) (Premiere) by Brice Ezell.
Fans of rock and roll at its most vintage should give Paul Collins' retro Feel the Noise several listens.
Paul Collins sounds like a guy who not only loves rock and roll; he sounds like he's spent his whole life living it. Feel the Noise, his latest studio effort, captures the spirit of a musician who has grown comfortably into his style. After years of playing in power pop groups like the Nerves and the Beat, Collins has continued to smartly integrate the distorted side of his rock and roll with a keen ear for affable hooks.
Collins tells PopMatters about the album: "As we get closer to the release of Feel The Noise, I am getting very excited! So far the reaction to our video of 'I Need My Rock n Roll' has been fantastic. Feel the Noise is a simple straight ahead rock 'n' roll album, as anyone who knows me knows I try my best to serve up tasty power pop songs and I think with this record I will get good marks from my fans. I will be spending a lot of time out on the road bringing this record to everyone I can!"
Feel the Noise is out on September 9th via Alive Naturalsound.
CLICK THE LINK BELOW TO LISTEN TO THE PREMIERE OF FEEL THE NOISE VIA POPMATTERS…
http://www.popmatters.com/post/185368-paul-collins-feel-the-noise-album-stream-premiere/