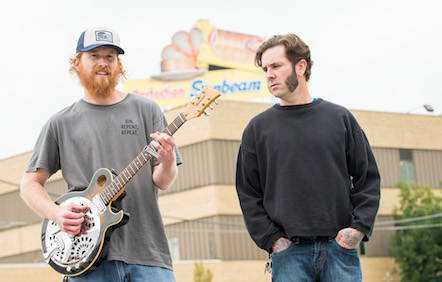 CLICK HERE TO LISTEN TO LEFT LANE CRUISER'S NEW TITLE TRACK "CLAW MACHINE WIZARD" VIA POPMATTERS!
Left Lane Cruiser – "Claw Machine Wizard" (audio) (premiere)
Fort Wayne, Indiana's Left Lane Cruiser has built a solid reputation as an undeniable force of rhythm and raw energy over the last decade. You can hear the band in action on "Claw Machine Wizard", the title track from the duo's upcoming LP, due May 19 from Alive Records. A blast of pure, furnace-hot energy, the tune bridges the distance between hill country blues and Black Sabbath. Drummer Pete Dio's playing recalls the powerful, responsive (and jazz-inflected) work of Sabbath's Bill Ward. Meanwhile, guitarist/vocalist Freddy J Evans IV reminds us that both blues and heavy rock took long crawls from the back streets to the main street, tracking layers of soulful grit in along the way.
Left Lane Cruiser's appeal is immediate, reaching into our deepest, most primal needs for music that moves both the feet and the soul. More fundamentally, the duo serves to remind us that their music is about that moment when bad times start to take a turn for the better. As Evans himself says, "Sometimes the blues make you feel like you're stuck in a claw machine. You just need a good woman to come along and snatch you up. And while she's workin' on it, pour a little lightnin' in your whiskey cup!"
TOUR DATES
April 1 @ Highway Bar — Knightstown, IN
April 4 @ The Brass Rail w/MARK PORKCHOP HOLDER — Fort Wayne, IN
April 22 @ Burn Em Brewing — Michigan City, IN
April 28 @ White Rabbit — Indianapolis, IN
April 29 @ Goat Fest IV Pre-sale Party @ The Basement — Nashville, TN
May 6 @ Monnrunners Music Festival — Chicago, IL
May 11 @ The Brickhause — Stevens Point, WI
May 12 @ Nakato Bar — North Mankato, MN
May 14 @ The Hook and Ladder — Minneapolis, MN
June 2 @ Muddy Roots Spring Weekender — Brown County, IN
June 24 @ Choice City Stomp — Fort Collins, CO
July 12 @ Three Rivers Festival — Fort Wayne, IN
September 1 – 4 @ Muddy Roots Music Festival — Cookeville, TN
http://www.popmatters.com/post/left-lane-cruiser-claw-machine-wizard-audio-premiere/