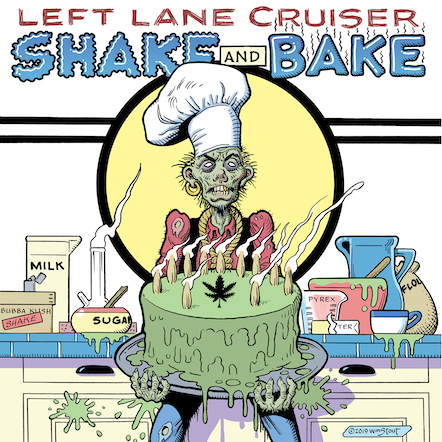 Click here to check out Left Lane Cruiser's new track "Two Dollar Elvis" via PopMatters
Left Lane Cruiser Issues Sizzling Electric Folk Number, "Two Dollar Elvis" (premiere)
by JEDD BEAUDOIN
Left Lane Cruiser's new album arrives later this spring. In the meantime we have a small taste of its almighty might, musical muscle via a deep appreciation of a good friend and cosmic character, "Two Dollar Elvis".
"Two Dollar Elvis" in the latest song from Left Lane Cruiser. The Fort Wayne, Indiana-based outfit returns with the album Shake and Bake May 31 via Alive Naturalsound Records.
"On their latest song 'Two Dollar Elvis' exemplifies Left Lane Cruiser's quick 'n' dirty approach to blues-based rock, a powerful exploration of rhythm and soul that calls to mind ZZ Top at the little ol' band from Texas' rawest glory. Of course, Left Lane Cruiser is its own entity and the intersections it shares with past legends is largely coincidental. At the same time, Left Lane Cruiser is also creating electrified folk music with "Two Dollar Elvis", an homage to a character who makes life a little more interesting by living it on his terms. It's also a small taste of the power the Indiana unit wields in the live setting where realness and might matter and where few can be declared true champions of the medium.
Left Lane Cruiser frontman Freddy J IV offered these observations on the tune: "It's about our good friend Jason 'Hall of Fame' Buchanan. He is a jack of all trades. Celebrity Santa Claus, comedian, promoter, personal trainer, little league baseball umpire, and he also runs a sightseeing business down in Nashville called King of the Road. He dresses up like a Two Dollar Elvis, and gives tours in an old 1957 Cadillac, showing tourists the Nashville sites."
Freddy adds, "Beyond this, Jason has been involved with the band in a number of ways. He began as just a fan. He used to come out to our shows and explain to us his many talents and how he could help the band. One time he opened up a show for us doing his comedy routine. Other times he booked, promoted, and ran the door for our shows in Nashville. He also drove up to Fort Wayne to appear in our last music video for 'Claw Machine Wizard'. That's the best thing about Two Dollar Elvis. He just wants to help people out, lift 'em up, build their name, make them famous. He's a real go-getter. The song is basically a collection of his quotes and a general description of his duties as the Two Dollar Elvis."
https://www.popmatters.com/left-lane-cruiser-twodollar-elvis-2633979007.html