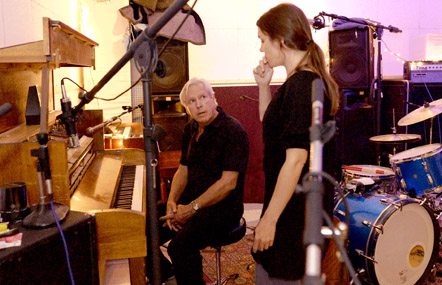 Photo: Heather Harris
CLICK HERE TO LISTEN TO JAMES WILLIAMSON & PETRA HADEN'S NEW SINGLE "BLUES JUMPED THE RABBIT" VIA POPMATTERS!
James Williamson and Petra Haden – "Blues Jumped the Rabbit" (audio) (premiere)
BY WILL RIVITZ
"Blues Jumped the Rabbit" is blues in its most collaborative mode, a song built directly off the work of those who came for. The lyrics and composition trace back at least to the 1920s, the song has been recorded more than a few times in its past, and — most importantly for this particular iteration — James Williamson's legendary guitar is augmented by the multi-instrumental lushness of Petra Haden. It's a gloomy, slow song, but it's one full of instrumental light, borne aloft by crystalline piano and echoing guitar. In other words, it captures the many facets of blues well.
"I first became aware of Petra by listening to her amazing a capella version of The Who Sell Out. She was phenomenal at imitating not only the vocals but all of the instruments as well," says Williamson. "I have always wished that I could find the right songs to spotlight her as a lead vocalist. Then along came these two traditional songs 'Blues Jumped The Rabbit' and 'Last Kind Words'. Thankfully Petra loved them as much as I did, so we went in and made this record. We both are really happy we did."
Blues Jumped The Rabbit / Last Kind Words is out today.
http://www.popmatters.com/post/james-williamson-petra-haden-blues-jumped-the-rabbit-audio-premiere/