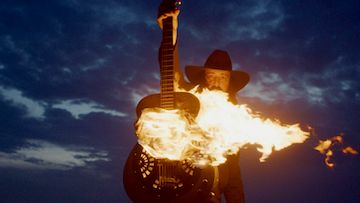 Click here to check out Brother Dege's new music video "The Early Morn" via PopMatters
Brother Dege's Profound Roots on Display via "The Early Morn" (premiere)
By JEDD BEAUDOIN
Americana's Brother Dege teams with Irish dobro man Tom Portman for in-studio performance of "The Early Morn".
"The Early Morn" is the latest cut from Brother Dege's album Farmer's Almanac (Psyouthern Records). The video was made by Bearfoot Productions and director David Dooley with audio recording done by Paul Mulligan at Audio Monkey Studio. Kinvara, Ireland.
The Grammy-nominated Dege hails from Louisiana, earned a slot on the soundtrack to Quentin Tarantino's Django Unchained, and remains a fiercely in-demand artist on the European touring circuit.
Of the tune, Dege says, "It's about those haunting moments of sobering clarity that come to you while getting ready in the grey, predawn hours to go meet the daily grind of whatever kind of job you have to do. Where am I? Who am I? What the hell am I doing with my life? For some reason, I find that all that stuff has a profound resonance in the early morning."