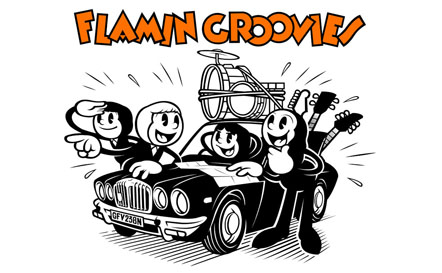 POLLSTAR: The Flamin' Groovies 'Shake Some Action'!
The Flamin' Groovies returns to the touring highways beginning with a gig in Chicago in mid-November. The shows serve as a run-up to the group's 50th anniversary celebration in 2016.
The band has weathered breakups and personnel changes over the years. Cyril Jordan, Chris Wilson and George Alexander brought the band back to the concert stage in 2013 for appearances in Australia at Hoodoo Gurus' "Dig It Up." Since then the band has toured Spain, France and Italy and has made several appearances in New York and in its hometown of San Francisco.
Today's lineup includes Jordan, Wilson, Alexander and drummer Victor Penalosa playing classics like "Shake Some Action," "Slow Death" and "Teenage Head."
The 50th anniversary observance includes the arrival of a new album and a documentary film – "The Incredible Flamin' Groovies Movie."
Come fall, the band will release the two-song single "Crazy Macy" / "Let It Rock" via Burger Records. The single will be available in digital and cassette formats as well as on 7" vinyl.
Here are the dates:
Nov. 12 – Chicago, Ill., Beat Kitchen
Nov. 13 – Ferndale, Mich., The Magic Bag
Nov. 14 – Cleveland, Ohio, Beachland Ballroom
Nov. 15 – Pittsburgh, Pa., Hard Rock Café
Nov. 17 – Hamilton, Ontario, This Ain't Hollywood
Nov. 18 – Toronto, Ontario, The Legendary Horseshoe Tavern
Nov. 20 – Philadelphia, Pa., Johnny Brenda's
Nov. 21 – Jersey City, N.J., Monty Hall
Nov. 22 – Brooklyn, N.Y., Baby's All Right
Nov. 23 – Washington, D.C., Rock And Roll Hotel
Nov. 25 – Boston, Mass., Brighton Music Hall
Some shows are already on sale. Visit The Flamin' Groovies' Facebook page for more information.
http://www.pollstar.com/news_article.aspx?ID=819798