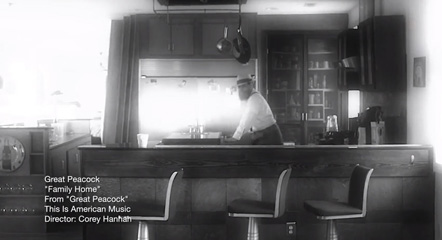 CLICK HERE TO WATCH GREAT PEACOCK'S OFFICIAL MUSIC VIDEO "FAMILY HOME" VIA PASTE MAGAZINE
HERE'S WHAT PEOPLE ARE ALREADY SAYING ABOUT GREAT PEACOCK:
Great Peacock boast some serious Southern folk-rock chops, lovely harmonies and a list of classic country influences that makes it easy to understand why they've declared themselves to be "old art for the new generation. – PASTE
Owes as much to Ben E. King as mountain music. – NASHVILLE SCENE
You can stop searching now. Great Peacock was one the very best bands at SXSW. While groups like the Lumineers and Mumford and Sons play a version that's polished, if inauthentic, Great Peacock's songs feel like they really are the voices of small-town Mississippi or Tennessee.  So far, there's only an EP, but watch this band for their next step. – SAN JOSE MERCURY NEWS
Great Peacock make music enriched by their native South… influenced by pop melody as well as traditional folklore. – MUSIC CITY ROOTS
Instead of trying to live in a long-gone past, Great Peacock draws from the same inspirations that once fueled their now-extinct forebears (geography, aging, love/hate family relationships, blood, death, birds), channeling them into an unmistakably modern sound. – INSOMNIA RADIO
Great Peacock's Floyd & Nelson use soulful vocals to paint a vivid picture of life & times in the South… a  fresh new music with sonic similarities to the laid back sound of Gram Parsons and the intricate harmonies of The Band.  – ATLANTA EXAMINER
Pure gold. – ONE CHORD TO ANOTHER / FINLAND
A classic southern folk feel, steeped in the '70s country-tinged pastiche that's been modernized, cleaned up and recorded with beautiful string assortments, slide guitars and soaring harmonies.  – MUSIC SAVAGE
Mark my words: Great Peacock will be a name on everyone's lips by the end of the year. This EP is quite a product. Get yer paws on it. – ADOBE & TEARDROPS
Dipped in the infectious country rock of the '70s where it blurs the lines of pop. A sea of harmonies – smooth, simple and unchallenging in sound – but thick with quality song writing. I don't see how anyone couldn't love this. – YANKEE CALLING
Perhaps audacious to predict, but I think this self-titled five-track EP from Nashville's Great Peacock will rank among the better Americana releases of 2013.  I don't usually expect to find anthems in this genre, but the boys most certainly have one in their song "Take Me To The Mountain." – WHEN YOU MOTOR AWAY
You'll feel like you're running through the fields at sunset, hair streaming and the horizon fading into soft focus. – MIXTAPES / HEARTBREAKS
Thematically perfect. – SUPAJAM/UK
The moment I heard "Take Me To The Mountain" I was captivated.  Sometimes, a song crawls into your ear, embeds itself in your head and demands that you put it on repeat.  This is one of those songs. If Great Peacock keeps this up, they'll soon find themselves in the upper echelons of today's modern folk troubadour royalty. – QUIRKY NEW YORK CHICK
For such a polished, entrancing piece of work as this EP is, music fans will be chomping at the bit for an album. – PHANT EYE
I haven't been able to shake the beauty of Great Peacock's "Take Me To The Mountain." Nor do I want to. – 1146 MILES
Great Peacock's self-titled debut EP is out now on CD and digital formats through This Is American Music.
CLICK HERE TO DOWNLOAD & SHARE GREAT PEACOCK'S SINGLE "TAKE ME TO THE MOUNTAIN"
GREAT PEACOCK TOUR DATES:
4/09 – Sweetwater Brewery (Humane Society Event) – Atlanta, GA
4/13 – South Sounds Festival / Callaghan's – Mobile, AL
4/19 – Parkside Cafe – Birmingham, AL
4/20 – Old 280 Boogie – Waverly, AL
5/23 – The 10 High – Atlanta, GA
(additional spring/summer tour dates to be announced soon)
FOR MORE INFO ON GREAT PEACOCK:
 http://greatpeacock.com
FOR MORE INFO ON THIS IS AMERICAN MUSIC:
http://thisisamericanmusic.com
http://www.popmatters.com/pm/column/167852-if-it-dances/
FOR MEDIA AND INTERVIEW REQUESTS:
Tony Bonyata
Pavement PR
p: 262.903.7775
e: tony@pavementpr.com
https://pavementpr.com