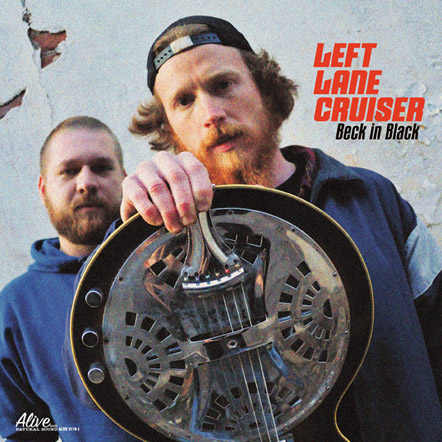 CLICK HERE TO LISTEN TO LEFT LANE CRUISER'S NEW SINGLE "BLOODHOUND" VIA NO DEPRESSION!
"Bloodhound" from Left Lane Cruiser's Upcoming Record Store Day '16 Release, Beck In Black BY SCOTT ZUPPARDO
It's safe to say that punk, garage, or deep blues has a bee line to my heart and soul and makes up part of my very being. That said one of the finest purveyors of said sounds, Left Lane Cruiser, who made my favorite record of 2015 Dirty Spliff Blues, has an incomparable anthology of sorts set for Record Store Day 2016 on Saturday, April 16th. Beck In Black, a loving collection of LLC material from the onset line-up of Freddy J IV on the vocals and guitar crunch and Brenn Beck on the boom bap drum kit and blowing some harp – a fleeting piece of envelope pushing Blues to add to your collection alone, if not for only 800 copies on limited edition metallic gold vinyl courtesy of Alive Naturalsound Records, of course. God Bless Record Store Day!
Freddy J IV has this to say on the track "Bloodhound", which we're premiering today here at No Depression,
"This tune is about being on the road. Building the route. Beating down the circuits. Knowing where is good and where is bad. From there it weaves in and out of a musical pilgrimage to the North Mississippi Hill Country and the legends who came from that sacred place. It's called 'Bloodhound' because that's how you gotta be on the road. You gotta sniff it out. Stay fresh on the trail. Never give up and always pay respect to the legends who built the sound."
And by legends who built that sound, Freddy shouts out heroes and friends alike from the Mississippi Hill Country Blues movement such as Fat Possum greats, RL Burnside, T-Model Ford, and Junior Kimbrough, along with friends CeDell Davis and Cedric Burnside. Get yo' ass to the table and the record store to get you some on 4/16, without any further politicking, ladies and gentlemen, the previously unreleased "Bloodhound"…
http://nodepression.com/album-review/bloodhound-left-lane-cruisers-upcoming-record-store-day-16-release-beck-black