Douglas McCarthy and Bon Harris return to reunite Nitzer Ebb after taking a hiatus in 2010. The band has announced that they'll be performing two legs of a U.S. tour this year – the first in May and then again in September. McCarthy and Harris will be joined onstage by original founding NEP members David Gooday and Simon Granger.
(photo: Hazel Hill McCarthy III)
NITZER EBB 2019 TOUR DATES:
U.S. [First Leg]
05.09 – Paradise Rock Club – Boston MA [tickets]
05.10 – Elsewhere – Brooklyn NY [tickets]
05.11 – SAT (Societe des Arts Technologiques) – Montreal QC [tickets]
05.12 – Theatre of the Living Arts – Philadelphia PA [tickets]
05.14 – Danforth Music Hall – Toronto ON [tickets]
05.15 – Baltimore Soundstage – Baltimore MD [tickets]
05.17 – The Oriental Theater – Denver CO [tickets]
05.20 – The Orpheum – Tampa Bay FL [tickets]
05.21 – Terminal West – Atlanta GA [tickets]
05.24 – The Ground at Space – Miami FL [tickets]
05.25 – Numbers – Houston TX [tickets]
05.26 – Trees – Dallas TX [tickets]
EUROPE
05.30 – Primavera Sound – Barcelona, Spain
05.31 – Nuits Sonores 2019 – Lyon, France
06.07 – Wave Got Treffen 2019 – Leipzig, Germany
06.30 – Val de Rock – Chessy, France
07.20 – Amphi Festival – Cologne, Germany
08.03 – Bergfest – Thale – Germany
08.04 – Dekmantel Festival – Amsterdam, Netherlands
08.17 – W-Fest – Amougies, Belgium
08.24 – Infest 2019 – Bradford, United Kingdom
U.S. [Second Leg]
09.19 – The Mohawk – Austin TX [tickets]
09.20 – Metro – Chicago IL
09.21 – St. Andrew's Hall – Detroit MI [tickets]
09.23 – VENUE – Vancouver BC [tickets]
09.25 – Neumos – Seattle WA [tickets]
09.26 – Wonder Ballroom – Portland, OR [tickets]
09.27 – Slim's – San Francisco CA [tickets]
10.05 – The Regent Theater – Los Angeles CA [tickets]
EUROPE
10.25 – Soundedit Festival – Klub Wytwórnia – Łódź, Poland
11.17 – La Machine – Paris, France
11.18 – La Laitrie – Straßburg, France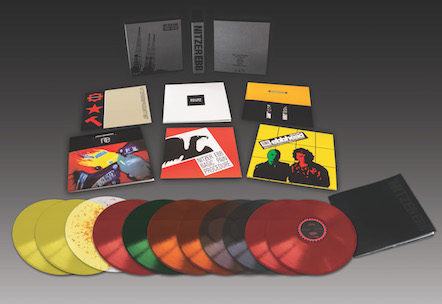 NITZER EBB
1982-2010
THE BOX SET
This career spanning retrospective box marks the first time that all five of the band's albums for Geffen/Mute have been collected in one complete box set. The box set features expanded double black vinyl of each album (10 vinyl LPs in all), with several bonus tracks and hard to find 12" mixes – all carefully curated and remastered by Pylon Records. The original artwork has also been expanded into gatefold sleeves, with embossing and spot UV finish. It also contains a large size booklet with liner notes by the band's co-founders Douglas McCarthy and Bon Harris, along with unseen photos, flyers and artwork, detailing their entire career in chronological order from Essex to Los Angeles. These albums have been out-of-print since the early '90s and have never been reissued prior to this.
The actual two-piece box is made of hard board stock, wrapped with leather paper and the UV design is hot foiled stamped. The box also has accommodated extra space inside for their first self-released album, Basic Pain Procedure, from 1983 and their last release, Industrial Complex, from 2010, to complete the collection by the fans, as these titles have been in print in recent years.
There will be a limited colored vinyl edition of the box, which will also include a re-press of the band's debut album, Basic Pain Procedure, available only from the Pylon Records website for a short period of time. The Industrial Complex vinyl has been in print in the last several years on colored vinyl, and easily attainable on many online and fine record stores around the world.
Nitzer Ebb 1982-2010: The Box Set is out now via Pylon Records. Click here to order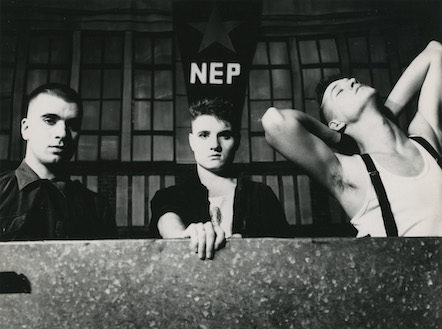 FOR MORE INFO ON NITZER EBB:
http://www.nitzer-ebb-produkt.com
http://www.facebook.com/NitzerEbbProduktTour
FOR MORE INFO ON PYLON RECORDS:
http://pylonrecords.com
FOR MEDIA & INTERVIEW REQUESTS:
Tony Bonyata
Pavement PR
e: tony[AT]pavementpr.com
https://pavementpr.com