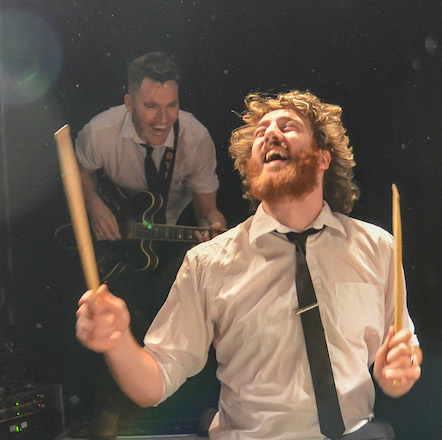 Click here to check out The Bonnevilles' new song "The Good Bastards" from their fantastic new LP "Dirty Pictures" via New Noise Magazine
Song Premiere: The Bonnevilles – "The Good Bastards"
We're pleased to bring you the premiere of The Bonnevilles' new song "The Good Bastards" (listen below). The track is taken from the band's forthcoming album Dirty Photographs, which is scheduled to be released on March 16, 2018 through Alive Naturalsound Records. You can pre-order the album here.
The band commented on the song:
"The good bastards are the people who do the difficult things that need doing despite the consequences. The people that take the difficult decisions in life and don't care what people think of them just so long as the right thing gets done. Publish and be damned.
It's pretty obvious what the song about, nothing cryptic beyond the title really. It's a political manifesto to a point, but there are enough good bastards who may be able to look after all the people.
I dedicate this one to my friend, Lisa Magee. She's one of the good bastards."
About the band:
Northern Ireland rockers The Bonnevilles are renowned for both their incendiary live shows and soulful song-writing skills. Their music is full of heart, smart, and always fun. On Dirty Photographs, their second studio album for Alive, they display their love for gritty blues, primitive rock 'n' roll and Irish folk.
While their new effort still traffics in a similar garage-blues-rock vein as their previous 2016 studio album, Arrow Pierce My Heart, the mood has shifted as Dirty Photographs is more of an upbeat affair. As singer-songwriter-guitarist Andrew McGibbon Jr. reveals, "There's an emotion of positivity on these songs, rather than the usual tales of woe. Most of the tracks are upbeat, or have a positive message, a message of love or even just plain old fashioned sex. I know others have written a world of songs about those things but we haven't, so we thought it was our time to jump in."
And as far as the album's title track is concerned, McGibbon is quick to admit, "It's a poem of tribute to my wife's bum. She's very pretty and does have a lovely one."
http://newnoisemagazine.com/song-premiere-bonnevilles-good-bastards/