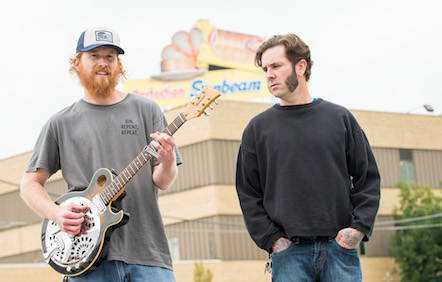 CLICK HERE TO CHECK OUT LEFT LANE CRUISER'S NEW SONG "THE POINT IS OVER FLOWING" VIA NEW NOISE MAGAZINE!
Song Premiere: Left Lane Cruiser – "The Point Is Over Flowing"
We're pleased to bring you the premiere of Left Lane Cruiser's new song "The Point Is Over Flowing" (listen below). The track is taken from the band's upcoming album Claw Machine Wizard, which is scheduled to be released on May 19th through Alive Naturalsound Records. You can pre-order the album here.
Left Lane Cruiser frontman Freddy J Evans IV comments:
"There's a town up in Wisconsin we play a lot. It's called Stevens Point. It's got an awesome downtown square where all the bars are located. When the sun goes down and them bars fill up, the point is overflowin'. Small town but a big party. We wrote this tune for our friends Steve and Eve, the couple who owns the bar we play at in Stevens Point called The Brickhause. My first time playing there I asked Steve for a big whiskey 'n water. He dumped about a fifth of Beam in a pitcher, splashed some water on it, and said 'here ya go.' When I finished it during the middle of our set, he brought me another one. We love this bar. Steve also breathes fire while he's tending bar. When we get to rockin', he'll come out from behind the bar, pour this flammable liquid all over the stage and the drum kit, and light us up.
One night we was rockin' at The Brickhause. Me and Pete was just jammin' around in the middle of the set. Suddenly we locked onto this groove. The crowd was diggin' it. We stopped and hit record on my phone. Pete told the crowd we was gonna count to 3 and if they shouted out 'Stevens Point' then we would put this jam on the new record. And that's what we did. That's what you hear on the intro. This song was written that night, with that crowd, at The Brickhause in Stevens Point, Wisconsin."
Left Lane Cruiser Tour Dates:
May 11 – Stevens Point, WI at The Brickhause
May 12 – North Mankato, MN at Nakato Bar
May 14 – Minneapolis, MN at The Hook and Ladder
May 19 – Indiana, PA at The Brown Hotel
May 20 – Florence, MA at 13th Floor Music Lounge
May 21 – Lexington, MA at Lexington Battle Green BBQ Fest
June 2 – Brown County, IN at Muddy Roots Spring Weekender
June 8 – Toronto, Canada at Dakota Tavern
June 23 – Steamboat Springs, CO at Moe's BBQ
June 24 – Fort Collins, CO at Choice City Stomp
July 12 – Fort Wayne, IN at Three Rivers Festival
July 22 – Riegsee, Germany at Raut Oak Fest
September 1 – 4 – Cookeville, TN at Muddy Roots Music Festival