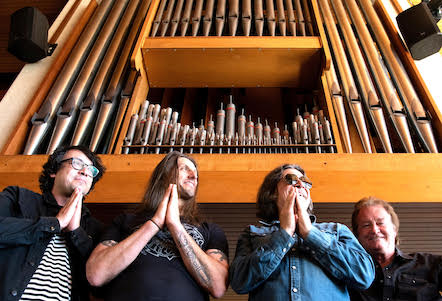 Click here to listen to Datura4's new track "Cat On A Roof" via New Noise Magazine
Song Premiere: Datura4 – "Cat on a Roof"
We're pleased to bring you the premiere of Datura4's new song "Cat on a Roof" (listen below). The track is taken from the band's forthcoming album Blessed is the Boogie, which is scheduled to be released through Alive Naturalsound Records.
Dom Mariani of Datura4 commented on the song:
'Cat on a Roof' was one of 3 songs recorded during the final sessions for the new record. We'd been forced to take a break after the departure of Greg Hitchcock and reconvened some months later as a three piece to work on new material and complete the record.
It gave us a chance to re-evaluate things and it also marks the introduction of keyboards to the line-up which has brought a new and exciting dimension to our sound.
'Cat on a Roof' is mining new horizons.
About the band:
Blessed is the Boogie is the eagerly anticipated third album by Western Australian rockers Datura4.
Fronted by Aussie legend Dom Mariani, who came to prominence on the music scene in the 1980s with legendary garage rock combo The Stems, and later went on to form revered power pop outfits DM3 and The Someloves, Datura4 is Mariani's return to his blues and heads-down, full-tilt boogie roots.
Blessed is the Boogie is ten new songs that build on Datura4's 'guitars to infinity' approach of Hairy Mountain (2016) and the hard rocking, progressive blues and psychedelic stylings of debut LP Demon Blues (2015). Both albums were released through Alive NaturalSound Records and gained critical acclaim at home, in Europe and the USA.
Datura4 are stoked to share with you this new collection of songs.
"Boom boom boom boom – Blessed is the Boogie."