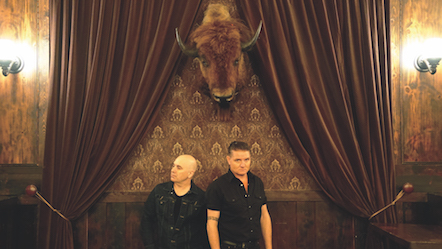 Click here to listen to Nitzer Ebb's rare track "Fun To Be Had" (Dust Brothers Master Mix) via MXDWN.
mxdwn PREMIERE: Nitzer Ebb Release Long Out of Print "Fun To Be Had" (Dust Brothers Master Mix)
By MATT MATASCI
This year has been a big one for fans of the seminal EBM group Nitzer Ebb. Today, they release a massive vinyl box set of rarities, including the long out-of-print and hard to find single "Fun To Be Had" (Dust Brothers Master Mix), which we are premiering today.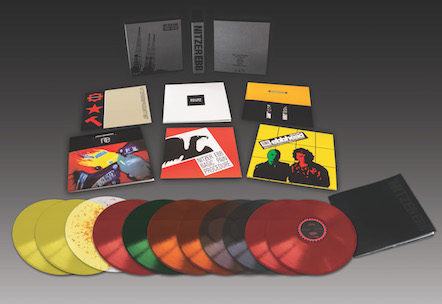 The song is classic EBM, with a hard-hitting beat and hypnotic bass line, injecting punk energy and attitude into a song that just begs you to hit the dance floor. Lyrically the song features a chanted chorus with a line that Andrew W.K. surely wishes he had written: "Whether you be glad, sad, or bad / You gotta know that there's fun to be had."
Perhaps even bigger news than the box set, which consists of rare tracks and their five albums released on Geffen/Mute, is that the four original members of the band are getting back together at the 2019 Amphi Festival in Cologne, Germany. On July 20, 2019 Douglas McCarthy, Bon Harris, David Gooday and Simon Granger will take the stage together as Nitzer Ebb for the first time since 1987, when Gooday left the group. Nitzer Ebb continued without Gooday for well over two decades before announcing a hiatus in 2010.
The band released five albums on Geffen/Mute during the '80s, including their major label debut That Total Age in 1987, Belief in 1989, Showtime in 1990, Ebbhead in 1991 and Big Hit in 1995. These albums were preceded by the group's self-released debut LP, Basic Pain Procedure, which was originally released in 1983. "Fun To Be Had" (Dust Brothers Master Mix) is included on the vinyl for Showtime, which also includes the originally released album mix and a mix by George Clinton.
https://music.mxdwn.com/2018/10/05/news/mxdwn-premiere-nitzer-ebb-release-long-out-of-print-fun-to-be-had-dust-brothers-master-mix/