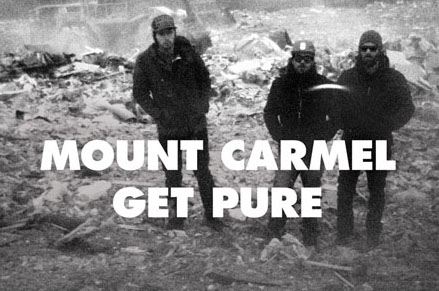 MOUNT CARMEL TO RELEASE NEW ALBUM GET PURE ON MARCH 25TH THROUGH ALIVE NATURALSOUND RECORDS!
 
CLICK HERE TO LISTEN TO THE PREMIERE OF MOUNT CARMEL'S NEW TRACK "BACK ON IT" VIA POPMATTERS!
Amid the current industry of cool, MOUNT CARMEL's lack of gimmick is a welcome anachronism. The Columbus, OH-based trio's third album Get Pure is full of swagger, packed with great songs and inspired performances. This is true rock music like you haven't heard in years. Crank it up!
Mount Carmel's Get Pure will be available on CD, digital formats and limited edition vinyl on March 25th through Alive Naturalsound Records.
GET PURE TRACK LISTING:
01 Gold
02 Back On It
03 Whisper
04 No Pot To Piss
05 Swallow Me Up
06 Bridge To Nowhere
07 One More Morning
08 Will I
09 Hangin' On
10 Fear Me Now
11 Yeah You Mama
HERE'S WHAT PEOPLE HAVE BEEN SAYING ABOUT MOUNT CARMEL:
"No-frills blues-rock." – NPR ALL SONGS CONSIDERED
"An authentic-sounding homage to rough-and-tumble late-'60s/early-'70s boogie rock legends like Free and Humble Pie. As a power trio, Mount Carmel bash out hard-edged gritty soul riffs, with perfectly approximated Cream-style raunch and Stones-style swagger. The songs ring true to the bell-bottom era, but are constructed in a way that the band is never slavishly ripping off its influences. The highlight is undeniably the band's musical chemistry, one that strikes a perfect balance for people who like muscular jams and those who want to howl along." – ALL MUSIC
"Mount Carmel wants you to concentrate on big amps, loose jams, joints the size of zeppelins and, ahem, the need for real women. They have no time for trends, punk or atonal garbage. Save it for your blog. " – THE AGIT READER
"Let us celebrate the return of thee one, thee only non-bullshit hard rock band in goddamn America with the praise that's due them: if their last album was perfect, this one is a step past it, attaching itself straight onto the legacy of the music they practice." – DUSTED MAGAZINE
FOR MORE INFO ON MOUNT CARMEL:
https://www.facebook.com/mountcarmelfans
FOR MORE INFO ON ALIVE RECORDS:
http://www.alive-totalenergy.com
FOR MEDIA AND INTERVIEW REQUESTS:
Tony Bonyata
Pavement PR
p: 262.903.7775
e: tony@pavementpr.com
https://pavementpr.com