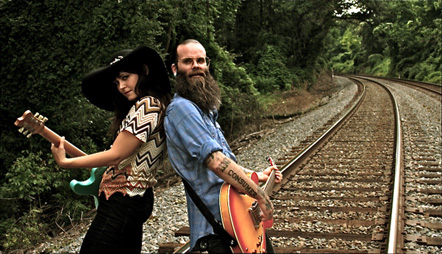 In September of 2012, Miss Shevaughn & Yuma Wray released their first full-length offering, entitled We're From Here. Immediately afterwards, the Americana duo (turned psych/blues/rock/folk trio) embarked on a two month tour to support that release. Their latest digital-only album Live @ DC9 was recorded during the final show of that 45-date venture at DC9 in Washington, DC last November, where they shared the stage with Laura Tsaggaris and The Weathervanes.
Featuring DC native Ben Tufts on drums, this live album is the conclusion to a year spent in the studio and on the stage, with thousands of miles logged on the road. Miss Shevaughn & Yuma Wray didn't sleep much, but their songs have never sounded more focused or energetic.
Miss Shevaughn & Yuma Wray's Live @ DC9 album can be downloaded here (you name the price).
MISS SHEVAUGHN & YUMA WRAY 2013 SPRING TOUR DATES
3/22 – Caldera Tap, Ashland, OR
3/23 – Pine Cone Tavern, Brookings, OR
3/25 – Trillium, Hood River, OR
3/28 – John's Alley, Moscow, ID
3/30 – Crux Coffee, Boise, ID
4/5 – Steaming Bean, Telluride, CO
4/7 – Cowgirl BBQ, Santa FE, NM
4/9 – Adobe Bar, Taos, NM
4/11 – Pioneer Inn, Nederland, CO
4/13 – Ritual Café, Des Moines, IA
4/14 – Quencher's Saloon, Chicago, IL
4/18 – Zazoo's, Louisville, KY
4/19 – Southgate House, Cincinnati, OH
4/20 – Howlers, Pittsburgh, PA
4/23 – The Radio Bean, Burlington, VT
4/27 – Red Hook Bait 'n Tackle, Brooklyn, NY
4/28 – The Galaxy Hut, Arlington, VA
4/29 – The Black Cat , Washington DC
5/1 – Evening Muse, Charlotte, NC
5/3 – The Cavern, Russellville, AR
5/5 The Parish Underground, Austin, TX
5/10 – Taos Alehouse, Taos, NM
5/11 – Cowgirl BBQ, Santa Fe, NM
5/12 The Yucca Tap Room in Tempe, AZ
(more dates to be announce soon)
FEEL FREE TO DOWNLOAD & SHARE MISS SHEVAUGHN & YUMA WRAY'S TRACK "BABY BLUE" FROM THEIR NEW "LIVE @ DC9" ALBUM
Here's what people have been saying about Miss Shevaughn & Yuma Wray:
"Achingly beautiful folk blues." – Steve Wildsmith/ THE DAILY TIMES
"Think back on the material Daniel Lanois produced for Emmylou Harris – this music is by turns ethereal, haunting, lonely, ferocious and bluesy, painting American landscapes in pure black and white. The harmonies are smooth and go places you wouldn't normally expect. Frisby's alto has a world-weary and strongly emotional feel. She is, to be sure, a great singer." – CONNECT SAVANNAH
"A fifteen song collection of Americana music, We're From Here seamlessly jumps from sparse folk tunes to fuzzy guitar filled garage rock. Miss Shevaughn's haunting vocals weave through the sonic landscape provided by Yuma Wray, and when it is his time to sing the contrast is powerful. Their music is more than just songs, each tune is a story and as story tellers it is up to Miss Shevaughn & Yuma Wray to bring these tales to life." – Chris Martin / ATLANTA EXAMINER
"We're From Here is a stunning and audacious debut – this record sounds like they've made an Oscar winning movie based on the Great American Novel. Miss Shevaughn joins Emmylou Harris and KD Lang in the realm of the great female American storytellers. She is a force of nature, and Yuma Wray provides the perfect home in which to raise her stories. Forget about genres and categories, this is great music." – Tony Conley / ROCK GUITAR DAILY
" Miss Shevaughn & Yuma Wray's We're From Here is a classic American road trip story, with the duo expanding its sound from sparse folk balladry to psychedelic swamp stomp." – SUN JOURNAL
"We're From Here, the new album from Miss Shevaughn and Yuma Wray, is a folk-drenched look into questions of contentment, laments over new beginnings, and self-acceptance, with Miss Shevaughn sounding an awful lot like Joni Mitchell as she tells her passionate tales." – CHARLESTON CITY PAPER
"Their blend of country, folk, rock, and blues is a thing of beauty." – MUSIC. DEFINED.
"Miss Shevaughn and Yuma Wray have put together a record that is simply stunning in its scope and in the sheer size of its sound…. this is a tremendous debut." – WHEN YOU MOTOR AWAY
"Miss Shevaughn and Yuma Wray's 2011 was spent on the road living out of their Honda Element, searching out their sound and cataloging their experiences and thoughts. Their time on the road was not wasted as the result is Americana personified – an amalgamation of elemental roots music into songs of real substance a soundtrack for a journey on the rural routes and black tops." – BEAT SURRENDER
"Warm heart and fuzzed out soul come together on Miss Shevaughn & Yuma Wray's new album We're From Here." – JESTER JAY MUSIC
"Nostalgic and reminiscent, We're From Here is packed full of personality. Miss Shevaughn and Yuma Wray are both masters at merging musical genres and as a result, the album is original and full of songs that aren't like anything else." – SHOW ME SOMETHING DIFFERENT: UK
"Miss Shevaughn and Yuma Wray snake a highway around Americana, folk and good old rock & roll. It really is fabulous music making and bursting with talent, imagination and character. I could listen to it all day." – UNDERCOVER
"Miss Shevaughn & Yuma have seen the U.S. and they sing about it with heartfelt soul and just the right amount of indie charisma. There's nothing stuffy or snobby about their music. It clearly shines through as honest and poetic." – John Powell / YOU HEAR THIS
"If I had a million dollars, I would pay Miss Shevaughn to sing me to sleep every night for a year. We're From Here is one of the best albums that's come my way this year."  – ADOBE & TEARDROPS
"Featuring an eclectic mix of instruments including – but not limited to – guitar, banjo, mandolin, percussion, glockenspiel and lap steel, this duo has a bigger sound than most listeners dare to imagine. Strength in voice and instrumental ability drives their songwriting excellence." – THE VERMONT CYNIC
"Unique, honest and compelling storytelling." – YOUNG MANHATTANITE
"The word "sprawling" certainly applies to We're From Here, the new album by Miss Shevaughn & Yuma Wray. The duo spent the year on the road (29 states, 125 shows) and the new songs reflect their experiences and evolution." – THE PROVIDENCE PHOENIX
"Ever since I have gotten my ears on this excellent work of Americana and folk, I haven't been able to stop listening. A voice that captivates, Miss Shevaughn has to be one of the most passionate vocalists I've heard. Add in the mysterious Yuma Wray and his magical guitar skills, these two seem to be the perfect mix for creating music that has the power to make the burliest of men weep." – THE RECORD STACHE
FOR MORE INFO ON MISS SHEVAUGHN & YUMA WRAY:
http://www.missshevaughnyumawray.com
https://twitter.com/yumawray
http://tillthewheelscomeoff.tumblr.com/
FOR MEDIA & INTERVIEW REQUESTS:
Tony Bonyata
Pavement PR
p: 262.903.7775
e: bonyata@wi.rr.com
https://pavementpr.com
Twitter: https://twitter.com/PavementPR
Facebook: https://www.facebook.com/PavementPublicRelations