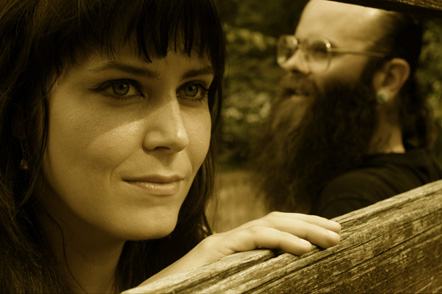 We're From Here, a Simple Answer to a Complicated Question
Miss Shevaughn & Yuma Wray spent all of last year on the road, and without fail at every show, someone would ask, "So, where are you from?," which would always lead to a bit of stammering, "Well, Miss Shevaughn was born in Arkansas and grew up in Louisiana, Yuma grew up internationally. We met in D.C. then again in Chicago…" To further complicate matters, Miss Shevaughn & Yuma Wray had to leave behind their lives and apartment in Chicago in order to be able to afford to be on the road full-time. That left the duo living in their Honda Element for most of 2011.
We're From Here is a simple answer to that complicated question. Written and recorded over a year on the road, this debut album is a classic American road trip story, unfolding both the personal and family histories as well as the musical influences informing both songwriters.
"We discovered so many wonderful people and places in our travels. We also discovered that there was a rock band inside of us waiting to come out." – Miss Shevaughn
The addition of a drummer brings this discovery to life, expanding the band's dynamic palette as they move from sparse folk ballad to psychedelic swamp stomp. It's an album reminiscent of young Rock & Roll, curious and exuberant, not afraid to borrow from its forefathers and bucking the idea of being pigeonholed into a subgenre.
From the opening strains of "Go Hang," the lamentation of a life wasted in a dead end town to the final soft note of "Anniversary Song," the realization that one may have actually been home the entire time, We're From Here serves as a map of sorts, a suggested travel route exploring American music, identity and the concept of home.
"We challenged ourselves in putting this record together, but we also had a lot of fun. We hope that you can find a similar experience in these songs." – Yuma Wray
Miss Shevaughn and Yuma Wray will also be traversing this fine country this fall as part of their tour in support of We're From Here.
MISS SHEVAUGHN & YUMA WRAY TOUR DATES
9/3 Martyr's – Chicago, IL (sneak peek CD release preview)
9/10 Black Cat – Washington DC (actual album release show)
9/13 The Acoustic Coffeehouse – Johnson City, TN
9/14 Deep South (The Bar) – Raleigh, NC
9/15 Common Market – Charlotte, NC
9/16 Fullsteam Tavern – Durham, NC
9/17 The Radio Room – Greenville, SC
9/18 Home Team BBQ – Charleston, SC
9/19 The Wormhole – Savannah, GA
9/20 Underbelly – Jacksonville, FL
9/22 Moonlight On The Mountain – Birmingham, AL
9/24 The P&H – Memphis, TN
9/26 Third Street Dive – Louisville, KY
9/27 Gene's Beergarden – Morgantown, WV
9/28 Ray Kelly's Pub – Bridgeport, CT
10/3 The Beat Rust – Lewiston, ME
10/4 Port City Blue – Portland, ME
10/5 Red Hook Bait & Tackle – Brooklyn, NY
10/12 Quenchers Saloon – Chicago, IL
10/13 Jackson Ave. Coffee – Charleston, IL
10/18 Cherrywood Coffeehouse – Austin, TX
10/21 Cowgirl BBQ – Santa Fe, NM
[more dates to be announced soon]
FEEL FREE TO DOWNLOAD & POST THEIR NEW SONG "THE RIVER MADE ME DO IT" FROM WE'RE FROM HERE
http://soundcloud.com/pavement-pr/miss-shevaughn-yuma-wray-the
FOR MORE INFO ON MISS SHEVAUGHN & YUMA WRAY:
http://www.missshevaughnyumawray.com
https://twitter.com/yumawray
http://tillthewheelscomeoff.tumblr.com/
FOR MEDIA & INTERVIEW REQUESTS:
Tony Bonyata
Pavement PR
p: 262.903.7775
e: bonyata@wi.rr.com
https://pavementpr.com
Twitter: https://twitter.com/PavementPR
Facebook: https://www.facebook.com/PavementPublicRelations