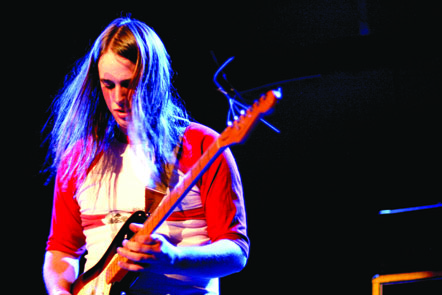 Radio Moscow have been tearing up the road as part of their national tour in support of their recent album "The Great Escape of Leslie Magnafuzz" and media from coast to coast have been super supportive with feature stories, interviews, show previews and album reviews. Here's some of that love….
STYLE WEEKLY (Richmond, VA weekly) – Positive show preview with band photo
Radio Moscow at Strange Matter
Wednesday, July 18
by Andrew Cothern
Psychedelic '70s rock gets a modern twist from Radio Moscow, a throwback group with influences from bands such as Cream, the Jimi Hendrix Experience and the Jeff Beck Group. The band taps into the trippy, bluesy rock that resonates with fans of the genre, grabbing the attention of the Black Keys, whose guitarist produced the group's debut album. On tour in support of its most recent effort, "The Great Escape of Leslie Magnafuzz," Radio Moscow performs at Strange Matter on Wednesday, July 18, at 9 p.m. $8-$10. 447-4763.
http://www.styleweekly.com/richmond/radio-moscow-at-strange-matter/Content?oid=1734909
THE ONION / AV CLUB (Toronto weekly) – Positive show preview with band photo
Radio Moscow
Also Playing: Biblical and Littlefoot Longfoot
Psychedelic rock, blues, and heavy metal have been crossbreeding for decades, inspiring Led Zeppelin, Hawkwind, and Blue Öyster Cult in the '70s, up through modern acts like The Black Keys and Iowa's Radio Moscow. Guitarist Parker Griggs' fast-fingered fretwork fuels the trio's smoky, Hendrixian fire, which attracted the attention of the Keys' Dan Auerbach while Griggs was still a teenager and led to Auerbach producing the group's 2007 self-titled debut. 2009's Brain Cycles is cohesive, sludgy, and powerfully driven, practically standing up and shouting to snare the listener's attention. The group's latest, 2011's The Great Escape Of Leslie Magnafuzz, finds the band as loose and chaotic as ever, producing a relentless assault of fuzzy guitars and hard riffs.
The Comfort Zone
480 Spadina Ave.
416-763-9139
Thu Jul 12 8:30 pm
$8
http://www.avclub.com/toronto/events/radio-moscow-biblical-and-littlefoot-longfoot,306913/
THE AQUARIAN WEEKLY (NY & NJ weekly) – Positive  show preview with band photo.
Radio Moscow: Traveling Transmission
—by Jonny Cohn, July 10, 2012
The Great Escape Of Leslie Magnafuzz left fans foaming at the mouth for a chance to see Radio Moscow perform live. Following a slew of American dates with Swedish retro groovers Graveyard this past winter after guitarist/vocalist Parker Griggs jettisoned his rhythm section, the Iowa blues jammers will be hitting up a new run of shows with Nashville's The Dirty Streets in support. They'll be at The Studio At Webster Hall in Manhattan on July 15 and The Brighton Bar in Long Branch July 16.
http://www.theaquarian.com/2012/07/10/radio-moscow-traveling-transmission/
THE OBELISK (online music site) – Positive show review with band photos.

Live Review: Radio Moscow and The Dirty Streets in Jersey, 07.16.12
Generally speaking, there are two kinds of shows at Long Branch's Brighton Bar: Late shows and really late shows. The club has for a long time now famously supported its local scene, and that's great, but that means loaded bills and late nights almost without exception. If you're going to the Brighton — once the home of New Jersey's stoner rock scene and a place where acts like Monster Magnet, Core, The Atomic Bitchwax, Godspeed, Solace, Solarized and many others cut their teeth— you can safely bet you're in for a long evening.
So it was on Monday when I headed down the Parkway to get there at around 9PM and found that only one of the five bands to play had been on. Radio Moscow were headlining, so they'd be on last, and Nashville upstarts The Dirty Streets would play before them, but locals were frontloaded as ever. I missed Buzzard Wagon — who I actually would've been interested in seeing — but got there as Iron Front were just getting started and watched their set along with The Loose Roosters, who followed in neo-grunge fashion and were a guitar/drum duo joined by two guest bassists. They sounded like Nirvana more than a little and weren't who I was there to see, but it could've been worse.
One thing about the Brighton, though, is that it's hot. And Jersey has not been exempted from the "definitely not climate-change-driven" surge in temperatures that has the rest of the country sweating off its collective balls. I knew that going into the show, though, and by the time The Dirty Streets went on, things were somewhat less dire. I'll admit it's been a bit since I listened to their 2011 album, Movements (review here), but as they played, the songs came right back, the catchy hooks and Blue Cheer vibing of "Cloud of Strange" from guitarist/vocalist Justin Toland serving as an instant refresher of their own infectiousness.
Along for the tour apparently and adding a striking visual element, Mad Alchemy's Lance Gordon stood on stage and spilled oils and projected swirls onto a white sheet behind both touring acts. Gordon (who was with Radio Moscow earlier this year as well when they toured with Graveyard) worked on one projector for The Dirty Streets and two for Radio Moscow, and underscored the psych elements in both bands with oranges, reds, greens, purples and so on. As The Dirty Streets' set progressed, I was taking pictures as local artist Penelope Fox, whom I've never actually met, handed me a small piece of paper with a Sharpie portrait on it, of me, that you can see above.
Flattering as the ego boost of even the momentary fascination of a young lady is for an oaf such as me, I bowed to thank Ms. Fox for her work and went back to watching and shooting the band, who seemed to have a couple new songs in their set in addition to the material from Movements. Nonetheless, it was tracks like "Fight You," "It's About Time" and "Broke as a Man Can Be" that especially gave me a new appreciation for bassist Thomas Storz, who, though he barely faced front at all — to do so would've required turning away from his locked-in position in the rhythm section with drummer Andrew Denham — offered warmth of tone and complexity of play in kind. Relistening to Movements afterward, I was reminded of how much I enjoyed his performance on the record in the first place.
They closed out with their most memorable chorus to date in "What Do You Know," which had me singing along — rare these days — by the end, and seemed overall like they're still developing as a live act, but were already in a position where any number of American purveyors (i.e. labels) would be lucky to have them. Similar to Radio Moscow, The Dirty Streets could also be one of those heavy rock bands that crosses over into indie appeal, and doubtless tours like this one would be just how they did it. Most of all, it'll be exciting to hear how their next record builds on the strengths they so naturally conveyed from the stage at the Brighton Bar.
Was it really 11:30PM when Radio Moscow went on? It felt later, but that's the magic of a Monday show, or part of it, anyhow. Just three days after being Mr. Ultra Responsible and skipping out on a Friday night show before seeing a band I wanted to see (in this case, The Giraffes on their home turf in Brooklyn) because I had to work the next day, I decided to do the exact opposite and take my dose of rock and roll exhaustion with a smile. As soon as they started, I knew there was no way I wasn't going to be watching Radio Moscow's set the whole way through.
Much was made earlier this year of the unceremonious and violent manner in which Radio Moscow's previous lineup imploded (the former members of the Iowa trio have since reemerged in Blues Pills), but guitarist/vocalist Parker Griggs has assembled a rhythm  section around him now that's second to none I've ever seen in a power trio format — and yes, I mean that. I don't know if it was the fact that Radio Moscow was already decently known when they fell apart or what, but it's no wonder Griggs is grinning so wide in the band's press shot: bassist Billy Ellsworth and drummer Lonnie Blanton answered back every bit of his frenetic musicality, resulting in classic fire-under-the-ass whiteboy blues
ams thaif you could divorce the speed/death metal connotations from the word, you'd almost have to call "extreme."
Apparently someone broke into their van outside Webster Hall in NYC the night before — so if you see them on this tour, which is ongoing, bring them some pants — but neither that nor the fact that they went on later than they otherwise might have seemed to dampen their spirits. The room took on the sharp smell of Gordon's various oils as Radio Moscow tore into their catalog with ferocity gloriously inappropriate for a Monday night, Blanton running circles around a stripped-down kit and hitting ghost notes on the snare while somehow also making each one of them count and Ellsworth bolstering Griggs' own fleetness of finger with no shortage of his own. Two inebriated bona fide classic rockers up front were much pleased, as was everyone else in the room with a soul.
I don't know if you can really say Radio Moscow is still out supporting 2011′s The Great Escape of Leslie Magnafuzz (the CD of which continues to elude me; I'll grab it one of these days but didn't have the cash at the show) since it's a totally different band now and their latest release is actually the previously-unissued 3 & 3 Quarters which was recorded in 2003 and has Griggs alone on it, but cuts therefrom like "Speed Freak" and the late-arriving "Densaflorativa," on which Ellsworth joined Blanton's percussion by hitting a bongo with maracas, were notably potent.  Finishing with the John Lee Hooker-esque 12-bar "Deep Blue Sea" from their 2007′s self-titled debut, Griggs — situated closest to the Brighton's stage right wind machine and so absorbing the brunt of it for the duration — leading an extended jam that proved the prior hour of raging had not at all diminished his capacity for blinding lead work.
What it might take to do that, I don't know, but when they were finished, Griggs looked ready for a second set.
The band started to load their gear off the stage, Ellsworth as collected in his presence as he had been the whole time on stage apart from that maraca jam as he and Blanton signed vinyl albums they didn't play on. To that end, let me say I hope current Radio Moscow gets to put out an album in this form. Griggs, who's handled drums on every release to this point and is clearly in his right as leader of the band to make decisions in this regard, has a tough choice ahead of him for their next collection as regards whether to do it himself or have Blanton take on the role in the studio. I guess that's a while out, but it'll be interesting to see what happens there.
Ultimately, that's why I went to this show. I could very easily have gone to Sunday night at Webster Hall instead and had both an earlier evening and probably a shorter drive, but when it came down to it — aside from wanting to support even the basic idea of a decent show happening in my beloved Garden State — I was there for the music. I wanted to see the bands, to really watch what they were doing, how they interacted and how it sounded in a smaller space than even the downstairs room at the New York venue would've provided. When Radio Moscow were done, I was one of maybe 25 people in the place. I don't care what gig you were at, that's a special memory for me even if the bands hadn't been so killer.
So while it wasn't the most practical start to this week, which has thus far taken the hit of my irresponsibility and will no doubt continue to do so until Saturday when I can, barring disaster, catch up on sleep before returning to the Brighton to see Halfway to Gone, I have no regrets. I got back to my humble river valley at around 2:15AM and was asleep a little after three, the grumpy Tuesday that followed a small price to pay for the night preceding.
http://theobelisk.net/obelisk/2012/07/18/radio-moscow-the-dirty-streets-live-review/

SHE DOES THE CITY (Toronto music blog) – Positive show preview.
Toronto Hit List:
Thursday
10 pm Radio Moscow @ Silver Dollar's Comfort Zone, 480 Spadina Ave. Psychedelic rockers Radio Moscow of Iowa play the Silver Dollar Room in support of their third full-length album, The Great Escape of Leslie Magnafuzz – an album Rolling Stone proclaimed is "fifty minutes of psyche-rock fireworks…like spending an evening with Jimi Hendrix, Cream, ZZ Top, Deep Purple, Thin Lizzy and The Black Keys." Joining them is Memphis-based band Dirty Streets, whose own mix of proto-punk, soul roots, and late 60's psych-rock. $9 at the door.
http://www.shedoesthecity.com/toronto_hit_list_art_battle_dance_party_neighbourhood_watch_nail_art_by_artists%C2%A0goin_steady_7_year_i
UPPER WET SIDE (West NJ A&E site) – Positive show preview with band photo
MONDAY! Radio Moscow at The Brighton Bar. Score another one for the Home of Original Music on the Jersey Shore — and on a Monday yet; that night of off-peak rates and the occasional surprise booking. Tonight, the psych-infused garage stomp of Iowa's Radio Moscow — an internationally touring trio with a Mad Alchemy light show — squeeze the Brighton into their itinerary between big-city gigs in NYC and Baltimore. The headliners hit the famous Brighton stage at 11, preceded by The Dirty Secrets (8pm), Buzzard Wagon (8:45), Iron Front (9:30) and The Loose Roosters (10:15). Brighton Bar, 121 Brighton Ave., Long Branch • 8pm/ $7
http://upperwetside.wordpress.com/tag/radio-moscow/
ONE WAY RICHMOND (Richmond, VA music site) – Brief show preview in their "Show Picks" column
7/18 Radio Moscow, The Dirty Streets, Caves Caverns, Boney Loner & the Sacred Teachers (pictured right) @ Strange Matter 10pm. 18+
– To the Radio Moscow dudes…No band in-fighting on stage tonight fellas…Thanks…
http://www.onewayrichmond.com/2012/07/hiding-henchman-that-left-over-steep.html
FLAGPOLE (Athens weekly) – Very brief show preview
Radio Moscow, DIrty Streets, Utah, Royal Thunder
RADIO MOSCOW California trio plays "super-heavy, lysergic-laced rock." For fans of Blue Cheer, Black Keys and Cream.
DIRTY STREETS Memphis group plays a blend of proto-punk and late '60s psych-rock.
UTAH Explosively loud metal and hardcore duo.
ROYAL THUNDER Rifftastic rock band from Atlanta.
•    When: Monday, July 23, 9 p.m.
•    Where: Caledonia Lounge, Athens
•    Cost: $5 – $7
•    Age limit: 18+
•    Categories: Live Music
http://flagpole.com/events/2012/jul/23/2793/
BALTIMORE CITY PAGES (Baltimore weekly) – Brief positive  show preview.
The Short List
TUESDAY: Don't miss: Iowa psych rockers Radio Moscow are at the Golden West with The Dirty Streets and Drunk Monk.
http://citypaper.com/music/the-short-list-1.1341440
HUGH SHOWS (Pittsburgh online music blog) – Feature interview with Parker to preview Pittsburgh show.
First/Last-Radio Moscow
Radio Moscow
31st Street Pub
Tuesday, July 10, 2012
Strip District
"Radio Moscow came about a few years back in a Story City, Iowa basement. The First version of Radio Moscow began as a solo project by Parker called Garbage Composal. At this time the sound was very raunchy mid-sixties-ish garage rock heavily influenced by the hidden gems and bands on the nuggets comps, yet still sounding very much its own. Parker recorded one albums worth of the Garbage Composal Demos under the new name Radio Moscow."
The band hits Pittsburgh next Tuesday at the Pub sharing the bill with Memphis' Dirty Streets. My thanks to frontman Parker Griggs for participating in this edition of First/Last.
The first album you ever bought?
Silverchair's "Frogstomp" when I was around 10 probably. I was really into the blossoming grunge/alternative scene as a young kid.
Your last album bought?
I just bought a ton of rad LP's at an antique store in Fargo, ND. I got Dust, "Hard Attack", The Scorpions, "Lonesome Crow, Poe, "Up Through The Spiral", Indian Summer, "Indian Summer", Muddy Waters, "Electric Mud, The Third World, "The American Dream", Shadows of Knight, "Back Door Men" and "Shadows of Knight" from 1969, Fat, "Fat", The Uniques, "Playtime", Freedom,"Through The Years", Giant Crab, "Cool It….Helios", Eden's Children, "Sure Looks Real"….and a bunch more. I found a goldmine.
Favorite album of all time?
That's a tough question.
Least favorite/most disappointing album?
Hmmmm…I was a really big fan of The Seeds and then was very disappointed by their "A Spoonful of Seedy Blues" album. Also Blue Cheers' 3rd album was quite disappointing after "Outside Inside".
First concert attended?
First show was Jefferson Starship with my dad. Second show was The Smashing Pumpkins.
Last concert?
I went and saw Sleepy Sun in Chicago before we left for tour.
Favorite concert ever?
Hmmmmmm…I really enjoyed playing and being at the Roadburn Fest in Holland. Touring with Graveyard was also awesome.
Least favorite concert?
I don't know…if I'm not liking it I usually leave.
Any thoughts, experiences about Pittsburgh?
This is our first time in Pittsburgh! I'm looking forward to seeing what it's all about.
Thanks, Parker. If there ever was a perfect combination of venue and music, it's yours and the Pub!
http://hughshowsredux.blogspot.com/2012/07/firstlast-radio-moscow.html
WHATZUP (Fort Wayne, IN weekly) – Positive Critic's Picks show review with photo.

CEDAR RAPIDS EXAMINER (Cedar Rapids, IA weekly) – Positive Gabe's show review with photos.
Radio Moscow Rocks the Heartland
Radio Moscow is Parker Griggs, (Vocals/Guitar) Lonnie Blanton (Drums) and Billy Ellsworth (Bass). Radio Moscow played an intimate show at Gabes in Iowa City, Iowa July 3, 2012.
I had a chance to visit with Parker and Billy prior to the show. I asked Parker if the rumored power trio with Dan Auerbach on guitar and Parker on drums was actually on the radar. Parker said that this was something he and Dan had discussed a long time ago…but no. As far as power trios are concerned, Parker, Billie and Lonnie are high on the list. All the comparisons of Hendrix, Blue Cheer and all those that carved out "power trios" of the late 60's/70's apply to Radio Moscow. Gabes being a very intimate, basement like feel was home to RM. They mingled with the small, but enthusiastic crowd, as if everyone were close friends. During Dirty Streets set, Parker helped run the "Fillmore" homemade 60's psychedelic light show. I was amazed at how laid back the road weary trio handled even an annoying technical glitch that was present through most of their show. Parker would just move on and play with it, making the unwanted noise part of their music. Even though the the rhythm section of Lonnie and Billy are only a few months old, they gelled seamlessly, as if they had been together for years. I count myself fortunate to have been a part of their pre 4th of July celebration at Gabes, because as Parker said, " …I am not sure when we will make it back to Iowa…"
http://www.examiner.com/review/radio-moscow-rocks-the-heartland-2
CITY NEWSPAPER (Rochester, NY weekly) – Positive  show preview.
CHOICE CONCERTS: 7/4-7/11
Radio Moscow
Wednesday, July 11
Bug Jar, 219 Monroe Ave.
7 p.m. | $12 | bugjar.com
[ Psychedelic Rock ]
In some ways, tuning into Radio Moscow is exactly what you would expect: a distorted, fuzzy transmission from some dingy corner in the glory days of rock and roll. The power trio of Parker Griggs, Billy Ellsworth, and Lonnie Blanton has been turning heads the world over with its frenzied modern incarnation of psychedelic-blues-rock, including one very notable head belonging to The Black Keys' front man Dan Auerbach, who produced the band's debut album. Of course, the raw energy and musical chops of Radio Moscow are impossible to overlook. Like legendary predecessors Cream, The Jimi Hendrix Experience, or the Black Keys themselves, Radio Moscow is at its best when the music is dirty and sweaty. Thankfully for us fans, with 2012's "3 & 3 Quarters" the group hasn't cleaned up its act one bit. — BY JARED BENNETT
http://roccitynews.wordpress.com/2012/07/02/choice-concerts-74-711/
PRESS-CITIZEN (Iowa City, IA daily) – Positive "Best Of" show preview.
Jim Musser's High 5
Radio Moscow
Gabe's, 330 E. Washington St.
8 p.m. Tuesday, $10 cover
Flash guitarist Parker Griggs has come a long way from his Story City basement with this retro-'60s psychedelic/metallic blues-rock power trio. After a European tour last summer, the Blue Cheer-meets-Hendrix combo recorded its third album, "The Great Escape of Leslie Magnafuzz."
Its current coast-to-coast, border-to-border "Great Escape…" national tour with Memphis-based fellow-travelers Dirty Streets will end Aug. 5 in San Francisco, marking 35 shows in 44 days.
http://www.press-citizen.com/article/20120628/GOIOWACITY/306280001/Jim-Musser-s-High-5
HIGH PLAINS READER (Fargo, ND weekly) – Positive "Best Bets" show preview.
Best Bets 6-28-12 through 7-2-12
Radio Moscow w/ The Dirty Streets and The Vistas
Fri., June 29, 9:15 p.m.
The Aquarium
The Iowa-based power trio Radio Moscow is touring for the release of its newest album, "The Great Escape of Leslie Magnafuzz," and its stop in Fargo is coming up this Friday! With Rolling Stone magazine proclaiming the album as a "psyche-rock hit," Radio Moscow is ready to hammer you with some super heavy jams in a show that is not worth missing. Tickets are $10; for ages 21+. For more information, visit http://www.radiomoscow.net
http://hpr1.com/bestbets/article/best_bets_6-28-12_through_7-2-12/
TIME OUT CHICAGO (Chicago weekly) – Critic's Pick show preview .
Radio Moscow + The Dirty Streets – Critic's Pick
Hailing from Story City, Iowa, Radio Moscow sears ears with its maximum R&B-blues-rock, a power trio propelled by fuzz-enhanced riffage.
http://timeoutchicago.com/music-nightlife/music/15460556/radio-moscow-the-dirty-streets

MUTINY RADIO (San Francisco internet radio) – On air phone interview with Parker on Sat. Aug 4th at noon pacific to promote San Fran show (with Aisha Spearman)
SSG MUSIC (Seattle online music site) – Positive show preview with band photo and live video.
Radio Moscow, The Dirty Streets, Ancient Warlocks, Antique Scream @ The Tractor Tavern | 6/27 | 8 pm | $12 adv (get tickets) | 21+
Tonight, the Tractor Tavern will be shaking with loud psychedelic blues rock and massive riffs as Radio Moscow takes the stage. Radio Moscow's sound combines the classic 60s/70s blues rock of bands such as Cream, Blue Cheer, and the Jimi Hendrix Experience with sludgy stoner rock inspired by bands such as Black Sabbath.
The band got their start with a lucky break – an unsolicited demo tape passed to the merch guy at a Black Keys show ended up impressing singer/guitarist Dan Auerbach enough for him to want to produce their debut for Alive/Natural sound records (who had also signed the Black Keys on the strength of an unsolicited demo). This was quickly followed up by their second album in 2007, Brain Cycles, which added a heavy element of stoner rock to the band's classic 70′s hard/blues rock sound as well as bring the psychedelic elements more to the forefront. Their most recent release is 2011′s The Great Escape of Leslie Magnafuzz.
http://www.ssgmusic.com/tonight-seattle-black-hills-hustle-drone/
SEATTLE ROCK GUY (Seattle online music blog) – Brief show preview.
WHAT'S NOT WEAK THIS WEEK – A local show round-up
by Jake Weller
Wednesday, June 27
If you've been looking for an excuse to don your ironic tie-dyed under-hoodie tee and neck that dose your buddy gave you a few months ago, look no further than Ballard Ave on Wednesday night at the Tractor.  As much of a turn off as that statement may be to many of you 21st Century rockers, sometimes your dad's music ain't all that bad – as long as it's cranked and played by dudes that you just shared a frosty brew with at the last brutal metal show.  Bluesy guitarahedrons, Radio Moscow, are headlining this (admittedly) paisley evening, but the opening salvo of Antique Scream and  Ancient Warlocks will supply enough thick stoner groove to keep the most uptight metaller shaking like jello on an overhead projector until well into their hangover two days later.
http://www.seattlerockguy.com/2012/06/whats-not-weak-this-week_27.html
THE DISPATCH-ARGUS (Quad Cities daily) – Feature interview to preview Rock Island show.
Psychedelic rock to shake RIBCO
By Jonathan Turner
Parker Griggs is just 28, but the native of Story City, Iowa, (near Ames) is a big fan of '60s-era, psychedelic rock. His rock band, Radio Moscow, brings that heavy, mind-blowing sound to Rock Island Brewing Company next Thursday at 9 p.m., on a bill with Dirty Streets and American Dust. Tickets are $10.
"I got into psychedelic music probably in high school, with the punk and indie rock scene," Mr. Griggs — who now lives in northern California — said recently. "The style was so different. There are a lot more coming out now; it's growing the last few years. There are cool bands coming out of San Diego."
The name of his trio (which includes Billy Ellsworth and Lonnie Blanton) comes from a garage rock compilation of '60s hits, which included "Go-Go Radio Moscow" by Nikita the K, he said. After he first formed the band in Colorado, Mr. Griggs got a demo recording to The Black Keys' frontman Dan Auerbach, who helped Radio Moscow get signed to Alive Naturalsound Records.
After a few personnel changes, the current group is touring to support its well-received third full-length CD, "The Great Escape of Leslie Magnafuzz," an album Rolling Stone proclaimed is "fifty minutes of psyche-rock fireworks … like spending an evening with Jimi Hendrix, Cream, ZZ Top, Deep Purple, Thin Lizzy and The Black Keys."
Britain's The Daily Telegraph called it a "Cream/Hendrix inspired album of cosmic blues. Main man Parker Griggs is a great guitarist and he's clearly having a ball … exhilarating stuff." The Salt Lake City Weekly enthused: "A bona fide blues-meets-psych-rock staple."
New Zealand's Manual Magazine wrote: "Radio Moscow are aficionados of the golden age of dusty rock, and clearly proud to admit it. There's no hint of any of that sad-sack 'ironic' nostalgia at work here; this is the real deal, delivered with due reverence and plenty of enthusiasm. 'The Great Escape of Leslie Magnafuzz' starts off with a hiss and a roar and never really lets up.
"It reverberates with stacks of thunderous fundamental riffs that have been twisted into some hard-rockin', good-times, prehistoric metal," the review said.
Mr. Griggs said the unique title of the album was inspired by the bucolic setting of the studio where it was recorded, an hour north of San Francisco.
"It was about how we moved out to a cabin, escaped the city, got a good place to jam," he said. "We had authentic old tape machines, soundboards, the right kind of sound."
A good number of the tracks on "Great Escape" are instrumentals, and Mr. Griggs said the balance between lyrics and just music depends on the mood of the piece. He does a majority of the songwriting.
Radio Moscow has played all over the world, and it's neat to see overseas audiences go crazy for the music, Mr. Griggs said. "Some places in Europe go really wild. In Turkey, they were really appreciative of us coming out there," he said.
Joining Radio Moscow on this tour is the Memphis-based band Dirty Streets, which mixes proto-punk, soul roots and late '60s psych-rock. The tour also plays Gabe's in Iowa City this Tuesday night at 9 p.m. For more information, visit radiomoscow.net.
http://www.qconline.com/archives/qco/display.php?id=598572
RIVER CITIES READER (Quad Cities weekly) – Brief show mention.
Thursday, July 5 – Radio Moscow. Iowa-based psychedelic rockers in concert, with opening sets by The Dirty Streets and American Dust. Rock Island Brewing Company (1815 Second Avenue, Rock Island). 9 p.m. $10 advance tickets. For information, call (309)793-4060 or visit RIBCO.com.
http://www.rcreader.com/lifestyle/whats-happenin-july-5-2012/
HANGING @ THE BACK (Toronto music blog) – Brief early show preview.
The Great Escape of Leslie Magnafuzz
June 25, 2012
Radio Moscow Hit Toronto
By hangingattheback
Iowa-based psych rockers Radio Moscow will be hitting the Big Smoke on July 12th for a gig at the infamous Comfort Zone. They're on the road in support of their recently released album The Great Escape of Leslie Magnafuzz.
The always awesome Little Foot Long Foot and Biblical will be joining them. Advance tix are $7 and it's $9 at the door.
http://hangingattheback.wordpress.com/tag/the-great-escape-of-leslie-magnafuzz/
FLAGPOLE (Athens, GA weekly) – Brief early show preview.
Radio Moscow, DIrty Streets, Utah
RADIO MOSCOW California trio plays "super-heavy, lysergic-laced rock." For fans of Blue Cheer, Black Keys and Cream.
DIRTY STREETS Memphis group plays a blend of proto-punk and late '60s psych-rock.
UTAH Explosively loud metal and hardcore duo.
•    When: Monday, July 23, 9 p.m.
•    Where: Caledonia Lounge, Athens
•    Cost: $5 – $7
•    Age limit: 18+
•    Categories: Live Music
http://flagpole.com/events/2012/jul/23/2793/
NORTH COAST JOURNAL WEEKLY (CA Northcoast weekly) – Feature story/interview with photo to preview Arcata show.
the hum / By Bob Doran
Summer Music
Radio Moscow, plus Crow Quill Night Owls, Steve Young, Operation Water Dragon, jazz and a contest
(June 21, 2012)
You may remember the psychedelic blues power trio Radio Moscow from the time they spent living in Humboldt. They relocated here from Iowa, where the band first came together. The fiery center of the band is guitarist Parker Griggs. In fact in the beginning, when he was still a 17-year-old, Radio Moscow was just him. Alive Naturalsound recently released 3 & 3 Quarters, a collection of previously unreleased tracks from his garage rock period, songs he recorded on his own, overdubbing drums, bass and guitar.
"I was into the Nuggets box sets and that mid-'60s sound," he said, calling from his new home, a "rancho" in the woods near Red Bluff. "I grew up with the whole grunge rock punk thing, then started getting into '60s music and blues, looking into older styles different from the more depressing stuff I was into. The instrumental parts were more complex and more fun to play."
When he moved from garage rock into wilder blues a la Hendrix and Cream, he started drawing more attention with his wailing guitar sound full of wild abandon. People wanted to hear him play live, so he put together a rhythm section and hit the road, eventually playing all over the United States and in Europe.
At the beginning of 2012, he had a new record, The Great Escape Of Leslie Magnafuzz, and a string of gigs to go with it. But at the start of the tour back home in Iowa, his bandmates rebelled and said they did not want to continue. Tempers flared. On day two of the tour the disagreement erupted onstage. "Some stuff got thrown around on the last song," said Griggs, who ended up getting his head cut open by a flying guitar. After he got stitched up, he fired his rhythm section, hired a new one and continued the tour.
Now it's summer and he's about to hit the road again with his new sidemen, playing in two dozen states and in Canada between now and early August. This time, day two is a Monday show at the Jambalaya with Dirty Streets, a like-minded psyche/soul band out of Memphis. You can expect fireworks, but only in the music, not between the musicians.
http://www.northcoastjournal.com/music/2012/06/21/summer-music/
HUMCITY (CA Northcoast online blog) – Brief Arcata show preview with band photo and Grimey's video.
http://humcity.blogspot.com/2012/06/radio-moscow-at-jambalaya-in-arcata.html
TIMES-STANDARD (CA Northcoast daily) – Feature story with photo to preview Arcata show.
Blues-rockers Radio Moscow return to Arcata Frontman describes band's new re-release "primitive"
Myles Cochrane/Tri-City Weekly
The last time Parker Griggs and his mighty blues-rock trio Radio Moscow made their way into Arcata they shared the stage with Humboldt's own Ethan Miller and his Rick Rubin-supported psych-rock quintet Howlin Rain in February. Griggs, a friend of and collaborator with Dan Auerbach of the Black Keys (who produced 'Moscow's 2007 self-titled LP), is no stranger to the North Coast.
"I lived in Eureka for a year so it was kinda like a hometown show," Griggs said. "Got to see a lot of old friends from the area and that was good. Stuck around and hung out for a few days after also. "I like the Arcata-Eureka area a lot."
With Jimi Hendrix-esque riffs, psychedelic Cream-ish breakdowns, bluesy and powerful vocals in the same vein as Auerbach's and a riveting mix of the psychoactive 1960s, the rockin' and rollin' 1970s and the thunderous and stadium-ready blues-rock of today, Radio Moscow will take the stage on Monday night at the Jambalaya after a performance by classic rock trio The Dirty Streets out of Memphis.
Influenced heavily by the grungy "Seattle sound" scene made popular in the late 1980s and early 1990s, Griggs first picked up a guitar at age 10.
"I was into sports like most kids earlier but then got inspired by grunge rock and lost all my interest in being in sports and most other things," he said. "(I) started a grunge band when I was around 12 but I was on drums and vocals. I did write the guitar parts for the songs though."
Formerly known under the solo name Garbage Composal, Griggs' first big break with Radio Moscow was when he was able to get a demo into the hands of Auerbach several years ago.
"I passed along a demo to the Black Keys merch guy at a show and got a call later that night from Dan saying he really liked my music and that he was going to give it to a record label," Griggs said. "Maybe a year later I got another call saying come to Ohio and lay this stuff down. I added lyrics to the music then went to Ohio, and we recorded it all in two days. Dan was a cool dude and showed me a lot of good bands when I stayed at his place. It was a cool way to start Radio Moscow´s career."
Radio Moscow currently shares a spot on the Alive Records' lineup with the likes of The Black Keys, Buffalo Killers and more.
After releasing their incredible self-titled, 2010's "Brain Cycles" and the blues-rock-roller-coaster ride that is 2011's "The Great Escape of Leslie Magnafuzz," Griggs just recently released a collection of minimalist White Stripes-esque Radio Moscow tracks that he recorded solo in 2003 called "3 & 3 Quarters."
"It's my old garage rock basement recordings from when I was 18," Griggs said. "The record label dug it so I had it re-released. It's a different thing than Radio Moscow is now though. Much more primitive."
While the lineup for Radio Moscow on drums and bass has changed often, the current incarnation features Billy Ellsworth on bass and Lonnie Blanton on drums.
"I hope (they're here to stay for a while)," Griggs said. "It's quite bothersome to reteach the songs all the time (laughs)."
Before kicking off this next leg of his tour, Griggs is currently vacationing after a three-month stint in Europe.
"We toured with (Swedish blues-rock quartet) Graveyard and I think they're great," Griggs said. "I'm vacationing in Spain right now and I've been hanging out and jamming with a brand new band called Prisma Circus from Barcelona. They're very good."
While Griggs has lived all over the place in Iowa, Colorado, Utah and California (hence the title of Alive Records' recent label compilation album "Where Is Parker Griggs?"), the musician says his home is "on the road" for now.
"I have a house in the woods in Northern California about three hours from Humboldt but I think I'm relocating somewhere else when I return from the next tour," he said. "It was hard to stay on top of things and catch all the opportunities when I was living in the woods."
The next tour which hits Humboldt on Monday will see the trio travel to 35 cities all over the United States and even to Canada — a first for Parker.
Another exciting possible first would be the formation of a heavy supergroup with Griggs on drums.
"I've talked with Dan (from The Black Keys) about starting a heavy psych power trio with me on drums and Dan on guitar and someone else on bass," Griggs said. "But it's been awhile since we discussed that."
Before the show on Monday, Radio Moscow fans in Humboldt might be able to be victorious in playing "Where Is Parker Griggs?" if they look in the woods, the mountains and the local record shops.
"It's nice to make some time to check out nature and get out of town for awhile," he said. "I try to go record shopping in town before shows too if there's time. I've got some cool stuff from traveling around."
Tickets for Monday night's 21-and-over show at the Jambalaya can be purchased for $8 at the door.
"Should be a good night," Griggs said. "We have a band called Dirty Streets from Memphis with us and they are rad. Come hang."
If you go
What: Radio Moscow, The Dirty Streets
When: 9 p.m. Monday
Where: Jambalaya, 915 H St., Arcata
Admission: $8 (door), 21+
http://www.times-standard.com/entertainment/ci_20888779/blues-rockers-radio-moscow-return-arcata-frontman-describes
THE WASTER (online music site) – News story about tour with band photo, Creepin mp3 and related links.
http://thewaster.com/index.php?option=com_content&view=article&id=2341:radio-moscow-summer-tour&catid=6:news-wire&Itemid=82
ANTIQUIET (online music site) – News story about tour with band photo, Creepin mp3 and related links.
Tour Dates:  Radio Moscow
Radio Moscow Announces Summer Tour Dates
By Jason Shane
Radio Moscow are heading out on the road this summer to again support their third LP The Great Escape of Leslie Magnafuzz, which came out last fall on Alive Naturalsound Records. Parker Griggs and company will hit nearly every corner of the U.S., playing 35 dates in 25 states plus Ontario.
Joining Radio Moscow are Memphis' The Dirty Streets, and Lance Gordon of Mad Alchemy will again be providing a tripped-out liquid light show as he did on the band's U.S. and European tours earlier this year. The tour kicks off on June 23rd at Whiskey Dick's in South Lake Tahoe, California, heads east across the northern part of the States, then down the East Coast and back across the South and Desert Southwest, before returning to California and wrapping up at Cafe Du Nord in San Francisco on August 5th.
Don't miss this incendiary live act when they come to a club near you
http://www.antiquiet.com/dates/2012/06/radio-moscow-announces-summer-tour-dates/
THE SODA SHOP (online music site) – News story about tour with band photo, Creepin mp3 and related links.
http://www.thesodashop.us/2012/06/11/radio-moscow-kicks-off-u-s-headlining-summer-tour/
HELLHOUND MUSIC (online music site) – News story about tour  with band photo, Creepin mp3 and related links.
http://hhmzine.blogspot.com/2012/06/radio-moscow-tour-us-this-summer-free.html
FARONHEIT (Chicago online music blog) –  "Creepin'" mp3 featured in their 6/13/12 "Pick Your Poison" mp3 feature.
http://faronheit.com/2012/06/pick-your-poison-wednesday-6-13-12/