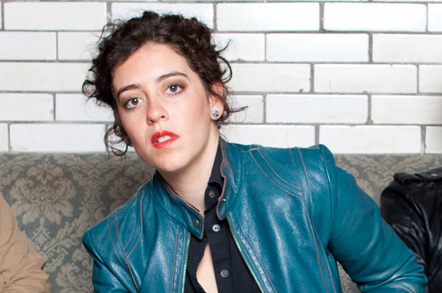 Interview: Martha Berner [as featured in IE's February 2012 issue…. with front cover billing!]
Just because Martha Berner's just closed a six-year gap between full-length studio outings, it doesn't mean the singer/songwriter was inactive. In fact, she's used the half decade and change to practically start from scratch, reinventing her already alluring folk flavorings under the umbrella of everything from insurgent country to organic rock and even some good old fashioned rock 'n' roll and Stax soul. Much of the evolution comes from slogging it out on the local circuit and beyond, but another key element in the formula was the cementing of her supporting band, The Significant Others, with whom Berner shares co-billing throughout the new Fool's Fantasy (Poprock).
"I never expected it to be six years since I put out my last full-length, and I actually had plans to make the next one shortly after [debut album] . . . this side of yesterday!" exclaims the troubadour by phone from her Windy City home. "In the end, what probably took an additional three years [more than I wanted] was just a shift in who I was working with and really wanting to differ this record from the others. [It's] not that one way was right and the other was wrong, but [I preferred] just to have a very cohesive and intimate band feel with musicians who knew the songs for awhile and experienced them live for a long time before going into the studio. Basically the timing isn't always what we think it's going to be as artists, and even though I'm kicking myself a little bit, I feel really great having it come out now and I'm excited for where the band is at."
Berner's idea for The Significant Others began with a call to longtime friend and collaborator Scott Fritz, who didn't just produce Fool's Fantasy but also played a slew of instruments (from guitar on down) and helped recruit the other musicians. Keyboardist Will Sprawls and drummer Tyson Ellert round out the group, contributing to the thicker, full-band feel and extra aggression when compared to past projects.
"The new music has a little bit more grit and edge that my other albums didn't have, and it's a little more rock 'n' roll," confirms Berner. "I wrote all the songs, but the guys wrote their own parts and we all sort of co-produced it together. It's still billed as Martha Berner & The Significant Others, but it definitely is a band effort. I see them as the special sauce, and I couldn't achieve this sound without them."
As for those specific sounds on Fool's Fantasy, they range from the 10,000 Maniacs-styled title track to the smoky soul of "Some Stay A While" and the alternative country grit of "Cry." On the other hand, "Where Does The Day Go" could easily fit alongside the easygoing indie pop of Feist, while "Irene" and "Burning Candles" recall recent collaborations of Robert Plant with Alison Krauss. (Because this collection features four-time Grammy-winning mastering engineer Gavin Lurssen, perhaps that last comparison is no coincidence.)
"I met Gavin through a good friend and fellow artist Erika Rose, and I flew out to L.A. [to work with him]," she explains. "It was super fun sitting there seeing his Grammys, and it was a real honor to watch whatever it is that he does. He seemed to really hang on to the textures, warmth, and depth, and not lose it in the compression process."
Another area of depth comes on the songwriting side of the coin, which Berner culls from a composite of everyone from Leonard Cohen to Sinead O'Connor, The Sundays, Wilco, Bon Iver, and Rogue Wave. Lyrically, many of her tunes take a storytelling approach, and even though they're coming from the perspective of a burgeoning artist hoping to make a mark on the world at large, Berner makes a point to relate to listeners from any walk of life.
"'Fool's Fantasy' as a song and the record as a whole are my examination of life, not just for me, but people in general on a journey to achieve what they want in life," she says. "It's the song that kind of questions how do you know when to draw the line in your pursuit, whether that be a music career or relationships. How do you know when you should work harder or just walk away? [In my case], whether I'm foolish or not, I'll carry on this [musical] path."
Even if Berner's yet to become a household name, she's been making a push through multiple appearances at Austin's gem-uncovering South By Southwest conference and Milwaukee Summerfest, plus an aggressive campaign to be heard on television programs, most notably MTV's "The Real World." Add in some WXRT radio airplay, mounds of positive press, plus a continual presence on the road, and the tunesmith is certainly popping up in all the right places.
"I think there's a natural desire to push [my career] forward and achieve through that, even with the state of the music industry right now," she considers. "There's some great stuff going on and some tougher stuff, too, but I just want to strike a balance between being very driven and also really wanting to preserve my love for it. I always have something I'm working on, and at the end of the day, I want to love performing and writing and being in a band. It all ebbs and flows as it would for anyone, especially in today's economy, but I'm going to keep on doing it."
Despite having to weather the music industry's uncertainty, Berner's thankful for Chicago's support over the past eight years she's lived here, which follows a provincial Wisconsin upbringing, through spending time in cosmopolitan San Francisco, through more exotic locales like the Virgin Islands and Thailand. She attributes the frequent moves to wanderlust, though one has to question the tendency away from paradise and toward the wintry Great Lakes.
"Chicago is a very inviting and warm city and I love the Midwest strategy of picking yourself up by your bootstraps and cracking a good joke while you're doing it," she explains. "I love the drive and humor and, music-wise, I just continue to have great relationships with musicians in the city. Chicago has the big city opportunity, sophistication, and talent, but still the small-town hospitality. We back each other up, we're all in this together and we have a good time above all."
It's all part of her fantasy.
Andy Argyrakis
http://illinoisentertainer.com/2012/01/interview-martha-berner/