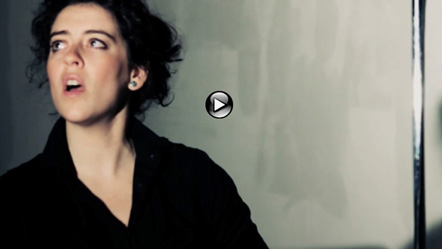 Film At 11: Martha Berner And The Significant Others
Memory and nostalgia seem to be a popular trend in music this past year, and Martha Berner's video for "Fool's Fantasy" is no different. Though it may primarily feature Berner and her band performing the song, shots of a film projector are interspliced before it finally casts its home movies upon the band during the crescendo. Granted, "Fool's Fantasy," the title track from Berner's latest LP, may not have the deepest, most symbolic clip ever, but its quaint use of home video superimposed upon the band carries across the song's message well enough, creating a nice juxtaposition between the image and the strong pipes of Berner. Watch the clip below.
CLICK ON THE IMAGE BELOW TO VIEW MARTHA BERNER'S NEW "FOOL'S FANTASY" VIDEO ON MAGNET'S "FILM AT 11"
It's been six years since the release of her well-received debut album …this side of yesterday, but last month marked the return of indie-folk singer/songwriter Martha Berner with her long-awaited full-length follow-up Fool's Fantasy along with her new band The Significant Others.
The entire album was recorded at Chicago's premiere digital recording studio Stranded On A Planet with producer & Significant Others' guitarist Scott Fritz, and was mastered by four-time Grammy Award winner Gavin Lurssen (Robert Plant & Alison Krauss, Cat Power, Tom Waits, Leonard Cohen, etc). While this new material still incorporates the Chicago-based musician's trademark whiskey-and-honey vocals and thought-provoking subjects that stretch across folk, pop and Americana, Fool's Fantasy marks Martha's first true band effort – incorporating elements of Stax soul, insurgent country and the unbridled passion of late '60s rock-n-roll.
FEEL FREE TO POST & SHARE MARTHA BERNER & THE SIGNIFICANT OTHERS' NEW TRACK "BRAVE"
http://soundcloud.com/pavement-pr/martha-berner-brave
"In her long-awaited (six years!) follow-up to her debut album, the Chicago folk-rock singer gathers together a new band (the Significant Others), producer (Scott Fritz, of aforementioned band) and a delightfully twangy, alt-country/bar-rock sound. Fritz contributes tumbling guitar lines that nicely compliment Berner's vocals, which switch from smoky-sweet to raw and impassioned on a dime—it's easy to see why the singer's live performances have been so lauded by critics." – METROMIX NYC
"There is a certain magic on these twelve tracks….Berner sounds better than ever before." – ROOTSTIME: BELGIUM
"By keeping their obvious influences diverse, their latest release "Fool's Fantasy" gives you a taste that is not necessarily heard on the radio, but should be. If you like Americana, this is totally worth checking out." – ECLECTIBLOGS
" …reminiscent of the bands Steve Earle put together on all those Twangtrust records. In a sea of "half decent" female singer/songwriters, Martha Berner really stands out." – WHEN YOU MOTOR AWAY
"A pearl." – KEYS & CHORDS
"Martha is infinitely talented."  – MUSIC + MOXIE
"Think Natalie Merchant with fewer adult contemporary leanings or Aimee Mann on a folkier trip. Berner's voice can thicken and thin like Joni Mitchell's and it's unmistakably her greatest asset" – MAGNET
"One of indie's finest talents." – TORONTO METRO
"Dramatic, heartfelt and an unusual musical versatility." – NASHVILLE CITY PAPER
"Undeniable vocal talent fused with country sensibilities. With a burning alt. country feel… well, Dylan would have nodded his approval." – WHISPERIN & HOLLERIN / UK
"Martha's live shows are revelatory." – CHICAGOIST
"Heartfelt and wry acoustic folk-rock, that also showcases some fun detours with a full band, including a retro power-pop number." – MADISON CAPITAL TIMES
"A moody, experimental album that hits all the right notes; at once wry, melancholy and celebratory of life's smallest revelatory moments – like grabbing a beer for breakfast." – OUT MAGAZINE
"When Chicago's Martha Berner sings that her heart is breaking into 'ten tiny little pieces' on the titular track of her four-song Ten Tiny Little Pieces E.P. you can practically feel your own heart breaking along with hers. And just as you've used up all the tissues in the house to dry your eyes, Berner puts the sun into "Sunday Morning," a spirited cover of the Velvet Underground classic. Somewhere between these two numbers Berner elevates the mood on 'Down and Out in San Francisco' and eventually breaks through to pop perfection on 'Wait For Me.'" – CHICAGO FREE PRESS
"While tales of frustration, loss and weary introspection heavily dot Martha Berner's songs, they don't overwhelm the Chicago singer's gentle rootsy delivery. Her lyrics are mature and direct, and her melodies would hold up just fine even without the tasteful string and keyboard accents." – THE ONION'S AV CLUB
"Sensitive and literate folk-pop." – GAPERS BLOCK / CHICAGO
"You can't help but be moved by Berner's Ten Tiny Little Pieces EP which includes the emotionally charged title track, as well as a compelling cover of The Velvet Underground & Nico's 1967 pop classic "Sunday Morning." Still, to see is to believe." – CITYVIEW / DES MOINES
"Berner's indie folk-pop benefits from full, well-thought-out arrangements that at times have a George Martin feel. This is a brief EP, but it gives a fair sampling of how Berner uses her burnished contralto to shade a lyric with hope, resignation and sadness." – ISTHMUS / MADISON
"Phenomenal. Martha has a powerful voice that is at the same time both serene and aggressive. This disc radiates with love." – ROOTSTIME / BELGIUM
"Berner lashes together the twang of folk/country, the burn of alternative country and the punch of indie rock." – CINCINNATI CITY BEAT
"Evokes the vocals of Tori Amos and the musical style of Wilco." – CHICAGO TRIBUNE
"Radio-friendly hooks and melodies…" – ARIZONA DAILY STAR
"…Wilco-esque glow with the sweetly sung vocals of Natalie Merchant and the darker guitars and imagery of the Indigo Girls." – HEARSAY MAGAZINE
"Americana Folk at its Best." – TOURING THE INDIES 
"Martha has a great, rich voice that speaks the poetry of angels… haunting, beautiful and powerful." – READ MAGAZINE
 "…unveils soothing vocals, folk-flavored guitars, and witty songwriting across ten compelling cuts." – ILLINOIS ENTERTAINER
"Hip and beautiful… influenced by her experiences in travel, stylistically by Natalie Merchant, Bob Dylan and John Lennon." – WOMENFOLK
FOR MORE INFO ON MARTHA BERNER
http://marthaberner.com
http://www.facebook.com/marthabernermusic?v=app_6917629807
FOR MEDIA AND INTERVIEW REQUESTS
Tony Bonyata
Pavement PR
p: 262.903.7775
e: bonyata@wi.rr.com
https://pavementpr.com