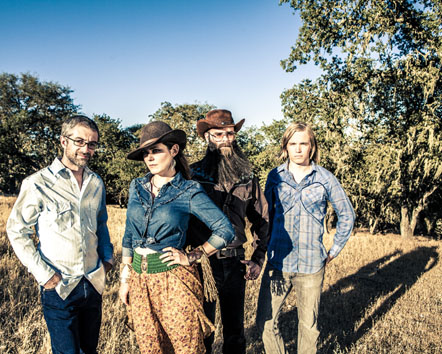 MISS SHEVAUGHN & YUMA WRAY NEW SOPHOMORE STUDIO ALBUM LEAN INTO THE WIND OUT MARCH 25TH!
CLICK HERE TO LISTEN TO THE PREMIERE OF THEIR NEW TRACK "DRIFTER'S COMPASS" VIA MAGNET MAGAZINE!
Miss Shevaughn & Yuma Wray were on a train traveling to get treatment for Miss Shevaughn's recently diagnosed cervical cancer in early 2013. "We decided three important things on that train ride," says Yuma Wray, "We decided to set a date for our wedding (March 1, 2014), to push ahead with the already booked spring tour and to write this album not knowing at all what the future would bring."
Lean Into the Wind, the second full-length album from hard touring rock band Miss Shevaughn & Yuma Wray is the product of a year plagued by the chaos of friends passing, illness, depression and self-doubt, but also one of adventure, travel, friendship and the kinds of life events that ultimately help us to cut through the noise.
"We had a pretty emotional year, I don't think you can assign one emotion to something as complex as a series of songs, emotion shouldn't be a stylistic choice. Unless you're sedated, no one exists like that. Sometimes you feel happy or angry or inadequate, this album captures every nuance of what we were feeling last year," explains Yuma Wray.
For the two songwriters settling, for the moment, in California seems to have had more than just a slight effect on their music. Many of the dreamy guitar and vocal textures harken back to the days of the Flying Burrito Brothers or the Byrds Sweetheart Of The Rodeo period. Lean Into The Wind is as twangy as it is fuzzy – striking a perfect balance between the jittery, noisy heyday of the late sixties and the more subdued, experimental sounds of the early seventies.
The album opens with a nod to those sounds, and introduces the rich three-part vocal harmonies that are woven into the fabric of the album. "Drifter's Compass" is a manifesto of sorts. "It's a kind of defiant anthem for the underdogs and artists who create outside of the mainstream because they just simply must, " says Miss Shevaughn.
"This is the hardest part of living, right past the point of giving in, don't need your prayers or your permission, just need a road without an end" – "Drifter's Compass"
The band has undergone rapid evolution since 2012's We're From Here – hundreds of shows and over 100,000 miles on the road will do that. "The last album catalogued our transition from an intimate duo to playing with other musicians as a band. Lean Into the Wind was written over months and road tested with all four band members contributing to the final recording," says Yuma.
Fans describe Miss Shevaughn's voice as "mesmerizing." She's drawn critical comparisons to Emmylou Harris and Joni Mitchell. On Lean Into the Wind she also explores a more forceful, gutsy side of her voice. "One of my favorite moments on the road with these new songs was when an audience member, who was about my dad's age, ran up after the show, embraced me and blurted out 'Janis Joplin lives!'" recalls Miss Shevaughn. But the singer is just as likely to rip into a fuzzed out slide guitar solo or saturated rock organ hook.
And that's the thing with this band, on stage and in the studio they're a whirlwind of creative activity. Yuma Wray, aside from having developed an easily recognizable "less is more" guitar sound that's been praised for creative soundscaping and chunky Jimmy Page inspired riffs, has come into his own vocally on this album. He has branched out, tackling duties on keys and flute as well as the vocal harmonies that wend their way through the record. Drummer Ben Tufts, from Washington D.C. also contributed vocal harmonies, mandolin and bass. Additionally, guest musician Ikey Owens (The Mars Volta, Jack White's Buzzards) played piano on the raucous, bluesy "Bleed Me" and Philly-based artist Bile Greene wrote "Blue Dream."
This record, that celebrates those who travel the outskirts and explores the push and pull between creativity and destruction, hope and despair, ends much as it started, with a statement of defiance, spirit and perseverance. Lean Into the Wind invites the adventurous to time travel with the band through the past, present and several imagined futures. Whispers and roars fill these songs – yet each tune, in it's own way, has a thin veneer of that California sunlight that streams golden just before the sun sets over the mountains.
Miss Shevaughn & Yuma Wray's new album Lean Into The Wind will be available on CD and digital formats on March 25th via Seven Dead Arson Records.
MISS SHEVAUGHN & YUMA WRAY 2014 SPRING "HONEYMOON TOUR" DATES
March 6th – Alex's Bar, Long Beach, CA
March 7th – The Press Restaurant, Claremont, CA
March 9th – The Lost Leaf, Phoenix, AZ
March 11th – Cowgirl BBQ, Santa Fe, NM
March 12th – Adobe Bar at The Taos Inn, Taos, NM
March 15th – Cherrywood Coffee, Austin, TX
March 16th – Dive Bar, Austin, TX
March 21st – The Nick, Birmingham, AL
March 22nd – The Alley Cat, Carrolton, GA
March 23rd – Hendershots, Athens, GA
March 24th – Eddie's Attic Open Mic, Decatur, GA
March 25th – The Basement New Faces Showcase, Nashville, TN
March 27th – The Emerald Lounge, Asheville, NC
March 28th – Slim's Downtown, Raleigh, NC
March 29th – Common Market, Charlotte, NC
April 2nd – IOTA (open mic feature), Arlington, VA
April 9th – The Fire, Philadelphia, PA
April 11th – Grand Victory, Brooklyn, NY
April 12th – The Bus Stop Music Cafe – Pitman, NJ
April 16th – Bossy Grrl's Pinup Joint – Columbus, OH
April 17th – The Hole In the Wall – Dayton, OH (w Quiet Hollers)
April 18th – Southgate House Revival – Newport, KY (w Quiet Hollers)
April 19th – The New Vintage – Louisville, KY (w Quiet Hollers)
April 20th – The Melody Inn – Indianapolis, IN (w Quiet Hollers)
April, 22nd – The Acorn Theater, Three Oaks, MI
April 24th – Woodruff's, Ypsilanti, MI
April 26th – Kingman Island Folk & Bluegrass festival, Washington DC
April 30th – The Frequency, Madison, WI
May 2nd – Frank's Power Plant, Milwaukee, WI
May 3rd – Ritual Cafe, Des Moines, IA
May 6th – Wichita Pumphouse, Wichita, KS
May 9th – The Pioneer Inn, Nederland, CO
May 10th – The Downtown Bar, Pueblo, CO
May 14th – Cowgirl BBQ, Santa Fe, NM
May 16th – The Lost leaf, Phoenix, AZ
May 19th – Pappy & Harriet's, Pioneertown CA
May 22nd – Ross's place (House Show) at 4752 NE Going St. Portland, OR
May 23rd – Trillium Cafe, Hood River, OR
May 24th – TBA Spokane, WA
May 25th – Crux Coffee, Boise, ID
(more dates to be announce soon)
Here's what people have been saying about Miss Shevaughn & Yuma Wray:
"On their latest album, Lean Into the Wind, Americana rockers Miss Shevaughn and Yuma Wray go all Flying Burrito Brothers with a SoCal-influenced set of new songs. [The track] "Coyote" tells you everything you need to know about what this super fine band of players has up their sleeves this go-around. Killer harmonies, warm countryesque textures, and the winsome voice of Miss Shevaughn, who channels her very own Emmylou Harris on this gorgeous tune." – POPMATTERS
"Achingly beautiful folk blues." – Steve Wildsmith/ THE DAILY TIMES
"Think back on the material Daniel Lanois produced for Emmylou Harris – this music is by turns ethereal, haunting, lonely, ferocious and bluesy, painting American landscapes in pure black and white. The harmonies are smooth and go places you wouldn't normally expect. Frisby's alto has a world-weary and strongly emotional feel. She is, to be sure, a great singer." – CONNECT SAVANNAH
"A fifteen song collection of Americana music, We're From Here seamlessly jumps from sparse folk tunes to fuzzy guitar filled garage rock. Miss Shevaughn's haunting vocals weave through the sonic landscape provided by Yuma Wray, and when it is his time to sing the contrast is powerful. Their music is more than just songs, each tune is a story and as story tellers it is up to Miss Shevaughn & Yuma Wray to bring these tales to life." – Chris Martin / ATLANTA EXAMINER
"We're From Here is a stunning and audacious debut – this record sounds like they've made an Oscar winning movie based on the Great American Novel. Miss Shevaughn joins Emmylou Harris and KD Lang in the realm of the great female American storytellers. She is a force of nature, and Yuma Wray provides the perfect home in which to raise her stories. Forget about genres and categories, this is great music." – Tony Conley / ROCK GUITAR DAILY
" Miss Shevaughn & Yuma Wray's We're From Here is a classic American road trip story, with the duo expanding its sound from sparse folk balladry to psychedelic swamp stomp." – SUN JOURNAL
"We're From Here, the new album from Miss Shevaughn and Yuma Wray, is a folk-drenched look into questions of contentment, laments over new beginnings, and self-acceptance, with Miss Shevaughn sounding an awful lot like Joni Mitchell as she tells her passionate tales." – CHARLESTON CITY PAPER
"Their blend of country, folk, rock, and blues is a thing of beauty." – MUSIC. DEFINED.
"Miss Shevaughn and Yuma Wray have put together a record that is simply stunning in its scope and in the sheer size of its sound…. this is a tremendous debut." – WHEN YOU MOTOR AWAY
"Miss Shevaughn and Yuma Wray's 2011 was spent on the road living out of their Honda Element, searching out their sound and cataloging their experiences and thoughts. Their time on the road was not wasted as the result is Americana personified – an amalgamation of elemental roots music into songs of real substance a soundtrack for a journey on the rural routes and black tops." – BEAT SURRENDER
"Warm heart and fuzzed out soul come together on Miss Shevaughn & Yuma Wray's new album We're From Here." – JESTER JAY MUSIC
"Nostalgic and reminiscent, We're From Here is packed full of personality. Miss Shevaughn and Yuma Wray are both masters at merging musical genres and as a result, the album is original and full of songs that aren't like anything else." – SHOW ME SOMETHING DIFFERENT: UK
"Miss Shevaughn and Yuma Wray snake a highway around Americana, folk and good old rock & roll. It really is fabulous music making and bursting with talent, imagination and character. I could listen to it all day." –UNDERCOVER
"Miss Shevaughn & Yuma have seen the U.S. and they sing about it with heartfelt soul and just the right amount of indie charisma. There's nothing stuffy or snobby about their music. It clearly shines through as honest and poetic." – John Powell / YOU HEAR THIS
"If I had a million dollars, I would pay Miss Shevaughn to sing me to sleep every night for a year. We're From Here is one of the best albums that's come my way this year."  – ADOBE & TEARDROPS
"Featuring an eclectic mix of instruments including – but not limited to – guitar, banjo, mandolin, percussion, glockenspiel and lap steel, this duo has a bigger sound than most listeners dare to imagine. Strength in voice and instrumental ability drives their songwriting excellence." – THE VERMONT CYNIC
"Unique, honest and compelling storytelling." – YOUNG MANHATTANITE
"The word "sprawling" certainly applies to We're From Here, the new album by Miss Shevaughn & Yuma Wray. The duo spent the year on the road (29 states, 125 shows) and the new songs reflect their experiences and evolution." – THE PROVIDENCE PHOENIX
"Ever since I have gotten my ears on this excellent work of Americana and folk, I haven't been able to stop listening. A voice that captivates, Miss Shevaughn has to be one of the most passionate vocalists I've heard. Add in the mysterious Yuma Wray and his magical guitar skills, these two seem to be the perfect mix for creating music that has the power to make the burliest of men weep." – THE RECORD STACHE
FOR MORE INFO ON MISS SHEVAUGHN & YUMA WRAY:
http://www.missshevaughnyumawray.com
https://twitter.com/yumawray
http://tillthewheelscomeoff.tumblr.com/
FOR MEDIA & INTERVIEW REQUESTS:
Tony Bonyata
Pavement PR
p: 262.903.7775
e: bonyata@wi.rr.com
https://pavementpr.com