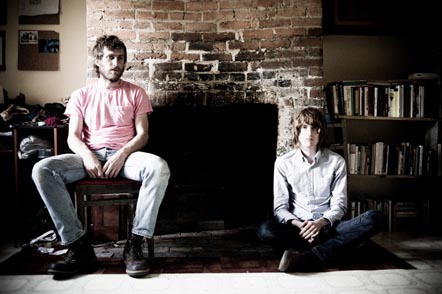 LEXINGTON, KY-BASED INDIE FOLK-POP BAND ENGLISHMAN TO RELEASE SEVEN-SONG EP "UNSAFE & SOUND" ON NOVEMBER 19TH!
 
MAGNET PREMIERES ENGLISHMAN'S NEW TRACK "MORE THAN INSECTS" AS PART OF THEIR MP3 AT 3PM FEATURE TODAY! CLICK HERE TO LISTEN / DOWNLOAD
Unsafe & Sound began as a feeling that the ways in which we participate in the human experience are changing too rapidly to process.  It began with a response not unlike a viewer has during the course of a dystopian movie marathon.  The songs on this record are not offered as suggestions or wisdom, but as replacement windows of differing sizes and opacities.  They are newly available lenses of undetermined accuracy.
The songs were recorded in 2011 in Lexington, KY, in a studio fit up for occasion, then mixed by Justin Craig in Brooklyn, NY.  The members of the band are Andrew English, Justin Craig and Matt Duncan.  The finished recordings reflect an overall urgency for preservation and nerve that the previous self-titled album does not.  During ten days of recording, a fire was kept outside of the recording space and continued to burn for the duration of the recording.  It was tended throughout the day and rekindled each morning with care.  It even rained heavily one night.
Englishman's forthcoming effort Unsafe & Sound is the follow-up to their 2010 self-titled full-length studio album, and will available on Limited Edition Vinyl and Digital formats on November 19, 2013. U.S. tour dates to be announced soon.
UNSAFE & SOUND TRACKLISTING:
1. Fill a Silo
2. Kids & Bipolars
3. More Than Insects
4. Fiercest Warriors
5. At 25
6. We're the Monsters
7. Dear Life
HERE'S WHAT WAS WRITTEN ON THE STONES THROWN AT ENGLISHMAN'S S/T DEBUT:
"Andrew English has emerged, a songwriting extraordinaire… and his first full-length album is one hell of a stunner. If you enjoy folk, indie-pop, Americana, or just want to blanket yourself in the work of one of the best songwriters I've heard in far too long, this album is absolutely obligatory."  – Stephen Rowland / POPMATTERS
"Sounds both homespun and worldly… pretty without being too slick. Englishman speaks my musical language and this could be the start of a long conversation." – AMERICANA UK
"… wonderful harmonies and heartbreaking lyrical imagery. Andrew English carries a sense of wisdom in his storytelling that helps him stand out from the flock of singer-songwriters." – THE RICHMOND SCENE
"Englishman's Andrew English is a songwriter who writes in a style that reminds of old Grandaddy and All-Time Quarterback material, with a steady steam of gorgeous melody and layers of detailed sounds and beats." – Sean Moeller / DAYTROTTER
"This is real crack debut with beautiful melodious tracks."  – ROOTSTIME
"This is a collection of well-crafted heartfelt songs that just tear at your soul. Possibly one of my favorite new acts this year." – RVA MAGAZINE
"This November, Englishman released their debut, a fantastic self-titled LP of eleven tracks. The songs are polished and consistently good, which is quite frustrating because I thought that I'd already decided the albums that were going to be on my top ten of 2010 list. English's voice is reminiscent of a less nasal version of the great John Darnielle and the arrangements are folky with just enough production to be powerful without losing the intimacy…  this is worth your while." – SSG MUSIC
"Refreshingly buoyant and quietly subversive." – MAXIMUM INK MAGAZINE
"Andrew English shares similar vocal stylings with the likes of Samuel Beam of Iron & Wine, Ben Gibbard and even M. Ward.  His work with Englishman hasn't changed his approach to music and it seems to be well respected in both the indie and folk communities." – TRI-STATE INDIE
"… a record that is wonderfully simple. It is full of sparse, minimal folk melodies and lovely harmonies offering subtle musical shades of heartbreak and enchantment in equal measure." – THE MAD MACKEREL
"…a very charming self-titled album of indie folk." – THE CAPITAL TIMES
"Thoughtful, delicate songs with a full, acoustic sound, supported by some friends to make loud, pretty pop ditties." – PHILADELPHIA WEEKLY
"For this follow-up to last year's EP Taxidermy, English gains competent assistance from Justin Craig's warm, inviting, bare-necessities-only production, laid down over 10 days in a converted barn in rural Ohio. English's voice recalls the best characteristics of The Mountain Goats' John Darnielle and James Taylor: kind, tuneful and buoyed by distinctiveness." – LEO WEEKLY
"…a back-to-basics, Bon Iver-esque feel." – ISTHMUS
"This bearded folk-pop upstart and his two-man band have been opening for some big indie names lately, including Bonnie "Prince" Billy, Clem Snide and Vandaveer…. they belong in the next class of unlikely idols."  – THE DAILY PAGE
"With These United States' Justin Craig adding warm, hazy production, Englishman's new album doesn't immediately seize the moment, but its sturdy construction promises it will be there for you for years to come." – THE ONION
"A delicate and shimmering showcase for English's powerful voice, and an impressive first showing for English as a solo artist." – PLAYBACK MAGAZINE
"Kentucky folksters Englishman are bound to turn a lot of heads." –  PREFIX MAGAZINE
FOR MORE INFO ON ENGLISHMAN:
http://englishmansounds.com
Facebook – https://www.facebook.com/pages/Englishman/93724285282
Twitter – @EnglishmanBand
FOR MEDIA AND INTERVIEW REQUESTS:
Tony Bonyata
Pavement PR
p: 262.903.7775
e: bonyata@wi.rr.com
https://pavementpr.com