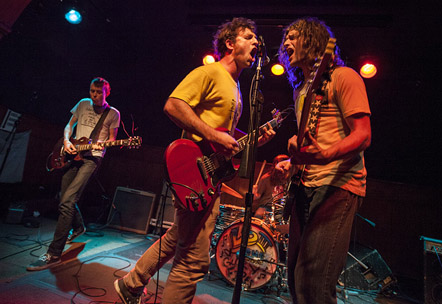 (photo credit: Barry Brecheisen)
ROAD-TESTING NEW MATERIAL FROM THEIR FORTHCOMING SOPHOMORE STUDIO ALBUM!
LEE BAINS III & THE GLORY FIRES FALL 2013 TOUR DATES
August 15 – Nashville, TN – Stone Fox w/ Water Liars
August 16 – Chattanooga, TN – Sluggo's w/ The Bohannons, James Leg, Water Liars
August 17 – Atlanta, GA – The Earl w/ Water Liars
September 5 – Hattiesburg, MS – Thirsty Hippo
September 6 – Baton Rouge, LA – Chelsea's
September 7 – Mobile, AL – TBA
September 12 – Athens, GA – Green Room w/ Pilgrim
September 13 – Knoxville, TN – The Well
September 14 – Charlotte, NC – God Save The Queen Fest
September 20 – Tuscaloosa, AL – Green Bar
September 21 – Montevallo, AL – Eclipse
September 26 – Boone, NC – Boone Saloon
September 27 – Chapel Hill, NC – The Cave
September 28 – Raleigh, NC – Slim's
[October West Coast dates to be announced soon]
THE VERDICT IS OUT ON THERE IS A BOMB IN GILEAD…
"A glorius ruckus." – UNCUT
"These Alabama Shakes tourmates offer their own loose-limbed take on rootsy Southern rock." – ROLLING STONE
"Lee Bains III & The Glory Fires exemplify the new strain of Southern rock that's come to life in the post-Drive-By Truckers era. A former member of Dexateens, Bains specializes in straightforward, catchy songs that sit somewhere amidst The Ozark Mountain Daredevils, The Allman Brothers and David Bowie circa "Panic in Detroit." The guitars provide plenty of hooks that say something about the emotional life of these punk-loving, down-home Southerners — their pain is undisguised, but they cut the angst with music that can be austere and mysterious. On their new full-length, There Is a Bomb in Gilead, Bains and his quartet explore a brand-new South: "Everything You Took" mentions a Walker Percy novel and a Ramones T-shirt, while "Magic City Stomp" is garage-rock that quotes the Stones' "(I Can't Get No) Satisfaction." Bains has brains and humor, and the band can really stomp." –  NASHVILLE SCENE
"I love watching Lee Bains III & The Glory Fires. Terrific performers… and The Glory Fires are relentless. The musicianship is incredible and I've learned a thing or two watching the way the guitars interact with one another." – ALABAMA SHAKES' BRITTANY HOWARD (to NME on her favorite new band)
"Guitarist/singer/songwriter Lee Bains III leads his Birmingham, Alabama–based band in a raucous exploration of the intersection between garage rock, soul, country and punk on this full-length debut. Not unlike acts like the Black Keys, Bains manages to merge these styles into a rollicking, timeless sound with plenty of six-string swagger." – GUITAR WORLD
"Forging a Connection Between Punk and Southern Rock. Although the South isn't likely to rise again in any discernible militaristic fashion, Lee Bains III & The Glory Fires might just be the band to help Southern rock find its bearings in a respectable manner. A real Southern treat." – PERFORMER MAGAZINE
"Classic southern rock with intelligent lyrics and great energy." – NO DEPRESSION
"Former Alabama Shakes tourmates Lee Bains III and the Glory Fires traffic in rootsy, heartfelt blues-rock. Their debut is There Is a Bomb in Gilead; with just the right dose of punk attitude, it's sure to translate to a rowdy live set." – TIME OUT NEW YORK
"There is a Bomb in Gilead: Lee Bains III & The Glory Fires. Drag The Stooges through some deep-south barbecued-pork spare ribs, a gospel church and put a ten-gallon hat on its head, and this is what you get." –  SYDNEY MORNING HERALD
"The Glory Fires may be more roots-leaning than Bains' earlier unit [The Dexateens], but they retain more than the recommended daily value of piss and vinegar, all of which is distilled into the band's 180 proof debut, There Is A Bomb In Gilead." – MY OLD KENTUCKY BLOG
"There Is A Bomb In Gilead conveys that "sweaty" sound The Rolling Stones perfected back in their Exile-Sticky Finger needle & spoon days that so many bands yearn for but few realize." – SAVING COUNTRY MUSIC
"Lee Bains III and The Glory Fires have skipped right over the formative section of their career and stepped with both feet right into their potential. There Is A Bomb In Gilead is an ass-kicking, heart-pumping, soul-reflecting chunk of rock n' roll goodness that another ten years on the road couldn't make any more honest or cohesive. This album is a statement of purpose." – FARCE THE MUSIC
"It won't be easy finding a recent set transmitting more passion or generating more soul-burnin' BTU's than the debut disc of this Birmingham-based four-piece. Bains' so aptly-named band serves up a combustible blend of Southern rock and soul, the bandleader's writing tapping deep roots as he throws down vocally with an authority well beyond his years. There's not one slouch among the tracks on Gilead but the ballads "Reba" and "Righteous, Ragged Songs" and the raver "The Red, Red Dirt Of Home" jump out. This one ought to make more than a few "Best Of" lists this year.."–  ROOTS MUSIC REPORT
"There are a few songs that had – had – to have been recorded at midnight by their sound and vibe (the weary goodbye of "Everything You Took"; the snapping, biting "Ain't No Stranger"). And if the stripped-to-the-bone title track wasn't laid down on a Sunday morning, well, I don't want to know about it. People spend careers (and a lot of production bucks) trying to sound this soulful. This is a debut album? Holy ol' Christ … Hang on, world: here come Lee Bains III & The Glory Fires." – JAMBANDS
"So many times, I get caught up on the first couple of songs on a new album, mostly because I am feeble-brained with a moderate case of ADD, but on There Is A Bomb In Gilead, it's the last three songs that sealed the deal. "Roebuck Parkway" is a great acoustic number that would fit in nicely on Jason Isbell's Here We Rest. "Robeuck Parkway" is the main thoroughfare through Birmingham and the tune reminisces on his youth in Alabama." – HEAR YA
" Lee Bains III and the Glory Fires are here to put tigers in your tanks. Their debut, There Is A Bomb In Gilead, will be out, officially, on May 15. I think it's only fair to give warning. 'Cause once I heard it, I felt considerably more hopeful about the state of the world, the union, and my own motivation for staying slim enough to look good in a pair of jeans with rolled-up legs. I mean, you can sit around wishing a band would emerge sounding like a fusion of the Stones circa Exile on Main Street and the Band at its down 'n' dirtiest – with a touch of the Allman Brothers, and a few shakes of CCR's "anything could happen tonight" wildness. And nothing happens. But, within the last few years, something's wafted up from Birmingham, Alabama. It's shot through with juicy, smoky, backyard barbecue rock/blues/swamp punch. I know – that's a lot of cliches, but I think I put them together fairly well. Here's the band digging into "Opelika" – I'm pretty sure that Levon Helm would have loved it." – SAN DIEGO ENTERTAINER
"Equal parts southern swagger and punk rock Lee Bains III & the Glory Fires have arrived on the scene with their debut album There Is A Bomb In Gilead. The first record from the southern quartet is loud, rowdy and full of kick-ass rock tunes. They have been able to harness the power of a live show taking place in a dark dirty hole in the wall and implant it onto a record." – ATLANTA EXAMINER
"If his newest release There Is A Bomb In Gilead is any indication, Bains is definitely going to be making a name for himself. The music is a seamless blend of garage rock, country soul and punk that recalls The Black Keys or The Alabama Shakes. But Bains is no copycat. While one can hear the Muscle Shoals and Deep South influences, this is a sound unique to Birmingham and North Alabama" – BIRMINGHAM NEWS
"In a word, There Is A Bomb In Gilead is sexy. The result is everything The Drive-By Truckers have been trying to become since Jason left/was kicked out of the band. The result is pure rock and roll. Pure Muscle Shoals. Pure Essential Listening. Pure American music."  – NINE BULLETS
"Great songwriting, and some serious 'righteous ruckus,' but above all There Is A Bomb In Gilead works to define and revive Southern rock. It seems Lee wants to honor our past while continuing to move forward, musically and culturally. Hurrah." – MOD MOBILIAN
"This is a fantastic Southern rock album in the same vein as the Drive-By Truckers or even The Black Keys. Unrelenting energy behind music that absolutely anyone can enjoy." – WLUR RADIO
"Another ace Alabama band and highly recommended." – TANDEM / TORONTO
"The Alabama Shakes, The Dexateens and Lee Bains III & The Glory Fires all performed with a seemingly renewed energy, none more than the other. Except perhaps for Lee Bains with his Glory Fires as well as the Dexateens. The man is a manic ball of restless energy that bounces off the walls from song to song, set to set. And he even took to the Jupiter bar later that night for another show. He definitely set a standard for the evening, which was full of memorable moments." –  AL.com
"Grooving slice of southern rock with tasty Muscle Shoals-soaked guitars." – THE GLOBE & MAIL/TORONTO
"This week's Best Thing Ever actually goes to Lee Bains III & the Glory Fires, for their phenomenal new album There Is A Bomb In Gilead.  Once a member of Dexateens, Bains' new group is currently touring with another hot Alabama band, the Alabama Shakes.  His Glory Fires achieve that difficult balance between deep Southern soul and hard alt.country. On tracks like "Ain't No Stranger" and "Centreville", Bains howls in front of a band that will please any fan of the garage-y grunge of bands like Black Keys.  Other tunes sound like they could've been penned by Dan Penn and Spooner Oldham"  – KRFC RADIO/ROUTES & BRANCHES
"THE FIRST GREAT ALBUM OF 2012! I'll brand There Is A Bomb In Gilead the first true southern rock record of the 21st century. That's what I hear in its grooves. You might hear something altogether different. It doesn't matter in the end, though. Good music never really needs to be labeled as one thing or another. It's a disservice to the artist and it keeps people from making up their own minds about what they're hearing. But I've made up my mind about Lee Bains III and The Glory Fires. Pass me back the jar. I need another belt." – THE RECORD CHANGER
"Debuting tunes off their upcoming debut, There Is A Bomb In Gilead, Lee Bains III & The Glory Fires deftly blew away probably half of the local talent that has ever graced Toronto's Lee's Palace stage. Impossibly young to be churning out some pretty intricate tunes, the technique and depth of their musical skills and knowledge was simply astounding, switching between some Southern-fried boogie, country twinge and some soul that would make Charley Pride, well, proud." –  EXCLAIM!
"Lee Bains III is from central Alabama — Birmingham, to be exact — but the sound on his debut album with The Glory Fires is 110% Muscle Shoals, Alabama territory. The power, soul and vintage sound of There Is A Bomb In Gilead is indicative of recordings that have come out of Muscle Shoals Fame Studio by bands like Lynyrd Skynyrd, The Allman Brothers and more recently, Drive-By Truckers.  There Is A Bomb In Gilead is an awesomely solid debut, and I wish I had the chance to hear it in its native form — blasting from a Ford truck stereo rolling down Highway 72 through the South."  [4/5 stars] – MARQUEE MAGAZINE
"An amazing album." – THE PERLICH POST
"True-to-form country rock." – PHILADELPHIA CITY PAPER
"Blues-influenced southern rock, but with a nice edge to it." – DAVE FM RADIO: ATLANTA
"The band's debut album, There Is A Bomb In Gilead has a genuine feel to it — it's good Southern music made in the South. With themes of country, rock and gospel, the album couldn't have better represented all the deep facets of the region. It couldn't have represented them any more truthfully, either. This album isn't a hoax. It isn't trying too hard. It isn't too much or too little. It's just right. Because, with a mix of many styles, There Is A Bomb In Gilead covers all its bases."  –  THE RED & THE BLACK / ATHENS
"An album that not only has a uniquely Alabama sound, but draws from soul, gospel, country, rock and much more." – LAGNIAPPE MAGAZINE
"The Glory Fires' brand of rock 'n' roll could only come from the South, where the idea of being a conflicted and proud Southerner is so fittingly expressed with loud guitars. For all the struggle, grit and sweat, The Glory Fires has a record and a sound to be proud of."  – TUSCALOOSA NEWS
"[New Rock/Soul Discovery: Lee Bains III & The Glory Fires – There Is A Bomb In Gilead] A spectacular Allmans guitar intro and that soulful voice fronting a screaming Southern rock band – what's not to like? – WHEN YOU MOTOR AWAY
"The Birmingham, Alabama group takes the gospel music of their youth and reinvents it through a punk rock lens, resulting in a commanding set of impassioned songs steeped in Southern influences. There Is A Bomb In Gilead incorporates some of the most iconic regional styles of American music, from Muscle Shoals to Detroit garage rock to Delta blues of Mississippi." – RECORD DEPT.
FOR MORE INFO ON LEE BAINS III & THE GLORY FIRES:
http://thegloryfires.com
http://www.facebook.com/pages/Lee-Bains-III-The-Glory-Fires/148581995155439
FOR MORE INFO ON ALIVE RECORDS:
http://www.alive-totalenergy.com
FOR MEDIA AND INTERVIEW REQUESTS:
Tony Bonyata
Pavement PR
p: 262.903.7775
e: bonyata@wi.rr.com
https://pavementpr.com