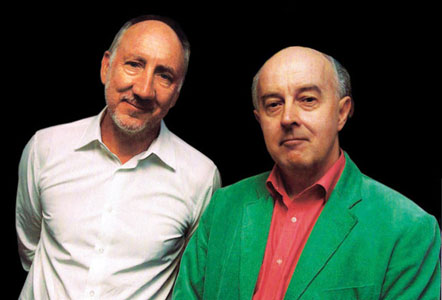 WORKING METHOD: Lawrence Ball
The electronic music composer brings Pete Townshend's 'Method' to life.
BY ROBERT FULTON
Who guitarist Pete Townshend had a concept.
That statement on its own is not surprising. The British songwriter has penned some of the most ambitious music in rock history, such as the concept albums/rock operas Tommy and Quadrophenia. But what might be his boldest concept was the never-completed Lifehouse project.
Lifehouse was to be the album that followed Tommy. Set in the future, the story involved a world that was falling apart, and rock music didn't exist. While Lifehouse never came to fruition – though it spawned such classics as "Baba O'Riley," "Behind Blue Eyes" and "Won't Get Fooled Again" – an outgrowth from the project was the Lifehouse Method. Townsend envisioned a future where people could input personal data into a machine to create an individual musical portrait. The intro to "Baba O'Riley" is an example of what this might sound like.
Sound far fetched?
Enter Lawrence Ball.
In 2007, Ball, an English composer, math tutor and founder of the Planet Tree Music Festival, along with Townshend and programmer Dave Snowdown, created a website called The Lifehouse Method. Active for 15 months, more than 10,000 unique works were created on-line by users having their data translated into music.
From this experiment came Ball's own two-disc album Method Music (in stores this week), which he composed and recorded in parallel to the Lifehouse Method website, though he didn't tap any of the users' creations. The first disc – Imaginary Sitters – is a collection of 11, five-minute long tracks using the Lifehouse Method. The second disc, Imaginary Galaxies, expands on this concept with three meditative, ambient 20-minute songs.
BLURT recently spoke by phone with Ball, who was on holiday in Santa Fe. He helped clear up exactly what Method Music and the Lifehouse Method are and what it was like to work with Pete Townsend. And he shared one of his favorite jokes.
BLURT: What exactly is the Lifehouse Method?
LAWRENCE BALL: Pete had an idea 40 years ago now, that there could be a way for someone's music to be created. You'd basically create the music of the person. There was no Internet then. Everyone thought he was nuts, as often happens to people with foresight. About eight years ago, he asked me, could I do it. So I said yes. It took awhile, but we got the system up on the web that would take a photograph, two sound files and a tapping of a rhythm.
When you say a person's personal data is translated, what do you mean?
We had different ways we could have made these portraits. In the end we settled with something that's more like an oracle than a psychological test with a questionnaire. We decided simply to ask people to input some things that were meaningful to them that would act as a personal interface to them, so that the program created a piece of music in a way that was connected to them.
When did you first meet Pete?
Pete and I have a common interest in wonderful California composer Terry Riley. He's one of the most important composers of the last century. He turned contemporary classical music into something much more approachable. Pete and I both love his music, and I brought Terry over to my music festival in 1998, and approached Pete about sponsoring my festival that year, and he was delighted to do that. After that, Pete and I got to talking, and after five years of talking and discussing various things, he proposed I do this project for him.
Were you a Who fan or a Pete Townshend fan before all this?
Oh yeah. I grew up with the Who, and Pink Floyd and the Soft Machine, and all kinds of other things.
This might be a better question for Pete, but is what resulted what he envisioned?
Yes, he's very happy with it. There was an email we got back when we first got it online, and we were able to input data and get pieces of music out. After 30 years of waiting, he was just enthralled.
Pete produced Method Music?
He co-produced it. I did some of the production, and his chief engineer Myles Clarke, who's a brilliant engineer. It's hard to know where engineering stops and production starts.
What was it like to work with Pete?
Well, he's very intense. The meetings we had were really long and very exciting. He was very enthusiastic about the whole thing. He's got a lot of energy. He doesn't always agree with one. He's quite tenacious. The experience as a whole was quite wonderful.
What was the role of Dave Snowdon?
He's a brilliant programmer and computer systems guy, and he knows a lot about how to do things on the Internet. The Lifehouse Method was created with my musical design and his implementation skills. But he also made some very creative suggestions about how we should decide on certain things.
How long did it take to get the album put together?
The album was running in parallel with the portrait system. It took me about 20 months to create the music, and after that another 20 months was spent making the sound quality really, really good. It's basically the same quality for my album [Pete] expects for the Who of his own music. It's one of the most ambitious recordings ever made, actually.
On Galaxies, why did you choose to dedicate the songs to Syd Barrett, Hugh Hopper and Gyorgy Ligeti?
They're people who have been hugely inspirational to me. Ironically, they all passed away during the time I was working on those pieces. As they passed away, I felt I needed to do something to mark my gratitude to them, and that seemed the best way to do it. For me, they all have a very important contribution to contemporary music.
Why was the site taken down? Why not leave it up in perpetuity?
One is cost. The way we had it set up was actually very expensive to run. Another one was Pete felt that it had had a good run and it was time to take it down. It wasn't new any more. We're hoping that at some point in the future the site will go up again and Pete will do what he's been talking about on and off – what we call  a Method Concert, which is where people who've had their portrait done come along to a large concert and they hear their own piece made into a song.
Is what you've created here something that you can take on the road? Can you perform this? Do you plan to tour?
I have actually performed it. I performed in Austin this summer, and Santa Fe. They're rather difficult to replicate with musicians or even with backing tracks. What I did was to perform with the album track itself, but to put new layers over it, which were improvised. That was extremely well received. I wasn't initially convinced   that it could be performed live, but now I'm becoming convinced that it can be. But nothing's arranged yet. It's all up in the air at the moment.
Would you like to see this project continue? Would you do another Method Music?
That probably depends on Pete. It wouldn't have tuned out the way it did were it not for his input, artistic and financial. It was a very ambitious recording, expansive recording. I expect maybe the possibility of doing another Method Music, particularly if this one sells well.
The reception and also to help finance another go at it.
I've calculated the relatively small percentage of Who fans that are willing to get as excited about what I do as they are about what Pete and the Who do is probably around 5 or 10 percent. But that's still a large number of people.
Five to 10 percent of Who fans is a lot of people.
These days they're getting more Google searches than the Beatles or the Rolling Stones.
One last question. You have a number of jokes on your website. Do you have a favorite?
There are two goats on a rubbish tip, and they're chewing through pieces of old rubbish, like tires and boots, just old junk, soft junk. One of them comes across a cannister of film, and he gets the plastic strip of the film out of the metal case and starts chewing through the plastic strip, having a great time. The other goat calls across to him and says, "Are you enjoying that film?" And he says, "It's pretty good, but I really preferred the book."
http://blurt-online.com/features/view/1073