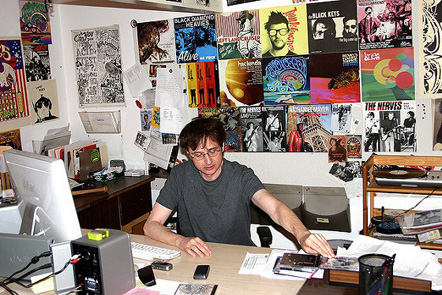 Alive Records founder Patrick Boissel on his label's new compilation, Where is Parker Griggs?
by Nick Spacek
This Tuesday, Alive Records releases the compilation Where Is Parker Griggs?, featuring many of the label's current acts, like Radio Moscow, Buffalo Killers and Black Diamond Heavies. The label is tied into the legendary Bomp! and is celebrating 17 years in existence. Label head and founder Patrick Boissel was kind enough to talk with the Pitch recently via e-mail about the current state of Alive.
The Pitch: How did Alive come to be? I know it's affiliated with Bomp!, but I'm not quite sure of its origins.
Patrick Boissel: My other half happens to be Suzy Shaw, Greg Shaw's lifelong partner in the business and now sole owner of the label. I moved to the U.S to be with her and helped out at Bomp! by handling production, distribution, marketing, and many other things for more than ten years. Alive started in 1993 but became a priority for me only after Greg passed away.
Tying into that, what became of Disaster Records?
It folded a while back. Disaster was Duane Peters' label, we were mostly providing manufacturing, distro and so forth. I think it is still going under a different name, but I'm not sure, we pretty much lost contact with Duane.
The flavor of Alive seems to be tied to that garage-rock aesthetic that Bomp's always had, but with more of a roots sensibility. How do you see the label?
I see Alive as a rock 'n' roll label first and foremost, and as you say it is certainly more roots-oriented than Bomp ever was. The influence is also philosophical — being a small independent label gives you the freedom to release what you want, it's something that you cannot have with a big structure.
Alive is nearly twenty years old. What's the label gone through in that time?
We have enough stories to write a book. We have worked with cool artists and we've met amazing characters over the years, from the sweetest to the wackiest. We have also managed to survive the bankruptcies of various distributors, both domestic and overseas. This is a rewarding business but it can be challenging as well. This said, it has been really great so far. We work hard and we make a living doing what we love, it's a privilege, as far as I'm concerned.
There's not a lot of your more well-known acts on Where Is Parker Griggs? Is this new compilation meant to be a look forward at what's to come, rather than a look back?
Where Is Parker Griggs? is a snapshot of the current roster, it introduces new bands such as Lee Bains III & The Glory Fires, Brian Olive and Henry's Funeral Shoe, and it showcases current artists who are starting to get some attention, most notably Hacienda, Radio Moscow and Buffalo Killers. It's a follow-up to Never Give Up On Your Hallucinations, a similar release that features The Black Keys, among others.
What can folks expect?
A lot of unreleased material and a mix of garage rock, psych, punk, deep blues, Tejas garage-pop and rootsy psyouthern soul.
http://www.pitch.com/wayward/archives/2012/01/12/alive-records-founder-patrick-boissel-on-his-labels-new-compilation-where-is-parker-griggs