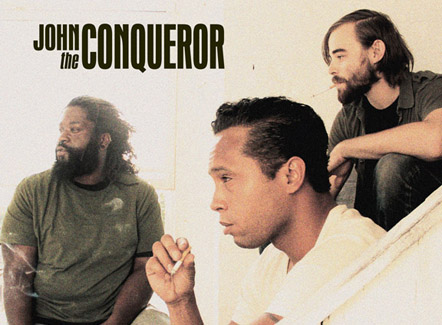 USA TODAY
(national daily) – Positive review of Time To Go and album in Steve Jones' The Playlist column.
Time to Go, John the Conqueror
This raw, bluesy old-school soul track is just one of many gems on Philadelphia trio self-titled debut album.
http://www.usatoday.com/story/life/music/2012/10/15/playlist-rolling-stones-doom-and-gloom/1635195/
JAMBANDS
(online music site) – Positive album review with album art.
John The Conqueror – John The Conqueror
Alive Naturalsound Records
by Brian Robbins
Give me a classic power trio line-up with their shit together any day of the week. For what the format might possibly lack in terms of depth of sound, you can't beat the sonic synchronicity of a triple-brained single-mindset. There's no room for anyone to drop a groove or miss a change; there's no place to hide. But when it's good, it's really good. And John The Conqueror would be a prime example.
On the Philly-based trio's self-titled debut, they waste no time in getting down to business. The opener "I Just Wanna" manages to take you from up on the altar in a cappella gospel glory to 'round back in the alley behind the church with a 40-ouncer, banging back the blues – all in 3 minutes and 29 seconds. Once the opening handclaps give way to Michael Gardner's drums, there's no looking back – Gardner slams out a relentless, tension-filled foundation with bassist Ryan Lynn stepping in and out of the groove like a prizefighter, belting it home with killer precision. The Gardner/Lynn rhythm monster allows guitarist/vocalist Pierre Moore to do his thing – soulful testifying coupled with a guitar that vacillates between barking/chugging rhythm and all-out howl. Have mercy!
The trio shows the depth of their sound and moods over the course of the album's ten cuts. If Gary Clark Jr.'s "Bright Lights" tweaked your ears, you're going to dig the gritty thump and wail of "All Alone". "Come Home With Me" will lure you close to the speaker with some gently-fingered tones before walloping you over the head with a churning vibe that goes from Free to funky before it's all over. The title of "Passing Time" hints that it was simply a let-the-tape-roll jam (complete with off-mike verbal assail by a disgruntled neighbor) – regardless, it's a fine, fine little dollop of grittiness. "Letter Of Intervention" addresses a hard situation with frank words and a look-you-in-the-eye seriousness. "Say What You Want" combines a classic Mick Jones-style stop-and-go main riff with some down-in-the-cellar R&B. And if you had to make a choice of some John The Conqueror to place in a time capsule, "Time To Go" would be a good one: shimmery arpeggioed chords and a street-corner chorus give way to some slam-crash garageness and dangling-cigarette soul.
Moore – who wrote all the album's tunes – produced John The Conqueror, proving he has a solid grip on the trio's sound. The overall vibe is dry and immediate with just enough separation to provide depth. There are no fancy tricks to clutter things up or purify the life out of them: a snare head sizzles; some feedback begins to skwark between riffs; the bass amp breathes with a low, mean-assed rumble – and the mix puts you right in the middle of it. (Don't touch those tubes. They're hot.)
The result sounds like the work of a supergroup power trio made up of three vets who just wanted to get together and lay it down, making gutsy, raw, bluesy music for the sheer joy of it. The fact that this is the first time in a studio for the members of this band is mind-blowing.
All hail John The Conqueror: three young men with old souls and a fresh, powerful sound.
Pass the brown paper bag.
http://www.jambands.com/reviews/cds/2012/10/11/john-the-conqueror-john-the-conqueror
HAPPENING! MAGAZINE
(Shindig Magazine's online UK music site) – Positive album review with album art
Record Review
JOHN THE CONQUEROR
John The Conqueror
Alive Natural Sound CD
First album by scuzz-rock trio who are based in Philadelphia but have their roots in Mississippi.
They sound so much like The Black Keys that they could be mistaken for a BKs tribute band. They're far from the first act whose influences are transparent on their early recordings, though. And, taken at face value apart from any comparison to the omnipresent Keys, this is just a fine punk-blues rock record that sounds like The Jon Spencer Blues Explosion if JSBX were from the Mississippi delta.
It's all smokestacks, greasy ball bearings, mudslides, and corn liquor swilled from mason jars; raggedly scorching guitar riffs, a thunderous rhythm section, and howled vocals. 'Say What You Want' rockets me off my rear every time. I'd like to see them establish more of an individualized identity on their next outing, but this is a hell of an impressive debut.
_ Brian Greene
http://happeningmagazine.blogspot.com/search/label/Record%20Reviews
LOCAL PLAYLIST
(Milwaukee online music site) – Positive album review.
NEW MUSIC: JOHN THE CONQUEROR'S DEBUT ALBUM
by Holly Topel Neubert
There is nothing quite like the first time I hear new music.  With my headphones in place, I hit "play" and the anticipation of what's to come is an experience like no other.  John the Conqueror's self-titled debut album grabbed me from the get go and held my attention straight through to the end.  Released today, this gritty, sexy, blues-infused rock album is not to be missed.
This three piece is made up of cousins Pierre Moore (vocals, guitar) and Michael Gardner (drums) who hail from Jackson, MS, and bassist Ryan Lynn, a native of Philadelphia, PA, and where the entire band now resides.  Their east coast  tour kicks off with an album release party at the Legendary Dobbs in Philly on November 3.  There aren't any Milwaukee dates listed (yet), but I know we at Local Playlist would love to see them rock Brew City.
Check out their website for tour dates and more information on how to get your hands on this album.  Believe me, your ears will thank you.  In the meantime, here is a link to their single, "Say What You Want" to tie you over.
http://localplaylist.com/new-music-john-the-conquerors-debut-album/
KNUCKLE RUMBLER
(online music site) – Positive 5/5 star album review.
Review: John The Conqueror – John The Conqueror
The sounds of the Mississippi South are back. John The Conqueror have released their self-titled debut album today, and it does not disappoint. The sound of John The Conqueror feel as though three well-worn blues veterans have taken to the studio for shits and giggles, when in reality it's the first time the trio has ever recorded together. Soul music is not dead. Chuck Berry lives on. The days of slicked-back pompadours and sleeves with cigarette packs rolled up in them are back. John The Conqueror is an amalgamation of Muddy Waters and the Black Keys with a hint of metal. This power trio has brought life back into the carnal sound that has been buried under the inane chart hits produced in record label factories.
John the Conqueror fades in with unplugged, studio sounds of the trio clapping and front man Pierre Moore, leading with "I just want to be your man". It's raw; and an accurate opening for their full length debut. The rest of the trio, Michael Gardner and Ryan Lynn, soon follow suit and "I Just Wanna" launches into in a full groove, introducing the listener to their new addiction. Songs like "Southern Boy" and "All Alone" build the body of the album with reverbed guitars that draw from past Mississippi influence with a kind of stained luster. "Lucille", the stand out track of the album, reaches even further into the past to bring back story-telling seeded in religion and the wicked ways of women. The track gets a fresh yet unpolished finished that sounds like Chuck Berry came back from the grave.  "Come Home With Me" is the best pick up line I've heard from whiskey drinkin' boys from the South with lines like "I don't need to know your name, but I'll tell you mine. It's Mr. Damn You Lookin Good And I Ain't Lyin". The beat is hard pressed and quick and it incites an involuntary snaking about. The album's only misstep comes in "Letter of Intervention", the eighth track of the album. The boys take this song's sound to a Metallica level with the guitar sound and at three and a half minutes, it wastes precious album space.
John The Conqueror have released a fantastic break-out album that's laced with whiskey dreams, the Mississippi Delta, and nostalgia for some of soul music's greatest.
Rating: 5.0
http://knucklerumbler.com/2012/10/review-john-the-conqueror-john-the-conqueror/
WXPN's THE KEY
(Philadelphia AAA Radio / online music site) – "Lucille (live in the studio)" featured as 'This Week's Best MP3 Downloads with band photo of Pierre in the studio.
The Week's Best MP3 Downloads, incl. John the Conqueror, Young Gliss, and How to Dress Well
This week's Key Studio Session featured Atlanta-born trio John the Conqueror, a powerful blues rock outfit that relocated to Philadelphia last year.  The band will be releasing its debut record on October 16th through Alive Naturalsound Records (you can already download a free studio version of the track "Time to Go" on their Bandcamp).  Below, listen to John the Conqueror's Key Studio Session take of "Lucille" and then head over here to download all three tracks.
http://thekey.xpn.org/2012/10/07/the-weeks-best-mp3-downloads-incl-john-the-conqueror-young-gliss-and-how-to-dress-well/
THE BIG TAKEOVER  
(national quarterly music magazine) – Positive album review in Michael Toland's Top Ten for Oct.
John the Conqueror – s/t (Alive)
Every time I think, "Grungy blues rock, again? C'mon, people!" a band like this Philly power trio comes along and makes me think twice. Leader Pierre Moore has a matter-of-fact singing voice, tasteful six-string skills and a tuneful writing style that balances licks and melody and avoids classic rock overload. Picks to click: "Time to Go," "All Alone"
http://www.bigtakeover.com/top-ten/Michael-Toland-121007
JEFFREY MORGAN'S MEDIA BLACKOUT
(online music blog) – Positive album review
John The Conqueror – John The Conqueror (Alive)
Given how downright street smart funky the rest of the album is, I'm amused at how the first song incongruously sounds like some kinda wonky "I Love Rock And Roll" musical rewrite. But after seeing how downright surly these three tough guys look, I sure ain't gonna tell 'em that—especially since they've got such a primitive scuzz-tone going for them.
http://www.jeffreymorgan.info/
THE DELI  PHILLY
(Philly weekly) – Positive Milkboy show preview
John The Conqueror and Daniel Ryan Belski will be opening for the infamous Willis Earl Beal (don't heckle this guy tonight or you might get a kick in the teeth ;o). The Philly by way of Mississippi blues rockin' trio John The Conqueror are warming up in preparation for November tour dates in support of their upcoming self-titled debut LP, which will be available via Alive Naturalsound Records on October 16. Local guitarist/singer-songwriter Daniel Ryan Belski continues step out from behind his work with Arrah and the Ferns and his The Divine Lorraine moniker. Belski released his impressive debut album, They Always Haunt at Night, at the end of June. The EP is a beautiful combination of folk-tinged indie-pop songs mixed with dreamy atmospheric sounds. It's a sweet lineup this evening where you won't want to miss any of the acts. Milkboy Philly, 1100 Chestnut St., 9:30 pm, $10, 21+ – Dan Brightcliffe
http://philadelphia.thedelimagazine.com/11344/john-conqueror-daniel-ryan-belski-opening-for-willis-earl-beal-milkboy-philly-oct-5
KAOS BLAC LIFESTYLE
(online music blog) – Feature/interview with Pierre Moore with photos and tour dates.
The myth making and magic of John the Conqueror
Down N' dirty blues blues man Pierre Moore of John the Conqueror is a man of luck and he's here to bring you his magical bag of tricks n' licks. I interviewed the voice behind the band about his path towards creating the band, life and of course music.
Kaos Blac: So Pierre your originally from Jackson, MI when I first met you you where in another band, the now defunct Slack Republic, based in Atlanta, Ga and now your doing John the Conqueror based on your travels I can assume your ascribe to the rolling stone gathers no moss lifestyle in regards to your music. Would that be a clear assumption?
Pierre Moore: Yea I do….when I was growing up, my mama always told me that she was raising me so that when I turned 18, I'd get the hell out of her house….so I got about a thousand miles away!
Kaos Blac: Well that is a jump and a leap from home. Also it sounds like a as if you were set upon a path to a down homespun blues man from the get go, although that wasn't what you were playing with your previous band. What lead you to from the break up of that last project to what your doing now with John the Conqueror.
Pierre Moore: It was 4 years since the breakup of the last band till I hopped on stage again…..I'd given up playing music because I'd missed a couple opportunities to sign with small indie lables (going back to my college days) due mostly to my own stupidity ….basically I was broken! But it turns out that no matter how I felt when I put down the guitar, I felt even worse the longer I didn't play!
I don't really know if that answered your question but doesn't it feel good to share! hahah
Kaos Blac: No good answer, good answer! LOL.
So eventually you got back up off your ass picked up your guitar and poof instant music or what? I want to know how you got from the post-punk/alt that was The Slack Republic as the lead guitarist to being the Blues tinged front man of your current project it's a drastically different approach to musical story telling.
Pierre Moore: Probably the most anticlimactic part of my whole life: December 2010 I decided to start a band. I couldn't find a singer that I liked in the WHOLEEE MONTHHH I tried (you can tell I tried soooo hard) so I said I'd give it a go.
Last week of december we got a bassist (Merry Christmas!). 3 months later we played our first show at a ROCKERS event (I know you're familiar with those folks and that scene)…1 month later we recorded a 6 song EP. 5 months later we recorded another EP.
4 days before our 1 year anniversary of finding our bassist and officially becoming a band, Alive NaturalSound Records contacted us about signing (Merry Christmas again!)….
That was December 21st …but in true Pierre fashion, I fucked shit up (sorta) …I didn't see the fuckin email somehow! So I didn't respond till New Years day! I damn near pissed my pants when I realized that I'd (almost) fucked up an indie label offer AGAIN!
Apparently Patrick, the head of the label, thought he should get back at me for being so bad at emailing because it took him two weeks to get back to me…
John the Conqueror/Robert Johnson tat
design courtesy of Katrina Tapper
Anyway, fastforwarding …we signed, recorded an album…
comes out october 16th…the whole band got John the Conqueror tattoos (mike, the drummer and I are cousins and he was the bassist in slack…..when we started this band, it was for fun, but we jokingly said if we got signed this time, we'd get band tattoos)
Kaos Blac: Well thankfully you answered that email and didn't fuck up. One thing I been dying to know is why the name John the Conqueror?
Pierre Moore: Mannyyy reasons ….
1) The John the Conqueror root is a staple in the lyrical tradition of blues and if we're gonna try to honor our roots then…. (bad pun!)
2) High john the conqueror root is traditionally used in a mojo hand and can be applied for many purposes but usually its for a gambling type of luck …the first year of this band, I carried my mojo hand almost everyday cause lord knows I needed some luck.
3) The character of John the Conqueror is as old as our peoples in America…. He was an african prince, stolen from his kingdom and brought here to be a slave. But he was smart….he constantly was outwitting his master at every turn ….thats how I feel about the proverbial hand I've been dealt in life…. Thats also why I have a highway 61 north tattoo on my shoulder. Thats known as the blues highway….thats the road all the great blues musicians had to take to leave the mississippi plantations and find a happier life….It took em to memphis, chicago and (if i recall) detroit …and from the 30's till the 50's, these were like the promise land to black folk! I need a constant reminder that I love my home and I miss it …but I had to leave to actually DO something! And hopefully I'll do something!
Kaos Blac: Which you are as seen below.
You have the self titled album coming out October 16th, are you and the band amped about it's debut?
Pierre Moore:  lol yea.
Kaos Blac: No big pressures eh or pre-jitters?
Pierre Moore:  We were told that we should already be writing our next album so I suppose thats a little pressure. The album isn't even out yet, we haven't started touring yet and im already writing MORE songs!
Kaos Blac: lol. Hey your in the big times now, now is the time of John the Conqueror. From what I heard of the current album I think you have something with legs especially with acts like Alabama Shakes. Speaking of touring what are your plans to travel out with the album.
Pierre Moore: In november we're doing some dates on the east coast. We'll be full fledged touring at the beginning of the new year.
Kaos Blac: Well folks will have something to look forward to coming up in the new year. Any closing words about the band?
Pierre Moore:  Umm..nope
Kaos Blac: LOL. Well Blac-out!
You ca get the self title debut John the Conqueror, out October 16th via Alive NaturalSound Records , and on tour this fall starting tonight at Milk boy Philly.
http://kaosblac.blogspot.com/2012/10/the-myth-making-and-magic-of-john.html
TWISTED SOUTH RADIO
(national quarterly music magazine Twisted South's internet rado show) – Phone interview with Pierre on Wed. Oct. 17 at 9:15 pm eastern.
ALAN CROSS – A JOURNAL OF MUSICAL THINGS
(online music site) – Positive post with "Time To Go" mp3 and album art
Artist: John the Conqueror, "Time To Go"
Album: John the Conqueror
This song is pretty damn badass. Classic bluesy based guitars and real rock'n almost back-up singeresque harmonies.
Sounds like: Blues – Pop
http://www.alancross.ca/a-journal-of-musical-things/2012/9/10/more-music-from-the-inbox-10-september-2012.html
WXPN's THE KEY
(Philadelphia AAA Radio / online music site) – Positive news feature with band photo and two videos.
Watch John the Conqueror's home movies from the recording studio (playing MilkBoy in October)
Philly rock three-piece John the Conqueror is gearing up to release its self-titled debut record trough Alive Naturalsound Records on October 16. You can get a taste of what the album might sound like in a behind-the-scenes clip the band posted on YouTube this week. Along with footage of the band clowining around in Germantown's Retrocity Studios, we get to hear a raging new track called "Say What You Want." Check it out below, and catch the band in concert October 5 when they open for Willis Earl Beal at MilkBoy. Tickets and information can be found here.
http://thekey.xpn.org/2012/09/12/watch-john-the-conquerors-home-movies-from-the-recording-studio-playing-milkboy-in-october/
MADD CHICAGO
(Chicago online music site) – New videos featured with positive post and band photo
John The Conqueror Release Behind The Scenes Videos
Last month we posted "Time To Go" the first single off Philly based trio John The Conqueror's forthcoming self titled debut album.  This week, the band released two videos; the first takes the viewer on a behind the scenes look into the band's recording process backed by the track "Say What You Want," while the second is very shaky shot of the band performing "I Just Wanna" in studio.  The videos accompany the announcement of fall tour dates the band will play behind the album.  No Chicago date has been announced as yet.
http://maddchicago.com/john-the-conqueror-release-behind-the-scenes-videos/
THE DELI  MAGAZINE
(NYC weekly)
TheDeliMagazine New Video: "I Just Wanna" – John The Conqueror
Check out an in-studio performance by John The Conqueror of their song "I Just Wanna" below. The band's self-titled debut album will be available on October 16 via Alive Naturalsound Records. You can also watch some behind-the-scenes footage for their song "Say What You Want" HERE. They'll be performing live next in Philly on October 5 at MilkBoy Philly with Willis Earl Beal.
http://nyc.thedelimagazine.com/11073/new-video-i-just-wanna-john-conqueror
WXPN's THE KEY
(Philadelphia AAA Radio / online music site) – Positive news post and  with band photo in their "Digital Digest: This Week's Best free music" column
Here at The Key, we toss a fair heaping of free downloads your way, so it's completely understandable if you miss a few. Here are our top five bits of digital music from the past week:
Power trio John the Conqueror has made a splash in Philly scene over the past year, dishing out a moving blend of blues, soul and rock n' roll. This week the band announced that its debut full-length is coming out on Alive Naturalsound Records this October, and released the lead single, "Time to Leave."
http://thekey.xpn.org/2012/08/12/download-digest-this-weeks-best-free-music-incl-john-the-conqueror-jerry-garcia-lauryn-peacock/
KNUCKLE RUMBLER
(online music blog ) – Positive post with Time To Go mp3, album art and related links.
Listen: John The Conqueror – "Time To Go"
I m gonna go ahead and blame John The Conqueror s   Time To Go for my renewed obsession with Southern Soul (and the Alabama Shakes, a little). The trio from Mississippi, now based in Philly, have the smoothness of classic 50 2s soul mixed with a southern twang. The sound is honest, simple, and even lacks experience which only showcases the band s old souls and allows the music to connect with many generations. Named after an African-American mythological folk legend, of whom the likes of Dr. John, Muddy Waters, and Willie Dixon have sung, the band possesses a magical power that empowers emotion. Check the track below and play a part in the revival of soul.
http://knucklerumbler.com/2012/08/listen-john-the-conqueror-time-to-go/
MADD CHICAGO
(Chicago online music site) – Positive post with Time To Go mp3, album art and related links
The best new blues band may hail from Philadelphia, in a trio called John The Conqueror.  The band consists of cousins Pierre Moore and Michael Gardner originally of Jackson, MS and Philly native Ryan Lynn.  Together, the threesome concoct up some gritty deep blues rock  channeling both The Black Keys and Black Joe Lewis on their self-titled debut album, due out October 10th vie Alive Naturalsound Records.  The hot sticky sound of their southern roots is never more apparent than on the bands first single 'Time To Go." The track will bring you from the church to the juke joint in four quick minutes.  Have a listen below and keep it here for more from John The Conqueror.
http://maddchicago.com/introducing-john-the-conqueror/
DEAD JOURNALIST
(online music blog)– News posting with band photo and "Time To Go" mp3.
John The Conqueror has released "Time To Go" from their self-titled debut album, out on October 16, 2012. The band mixes blues, rock and soul in the track that can be heard in this post.
The band, formed in Oxford, MS by cousins Pierre Moore and Michael Gardner, includes Philadelphia-native Ryan Lynn
http://www.deadjournalist.com/DJdc/2012/08/08/john-the-conqueror-time-to-go/
THE DELI  MAGAZINE
(national weekly) – Positive news posting with album art and "Time To Go" mp3.
Free Download: "Time To Go" – John The Conqueror
Below is a new track, which you can download for free, called "Time To Go" from local garage-blues trio John The Conqueror, who is made up of cousins/transplants from Jackson, MS Pierre Moore (vocals/guitar) and Michael Gardner (drums) and Philly-bred Ryan Lynn (bass). We've been digging their vibe for a while now, and were happy to hear that they'll be releasing a full-length album on October 16 via Alive Naturalsounds Records, who has put out records from The Black Keys, Two Gallants and many others.
http://national.thedelimagazine.com/category/bands/john-conqueror
MUSIC EMISSIONS
(online music site)– News posting from press release with band photo and "Time To Go" mp3.
http://www.musicemissions.com/blog/index.php/2012/08/08/on-the-verge-john-the-conqueror/
WXPN's THE KEY
(Philadelphia AAA Radio / online music site) – Positive news post with "Time To Go" mp3 and band photo.
When John the Conqueror made it to the final round of World Cafe Live's Beta Hi-Fi competition last summer, we were duly impressed. Helen Leicht said the swaggery trio might be Philly's answer to Gary Clark Jr, and the band put the spoils of the competition towards its debut full-length album, which is coming out on October 16 through Alive Naturalsound Records. Yesterday, the album's first single was released as a free download; check out "Time to Leave" below.
http://thekey.xpn.org/2012/08/09/download-john-the-conquerors-new-single-time-to-leave-playing-dobbs-tonight/
FARONHEIT
(Chicago-based music blog) – "Time To Go" featured on their "Pick Your Poison" weekly download feature on Aug. 10th.
http://faronheit.com/2012/08/pick-your-poison-friday-8-10-12/