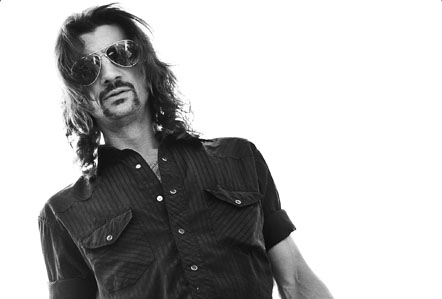 STAR-TRIBUNE (Minneapolis, MN daily) – Positive Bayport show preview
The Big Gigs for the week of 12/16
James Leg made a big impression on the small audiences who attended the Deep Blues Festivals, which featured him with his roadhousey garage-rock band the Black Diamond Heavies, sort of an unlikely melding of the Black Keys and Deep Purple. Also known as John Wesley Myers and as a cohort of Scott H. Biram, Mr. Leg just issued a boisterous, hell-fiery solo album titled "Solitary Pleasure," which he's promoting with a two-night stand at Deep Blues promoter Chris Johnson's smoking barbecue joint. (9 p.m. Fri. & Sat., Bayport BBQ, 328 5th Av. N., Bayport. $15.) Riemenschneider
http://www.startribune.com/entertainment/music/135671983.html
ISTHMUS (Madison, WI weekly) –  Feature /interview with artist photo to preview Madison show
Rock 'n' soul – Black Diamond Heavies' James Leg takes a solo turn
Bob Koch on Thursday 12/15/2011
James Leg, Roboman
During the last half of the 2000s, Nashville's Black Diamond Heavies built a dedicated fan base with some hard touring, pumping out a bracing mix of blues, punk and soul informed by the last half-century or so of American music. The group hasn't released a new disc since 2009's Alive as Fuck, but singer/keyboardist John Wesley Myers, a.k.a. Rev. James Leg, emerged this year with a solo album, Solitary Pleasure. He'll bring songs from it to the High Noon Saloon on Dec. 19.
Black Diamond Heavies was initially a trio, but the guitarist bowed out before the band's debut album, and since then Leg and drummer Van Campbell have whipped up an iconoclastic incarnation of the loud-punk-blues-duo concept. Today, it's hard to imagine a guitar adding much to the work of Myers' own two hands on whatever keys happen to be handy, often including a Fender Rhodes.
Fans got a sneak preview of solo Leg this spring at an intimate Mother Fool's Coffeehouse gig. That performance "was a little more low-key than what folks will see at the High Noon Saloon show," he writes via email. Other than "a different bad-ass on drums," the Dec. 19 show won't be too different from a Black Diamond Heavies show. "The material and show is in the same vein."
While Solitary Pleasure doesn't stray far from Leg's characteristic take on blues and soul, it adds an even stronger gospel edge, particularly on a cover of Link Wray's "Fire and Brimstone." And the frenzy is occasionally turned down a notch. "Georgia" sounds like a lost 1970s Southern rock hit, and "Whatever It Takes" even finds Leg singing in an uncharacteristically sweet vocal style. A couple of songs have an off-kilter cabaret feel, à la Tom Waits, and there's even a quote of the Three Stooges theme for good measure.
For those wondering about the nom de rock, Myers/Leg provides the answer. "It was given to me by a wild old street character in Tennessee," he says. "He said I got a 'jimmy leg' when I play."
http://www.isthmus.com/isthmus/article.php?article=35468
GREEN BAY PRESS-GAZETTE (Green Bay, WI Daily) – Positive show preview.
James Leg, the organist and singer for Black Diamond Heavies who has played numerous Green Bay venues in recent years, is back to make his solo debut at 8 p.m. Sunday at Phatheadz, 420 N. Clay St. He's touring in support of his first solo album, "Solitary Pleasure'' and has been described as "Tom Waits fronting the Stooges.'' Tim Schweiger and the Middlemen, Holly and the Nice Lions and the Onions open the show; $5 cover.
http://www.greenbaypressgazette.com/article/20111215/GPG05/111214146/Kendra-Meinert-column-Santas-will-can-sleigh-hitch-up-bikes
THE ONION/ A/V CLUB (Madison weekly) – Positive show preview.
James Leg
Also Playing: Roboman
John Wesley Myers' voice sounds like a huge, coiled cobra doing a Louis Armstrong impression, which is to say menacing yet assuredly recognizable. The Black Diamond Heavies frontman puts that impressive instrument up front as James Leg. Over the rolling organ and lurching bassline of "Drowning In Fire," off Solitary Pleasure, summons murky Mississippi Delta soul as lines like "Hell, it keeps on calling me" bubble to the surface. The "growler, shouter, and Fender Rhodes finger-fucker" is winding down a well-worn, devilish path to salvation, but the gravitational pull of his blood-and-guts vocals makes him stand out from other blues travelers.
High Noon Saloon, 701 E. Washington Ave., Madison WI 53703
608-268-1122
Mon Dec 19  8 pm
James Leg and Roboman at High Noon Saloon
21+ $7
http://www.avclub.com/madison/events/james-leg-and-roboman,279228/?utm_medium=RSS&utm_campaign=feeds
WGRN RADIO / DIRTY ROOTS RADIO SHOW  (Greenville, IL Radio) – Phoner to be scheduled to promote Dec. 11th St. Louis show (4:30pm Thu Dec. 9th)
MOTOR CITY BLOG (Detroit music blog) – Show preview with photo.
http://motorcityblog.blogspot.com/2011/12/tonight-james-leg-of-black-diamond.html
CITY BEAT (Cincinnati weekly) – Positive show preview with live video.
Weekend Squeeze for 12/3 & 4
Weekend concert previews with Hank 3, Unkown Hinson, Kenny Ozz-Fest, James Leg, Reel Big Fish and more
Music Sunday: James Leg of Nashville Blues/Rock/Garage band Black Diamond Heavies has spent much of this year touring the world in support of his solo debut (and taking along Cincy uber-drummer Andy Jody and what looks to be a heavy keyboard set-up). Sunday night, he'll be bringing the tour to Junker's in Northside for a free show. Below, check out a really cool vid with footage from one of the twosome's last appearances at Junker's.
http://www.citybeat.com/cincinnati/blog-2694-weekend_squeeze_for_12_3_4.html
JESTER JAY MUSIC (online music blog) – Positive news post with album art and mp3
James Leg – Do How You Wanna (from Solitary Pleasure)
It was just another party that turned into a jam session in my friend's basement. We'd been wailing away on blues based jams for hours — the smoke was thick, ears were ringing, and we were all in awe of the powerful groove we were creating. It was a experience captured only by our memories.
James Leg (AKA John Wesley Myers of Black Diamond Heavies) channels his own version on Do How You Wanna. It's a lo-fi blues deconstruction with a grinding rhythm and flailing lead. Like the best garage rock or old school blues, the visceral playing is anchored in the magic of a moment. Leg's battery acid vocals are part Captain Beefheart and part hard ass living.
http://jesterjaymusic.blogspot.com/
CITY PAGES (Minneapolis, MN weekly) – Bayport show preview scheduled (per Rick Mason)
James Leg and Molly Gene One Whoaman Band
Bayport BBQ on Friday 12.16 and Saturday 12.17
This latest pair of deep blues nuggets to visit the Southern barbecue joint on the St. Croix should provide a fine antidote for an overdose of holiday malling. Tennessee's James Leg is the alias of Black Diamond Heavies chief growler and keyboards pounder John Wesley Myers, touring behind his solo release Solitary Pleasure. His gravelly rasp sounds a bit like Tom Waits with terminal tonsillitis, and there's no denying his passion as he moans about drink and women and, inevitably, fire and brimstone. Sometimes he conjures up a whiff of honky-tonk on his Fender Rhodes, and the odd inebriated horn weighs in, seemingly escaped from a Bourbon Street strip club, as on "No License (Song for the Caged Bird)." But generally Leg's drift is hard blues left out in the garage for a few weeks. He'll be accompanied by a drummer here. Missouri's Molly Dyer will take care of the drumming herself, along with the dirty, slashing bottleneck guitar work and harrowing, hell-hound taunting yelps and withering yowls she coaxes from her vocal cords. She negotiates blues as ravaged and gritty as a back-country road on her latest album, Folk Blues and Booze, which kicks off with a killer a cappella version of Mississippi Fred McDowell's "When the Train Come Along." $15. 9 p.m. 328 Fifth Ave. N., Bayport; 651.955.6337. —Rick Mason
http://www.citypages.com/2011-12-14/music/critics-picks-robin-and-linda-williams-valet-and-more/
CAPITAL TIMES / 77 SQUARE (Madison, WI daily & online A&E site) – Madison show preview.
James Leg
When: Monday, Dec. 19, 8 p.m.
Where: High Noon Saloon, 701 E. Washington Ave.
Tickets: $7 (21+); high-noon.com
On "Solitary Pleasure," his debut as James Leg, Black Diamond Heavies singer/keyboardist John Wesley Myers races through an assortment of blues-and-soul-flecked numbers that sound like they were recorded in a cramped, sweaty juke joint. "This howling dog inside of me," he growls on the piano-driven "Drowning in Fire. "I just can't make it still." Oftentimes he doesn't try, bashing through boozy ballads about hitting the bottle too hard, carousing and hanging with a rough-and-tumble crowd, his permanently hoarse voice suggesting he does a bit too much of all three. Roboman also performs. (Safe Bet)
http://host.madison.com/entertainment/music/clubs-roundup-corey-hart-plays-music-to-warm-winter-bones/article_174f6a5e-229e-11e1-81dc-001871e3ce6c.html
FOURTH ESTATE (Green Bay, WI college weekly) – Feature story with interview and artist photo to preview Green Bay show.
Solo artist turns blues into wild ride
Singer James Leg will perform Dec. 18
By Hailey Alfred
Every musician has his or her own unique voice. For example, Michael Jackson had his falsetto, and Cher has her timeless tone. For singer James Leg, he considers himself a mix of Louis Armstrong and Iggy Pop.
Leg, whose real name is John Wesley Myers, said he created a stage name for two reasons. One reason is he got into trouble with the law when he was a teenager.
"I got into a little bit of trouble a long time ago—stupid adolescent stuff—but sometimes it is nice to not be so easily traced," Leg said.
The second reason is Leg's desire to separate his stage persona from his normal life.
"What we do on stage is pretty wild," Leg said. "Having the two names helps to separate the two people: the one on stage and the normal guy. You can't really be that wild person all the time."
Leg, as the wild person, began his professional musical career about 10 years ago when he created his band, Black Diamond Heavies. Before that he was part of a honky-tonk band called Uncle Lighting. Leg is the lead singer and keyboard player for the band.
Leg said Black Diamond Heavies is a rock 'n' roll band, but he likes all kinds of music and doesn't like to be nailed down to one genre. When the band was first starting out, people designated its sound as punk/blues.
"That wasn't an accurate description because we play so many types of music: rock 'n' roll, punk-rock and blues," Leg said. "We could start off a gig playing  Nina Simone and end playing Van Halen."
Leg said the band's influences include Nina Simone, Ray Charles, The Stooges, The Ramones and The Kinks.
"I certainly don't play like Ray Charles or Nina Simone or even sing like them," Leg said, "but they have still influenced my music in some way."
Leg said Black Diamond Heavies are represented by Alive Natural Sound Records, which represents other blues/indie artists such as The Black Keys and Brian Olive. Alive Natural Sound Records discovered Black Diamond Heavies when it was first starting out. Leg sent them a demo of some of the band's music, and it was eventually signed.
Since the band was signed, they have created three albums. Leg has also done a solo album titled "Solitary Pleasure." He is currently working on a second solo album to be released next year.
Black Diamond Heavies has toured across the U.S. as well as Europe. It played in a variety of venues.
"In Europe, we could play for 5,000 and in Tennessee we might play for only 100," Leg said. "We play in everything from dive bars to ballrooms. Wherever we can play our music is fine with me."
Leg has some advice for young artists who want to start careers as musicians.
"Stay in school," Leg said. "If you are a kid, and you think you are going to play rock and roll, it's not what you think it is. It is not always living the dream. Things have changed."
Despite the hardships Leg feels musicians have to face, he has managed to make a living through music and continue touring as both a solo artist and with Black Diamond Heavies. Leg's solo tour will take him through Green Bay Dec. 18 for a performance at Phat Headz bar at 420 N. Clay St.
http://www.fourthestatenewspaper.com/entertainment/solo-artist-turns-blues-into-wild-ride-1.2734023
THE PITCH (Kansas City. MO weekly) – KC feature/interview with artist photo and album art to preview show.
John Wesley Myers — of Black Diamond Heavies — on what it means to be the Reverend James Leg
Posted by Nick Spacek
The Rev. James Leg is better known as John Wesley Myers, the frontman and piano player for the heavy blues-rock duo Black Diamond Heavies. He recently released his debut solo album, entitled Solitary Pleasure. Having just completed three months touring Europe, Myers is in the middle of his first solo tour of the United States. It stops at Davey's Uptown tomorrow, December 13, with opener the Filthy 13. Myers took a moment to speak with us by phone about what differentiates his solo material from his work with the Black Diamond Heavies.
The Pitch: What differentiates the solo material from the Black Diamond Heavies? Is there more than just a two-piece?
James Leg: It's still just a two-piece, man. Basically, the short answer is, the Black Diamond Heavies, we just decided to take a pause. We did a couple of shows in August, but Van [Campbell], the drummer from the Black Diamond Heavies, he was recently married. We'd been doing it, touring 260 days a year, for six or seven years, so we decided to take a pause. In the meantime, though — I'm not married, so I'm gonna keep playin'. [Laughs.]
The new record has multiple instruments on it, but right now, we're just touring as a two-piece. I know it's going to be confusing at first for some fans, but I wrote all the Black Diamond Heavies' songs, and all these, of course, as well. Really, the only difference is that it's a different badass drummer.
Now, did Van's influence come through a little more on the Black Diamond Heavies' material?
For sure, man. The Black Diamond Heavies were very much a two-piece. The drums on the Black Diamond Heavies' stuff, they're kind of like a solo instrument, in fact, because his influence is very prominent, whereas this is a little less of that. I'm still working with really great drummers, but it's just more kinda my thing, I guess.
What I've heard of the new solo record is that it's a little more rootsy — less rock than the Black Diamond Heavies. You do a Link Wray cover, yeah?
Yeah, we did a Link Wray cover on there. Do you know that record? It's self-titled. 1972, maybe? It's just self-titled, Link Wray. Man, the shit he did in the '70s. It's not the guitar-hero shit that he was doing, the garage "Rumble" kind of stuff. The stuff he was doing in the '70s was amazing. It's very folky. He sings on it … yeah, check that stuff out.
But, yeah, to answer your question, I used acoustic piano on pretty much every track on this record. Some of these songs I had pitched to the Black Diamond Heavies, and they just didn't feel like Black Diamond Heavies' songs, so I just put 'em away for another project, which is what ended up happenin'.
Now, I know your given name is John Myers, but where does Rev. James Leg come from?
Well, I am a reverend. I grew up in church. My father was a pastor of a church. I didn't find rock and roll until I was 15, so when I was 15, I was already ordained and preaching in my dad's church and stuff like that, and then found rock and roll and marijuana and all that … so, the reverend part is for real.
So, the James Leg thing. There's a street character in Tennessee. I've known him for 20 years, and he's always called me James. He knows my name's John, but he's always called me James. The roadie for the Black Diamond Heavies, he started calling me Jimmy Leg, because when I start playing piano, my right leg can get a little crazy sometimes, and do its own thing — which, in the South, we say, "You've got a Jimmy leg."
It kinda helps, man. The wild-ass onstage, it's hard to be that person all the time, so it's actually healthful to have it be a separate fucking person.
Sort of like, there's Jim Osterberg, and then there's Iggy Pop. Iggy's the madman onstage, and Jim's the guy who shakes your hand backstage.
Right. Exactly. Yeah, yeah.
What can folks expect when you get up onstage at Davey's?
It's sort of like a cross between a tent-revival circus and a wild rock-and-roll show. It's pretty electric. They will feel it. If they come to the show, they will feel it, I can promise.
http://www.pitch.com/wayward/archives/2011/12/12/john-wesley-myers-of-black-diamond-heavies-on-what-it-means-to-be-the-reverend-james-leg