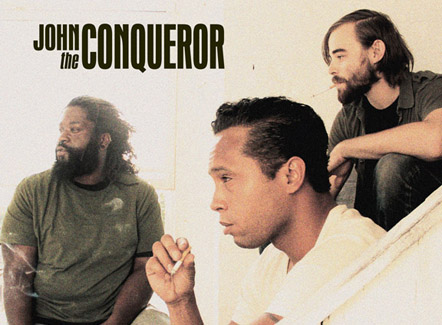 John The Conqueror's self-titled debut album is an amalgamation of the many sounds and styles (old and new) mined from both the North and South. Cousins Pierre Moore (vocals & guitar) and Michael Gardner (drums) are natives of Jackson, MS, while bassist Ryan Lynn hails from Philly – where the trio now call home. Together they mix a bedrock of raw deep blues with funk, soul, punk and scuzzed-up rock-n-roll into one helluva potent musical Molotov cocktail.
Perhaps what makes John The Conqueror so refreshing, however, is their honest, simple, yet extremely passionate approach to their music. Moore and Gardner have been playing together in bands since their college days in Oxford, MS, although the latter recently switched from bass to drums to make room for Lynn in the line-up in early 2011. Not only is this the first band Lynn has ever officially been in, but frontman Moore (who learned to play guitar in his early teens from a homeless man who slept in the back room of an auto repair shop) had never sang a note in public prior to March of 2011.
Yet listening to this threesome exuberantly tear through these ten expressive, unrestrained tracks proves that, while they may not have a time-tested pedigree together, they perform with a youthful, reckless abandon as channeled through some truly old souls. And, not unlike the mythological African-American folk hero they're named after, that should be enough to resonate with just about any generation.
John The Conqueror was produced by Pierre Moore and recorded in Philadelphia at Retrocity Studios & Jesse Gimbel's Basement. The trio will be touring in support of their new LP. Dates to be announced soon.
John The Conqueror will be released October 16th through Alive Naturalsound Records in the following formats: CD, Digital and Black Vinyl, as well as Limited Edition Colored Vinyl exclusive to mailorders.
FEEL FREE TO DOWNLOAD & POST JOHN THE CONQUEROR'S TRACK "TIME TO GO"
http://soundcloud.com/pavement-pr/john-the-conqueror-time-to-go
JOHN THE CONQUEROR TRACK LIST:
1. I Just Wanna
2. Southern Boy
3. Lucille
4. All Alone
5. Time To Go
6. Say What You Want
7. Come Home With Me
8. Letter Of Intervention
9. Passing Time
10. Three More
FOR MORE INFO ON JOHN THE CONQUEROR:
http://www.facebook.com/JohntheConquerorBand?sk=app_2405167945
http://www.reverbnation.com/johntheconqueror
FOR MORE INFO ON ALIVE RECORDS:
http://www.alive-totalenergy.com
FOR MEDIA AND INTERVIEW REQUESTS:
Tony Bonyata
Pavement PR
p: 262.903.7775
e: tony@pavementpr.com
https://pavementpr.com