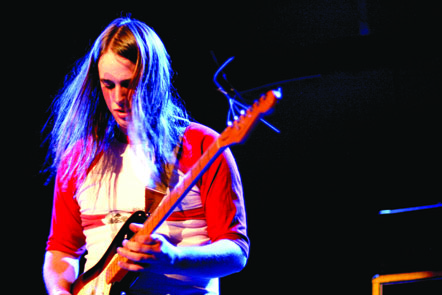 Hostile screaming. Projectile guitars. Open head-wounds. And plenty of blood. Radio Moscow's live shows have long been known to be explosive, but last Saturday night at the start of their North American tour the band, unintentionally, took it to new heights as they had a physical meltdown onstage during their hometown record release show in Ames, IA.
With internal friction between the threesome at a fever-pitch, the band made it to the final song of their setlist before things came to a head. Literally. The drummer grabbed frontman Parker Griggs guitar and, according to Griggs, hurled it as hard as he could at the guitarist, leaving a gaping wound in his forehead and blood everywhere. Griggs was then rushed to the local emergency room, where he received 14 stitches.
Needless to say that was the end of this particular incarnation of Radio Moscow (but then Parker always has toured with an ever-changing set of guitarists and drummers in the past, not to mention that he plays all of the instruments on Radio Moscow's albums).  With only one day before their Chicago show, Griggs enlisted two new musicians into the band – bassist Billy Ellsworth from San Diego and drummer Lonnie Blanton from Salt Lake City, who flew into Chicago yesterday and arrived at the venue just hours before their gig. Radio Moscow is reborn and once again ready to rock the nation… hopefully now with a lot less bloodshed.
Radio Moscow are on tour (with Swedish rockers Graveyard) in support of their new full-length The Great Escape of Leslie Magnafuzz on Alive Naturalsound Records.
And in other related Radio Moscow-related news, today marks the release of Alive Records' new label compilation entitled Where Is Parker Griggs? featuring exclusive material from HACIENDA, RADIO MOSCOW, BUFFALO KILLERS, BLACK DIAMOND HEAVIES and more. This compilation showcases the many facets of this respected L.A.-based indie imprint, founded by Patrick Boissel 17 years ago. From garage rock, psych, punk, deep blues and Tejas garage-soul, Where Is Parker Griggs? is an impressive overview of some of the new blood currently pumping through Alive – the first label to have the taste and insight to sign not only The Black Keys and Two Gallants, but all of the remarkable acts on this collection, along with many others. This album also features an early preview from Alive's latest signing, the rootsy psyouthern soul of Birmingham, AL rock quartet LEE BAINS III & THE GLORY FIRES, whose full-length debut lands April 2012.
RADIO MOSCOW / GRAVEYARD 2012 TOUR DATES
01/10/12 Ace of Cups, Columbus OH (without Graveyard)
01/12/12 Bowery Ballroom, New York NY
01/13/12 Middle East, Cambridge MA
01/14/12 North Star Bar, Philadelphia PA
01/15/12 Golden West, Baltimore MD
01/16/12 DC9, Washington DC
01/17/12 Strange Matter, Richmond VA
01/18/12 Casbah @ Tremont Music Hall, Charlotte NC
01/19/12 Asheville Music Hall, Asheville NC
01/20/12 Exit / In, Nashville TN
01/21/12 The Masquerade, Atlanta GA
01/22/12 Hi-Tone Café, Memphis TN
01/23/12 Dave's Skate Park, Texarkana, TX (without Graveyard)
01/24/12 Fitzgerald's, Houston TX
01/25/12 Mohawk, Austin TX
01/27/12 Yucca Tap Room, Tempe AZ
01/28/12 Bootleg Bar, Los Angeles CA
01/29/12 The Catalyst, Santa Cruz (without Graveyard)
01/30/12 Café Du Nord, San Francisco CA
01/31/12 Doug Fir Lounge, Portland OR
02/01/12 The Tractor, Seattle WA
02/21/12 Humboldt Brews, Arcata, CA (without Graveyard)
FOR MEDIA AND INTERVIEW REQUESTS
Tony Bonyata
Pavement PR
p: 262.903.7775
e: bonyata@wi.rr.com
https://pavementpr.com