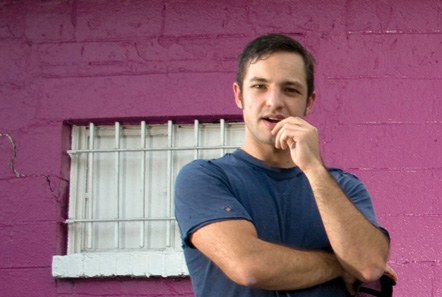 SAVING COUNTRY MUSIC (online music site)– Positive album review.
Review – Lee Bains III & The Glory Fires "There's A Bomb in Gilead"
July 17, 2012 – By The Triggerman
If you're looking for what is hip, what is hot right now in the confluence of American roots and rock music, you could make a strong case for the young, energetic roots rock bands emerging from the deep South as the epicenter of enthusiasm and influence. With the Alabama Shakes blowing up, the freedom to boldly mix blues, rock, country, and a large measure of soul has been endowed to bands with ample amounts of hunger, talent, and skill.
After years of nerdcore shoegazers being the most hip part of the scene, with their ukes and theremins and some pink haired girl in Sally Jessy Raphael glasses banging away at a Fisher-Price xylophone toy with a spatula, balls and back beat have re-emerged, including in the Birmingham, Alabama-based Lee Bains III & The Glory Fires whose debut album There's a Bomb in Gilead was released on Alive-Naturalsound Records in May.
This is an explosively-energetic album with influences and styles pulling from a wide range of American music. Lee Bains is well-versed in Southern modes from both sides of the tracks, and shows tremendous versatility in being able to conjure up the smoky mood of a blues singer, and the sweaty twang of a Southern rocker in the space of a breath, with The Glory Fires right on his heels with their authentic, spot-on sonic interpretations.
There's A Bomb in Gilead has some great tracks, anchored by the rocking "Centreville" which boasts some sick and stirring lyrical lines. Then Lee Bains and the boys show off how quick they can switch gears with the slow, country-feeling "Reba". "Righteous, Ragged Songs" and "Red, Red Dirt of Home" hearken back to the golden-era of Allman-style Southern rock, while "Opelika" takes it over to the poor, dark side of town on a front porch, with good distance captured in the recording.
Overall the album conveys that "sweaty" sound The Rolling Stones perfected back in their Exile-Sticky Finger needle & spoon days that so many bands yearn for but few realize. There's a Bomb also has some some very deep soulful moments that I hear in a lot of these Southern roots rock bands; Motown stuff that they call upon with the same frequency and confidence as the country and blues vibes.
Not to carry out The Alabama Shakes comparisons too far, but a similar concern I had with them I hear with Lee Bains too. With the wild variety in styles between songs, there is no one universal or unique style that defines the band, and it necessitates the listener shifting listening gears between songs. This also happens to keep the album spicy and your ears alert, but I would like to see Lee Bains & The Glory Fires do more to define their own sound, not just master the sounds of others.
Still this album passes the listening test, meaning you find yourself coming back and listening to it over and over. If you come to this album as a die hard country fan, you will come to it from the outside looking in, but with the song "Reba" and a strong Southern rock influence, there will be enough familiarity with it to allow you to warm up to the rest of the material.
This is a good first album with some great songs and great energy, and I look forward to hearing what Lee Bains III & The Glory Fires offer up in the future.
1 3/4 of 2 guns up.
http://www.savingcountrymusic.com/review-lee-bains-iii-the-glory-fires-theres-a-bomb-in-gilead
WMSE RADIO (Milwaukee, WI college radio) – Live in-studio session (full-band electric performance) on Wed June 27th at 2pm (12:30 pm arrival)
HUGH SHOWS (Pittsburgh-based online music blog)– First/Last feature interview.
First/Last-Lee Bains III & The Glory Fires
"The title of LEE BAINS III AND THE GLORY FIRES' debut album comes from Bains mishearing an old hymn as a child. In the soft accents of his elders around Birmingham, Alabama, "There is a balm in Gilead" sounded a lot like "There is a bomb." It fits, really. The Glory Fires learned to construct music in the churches of their childhoods, and learned to destroy it in the punk clubs of their youths. As much Wilson Pickett as Fugazi, as much the Stooges as the Allman Brothers, Birmingham, Alabama's Lee Bains III & The Glory Fires have brought radical rock'n'roll to bear on their own experience and their own place. On 'THERE IS A BOMB IN GILEAD,' they deconstruct the music of the Deep South, strip it down and reassemble it, to make a righteous ruckus that sits at the vanguard of the vernacular."
The band's debut is really kicking my ass this summer and I just had to extend an invitation to Lee to participate in this edition of First/Last.
The first album you ever bought?
The first tape I bought with my own money was Muddy Waters' 'The Real Folk Blues,' and the first CD I bought with my own money was Jimi Hendrix, 'Live at Woodstock.' Shortly after that, I bought my first LP at a garage sale, just because I liked the cover art. Joe Cocker's 'Mad Dogs and Englishmen.'
Your last album bought?
My last trip to the record store resulted in The Police's self-titled album, and Charlie Daniels' first album (prior to "Charlie Daniels Band"). I'd never been crazy about The Police, but I heard that first album in its entirety recently and was blown away. It has some pretty amazing writing, and that scrappy sound that only a killer three-piece can pull off. My daddy and I listened to Charlie Daniels a lot growing up, but this first record is really weird, without a hit on it. Billy Cox from Band of Gypsys plays bass on it, and there was clearly some strong acid being passed around.
Favorite album of all time?
Whew. Big Star's three albums regularly overtake one another as my favorite. 'Eat a Peach' by the Allman Brothers. 'Hey Jude' by Wilson Pickett. 'Bealtitude' by Staple Singers. 'Let It Be' by The Replacements. 'Exile on Main Street' by the Stones. 'Raw Power' by the Stooges. 'Flyin' Shoes' by Townes Van Zandt. 'Velvet Underground and Nico.' 'Aquemini' by Outkast. 'No Division' by Hot Water Music. 'Reinventing Axl Rose' by Against Me! 'Rocket to Russia' by the Ramones. Crooked Fingers S/T. 'Super Tight' by UGK. The Dexateens' 'Red Dust Rising.' 'Leon Russell and the Shelter People.' The Old 97's 'Wreck Your Life.' (I just saw Rhett Miller did an interview.) Drive-By Truckers' 'Dirty South.' Jack Oblivian's 'Saturday Night, Part 2.'
Least favorite/most disappointing album?
I'm sure the worst is yet to come.
First concert attended?
My daddy and I saw Lynyrd Skynyrd and the Allman Brothers within two days of one another when I was 12. The day in between the two shows was July 4th. I don't remember which show was first, but I do remember that I felt pretty dadgum American by the end of it.
Last concert?
I think the last show I saw that we weren't playing ourselves was to see the Drive-By Truckers in Atlanta. It was my first time seeing my buddy Matt play bass with them.
Favorite concert ever?
There are several shows I list as my all-time favorites, but seeing Against Me! on tour for their first album in Birmingham's all-ages venue with 50 other sweaty, hollering kids was way up there.
Least favorite concert?
When that first Sun Kil Moon album came out, 'Ghosts of the Great Highway,' I listened to it all the time. My current girlfriend and I made out for the first time listening to it. It was, at the time, my favorite album, and I had a pretty intense connection to those songs. But then I went to see the show in New York, and this really private, delicate music was being played quietly to a big, loud room packed with a bunch of drunk, yammering yuppies. It was like the Mona Lisa was being displayed in the infield at Talladega, or something. I just left halfway through.
Any thoughts, experiences about Pittsburgh?
Well, I've never been to Pittsburgh, I'm sad to say, but Birmingham used to be called the Pittsburgh of the South, and I love Birmingham. So, if Pittsburgh is like the Birmingham of the North, then I think I'd probably like it a lot, too. Our guitar player Matt actually lived up there for a little while, and regularly mentions the Italian neighborhood he lived near and y'all's tendency to say "n'at." Shamefully, that's about all I can say about Pittsburgh. I also did a book report one time on Roberto Clemente.
Thanks so much, Lee. Really loving the album and looking forward to a Pittsburgh gig in the hopefully near future.
http://hughshowsredux.blogspot.com/2012/06/firstlast-lee-bains-iii-glory-fires.html
RIVER CITIES READER (Quad Cities weekly)– Brief show mention.
Sunday, June 24 – Lee Bains III & the Glory Files. Alabama-based independent musicians in an all-ages concert. Rozz-Tox (2108 Third Avenue, Rock Island). 7:30 p.m. $5. For information, e-mail info@rozztox.com or visit RozzTox.com.
http://www.rcreader.com/lifestyle/whats-happenin-june-21-2012/
TWANGVILLE (online music site)– Positive post with Centreville stream with related links.
Centerville, Lee Bains III & the Glory Fires (from the Alive Records release There Is a Bomb in Gilead)
Southern rock, well certainly the Alabama variety, is on a roll of late. The latest Alabama artist to emerge is Birmingham native Lee Bains III and his band the Glory Fire. Whether pounding through a full-on rocker or an Allman Brothers-style jam, the boys pack their songs with the proper amount of Southern swagger.
Special bonus: Bains and crew are offering a free download of their show from the Bama Theater in Tuscaloosa, AL on 23 March 2012, a benefit to raise funds for the recovery from the devastating tornados that hit the area. Get it here.
http://twangville.com/11133/mayers-playlist-for-spring-2012-part-3/?doing_wp_cron=1339799155.8430190086364746093750
ATLANTA EXAMINER (Atlanta online A&E site)– Positive 4/5 album review with album art and related links
Lee Bains III & the Glory Fires rip it up with There Is A Bomb In Gilead
Chris Martin
Equal parts southern swagger and punk rock Lee Bains III & the Glory Fires have arrived on the scene with their debut album There Is A Bomb In Gilead. The first record from the southern quartet is loud, rowdy and full of kick-ass rock tunes. They have been able to harness the power of a live show taking place in a dark dirty hole in the wall and implant it onto a record.
The album goes from 0-60 at the start as Bains and crew offer up the blistering guitar heavy "Ain't No Stranger" to kick off the album, and things just get better from there. "Red Red Dirt Of Home" delivers more of the killer guitars and the tune "Centreville" sounds like the bastard love child of Lynyrd Skynyrd and the MC5. They are not a one trick pony and are able to infuse blues ("Choctaw Summer"), a little soul ("Everything You Took") and slow things down ("Righteous, Ragged Songs"). One tune that stands out is "Roebuck Parkway", an acoustic number driven by sharp lyrics and Bains' vocals it reminds me a lot of Jason Isbell, and that is a good thing.
http://www.examiner.com/review/lee-bains-iii-the-glory-fires-rip-it-up-with-there-is-a-bomb-gilead
LOUDER THAN WAR (music blog)– Positive album review with album art and related links
Lee Bains III & The Glory Fires – There is a Bomb in Gilead – album review
by Stu Gibson
Sample some of the sweet soul sounds of the deep south with this album of acoustic and americana from Lee Bains III and Glory Fires.
Well, I never in a November of nine pound hammers if, yet again, one of the greatest labels in the world has unearthed an absolute sweet seething treasure for you to burn your tits, toes n' teeter off to over the summer strummin' months.
Mix the facets of an Alabama-based band recording in Mississippi then heading north to mix it up in Michigan with the label's very name and you may garner some sense of the boogie-strewn Southern soul-encrusted stench fuelling up along miles of highways and 'awww shucks' heartaches on this debut.
Sure, first album in – despite past band histories – but already lifers, garrulously swigging generations of eternal gospel groove from way before their time, already shrouded in the slovenly / strident shimmy The Stones and The Faces occasionally got so right, jamming out the big city blues for pastures familiar and fret-worn but also un-faked and unaffected, if not fresh-faced.
So no mere upstart saps sumptuously furnished with a miss-spent grandiosity that fell out of Neil Young's gurn sometime in the late seventies (or at anytime aside from Crazy Horse's second, but anyway, that's another song), absolutely no west-coast blandity is found among the cracked humour and literate asides.
Instead they gloriously condense into their crevices of Creedence chooglin', nay shoehorn – let's get with the scenery – almost the greatest bits of what The Black Crowes excelled at for five minutes before they descended into too-comfortable slack-jawed interminable bilge.
Between the back-porch balladry – perhaps best summed up in aptly titled Righteous, Ragged Songs but not bypassing the achingly steel-guitar addled Reba, deservingly redolent of Gram Parsons – that spread out from majestic psych-tinged opener Ain't No Stranger, there's equally ragged and so so right bar-brawlers like the raucous Scorchers' blast of Centreville, each n' every equally ladled with some subtle lyrical flourishes and guitar weavery.
No slouches by Grand Canyon stretches but the way they effortlessly shrug these songs off like an old jacket just adds to its immense status as a sweltering' slab of natural soul sound.
http://louderthanwar.com/lee-bains-iii-the-glory-fires-there-is-a-bomb-in-gilead-album-review/
PASTARUN MUSIC – [Interview] Lee Bains III & The Glory Fires
After sharing Lee Bains III and The Glory Fires' rootsy southern rock with you guys last week, I got the awesome opportunity to ask Lee Bains III a few questions. His responses are better than any intro I could give so I'll let you guys have at it. If you didn't check out our Artist Introduction for these guys, listen to "Centreville" to get a feel for their sound.
PRM: What got you into playing music? Was your family influential, or did you have a musician who you looked up to as a child? When did you make the decision to pursue music as a career?
Lee Bains III: I grew up in somewhat of a church music family. My grandmama was a Methodist choir director for 70 years, believe it or not, and my granddaddy was a tenor soloist at the church. So, I started singing with them, and in choirs from the time I was four, probably. My mama plays the piano really well, and had me taking piano lessons. Running concurrently with all that, my two older brothers and my daddy were really into rock n'roll, so that s what we listened to all the time. My daddy was, and is, really into the Allman Brothers, Skynyrd,  60s soul, early  70s R&B, Outlaw country, the Stones. And my brothers got me into Sabbath, AC/DC, Blue Oyster Cult, Public Enemy and NWA, and later Black Flag, the Replacements, the Ramones, Blue Mountain, the Old 97 2s, etc. You know, I m not sure if I m meant to play music as a career, per se, or not. When I was about 21, I decided to make playing in bands my priority. I guess what that has meant for me is that I work jobs that will let me off to play shows, and I try to be frugal. Mostly it means that, when it comes to music, I don t make creative or ethical decisions with a financial goal anywhere in mind. I would rather work random jobs and make the music I fully believe in than make a living playing music I don t.
PRM: Lee Bains III & the Glory Fires takes on some of the same southern rock sounds that the Dexateens did. What led you to start your own band, and what are some new influences and sounds unique to your work with the Glory Fires?
Lee Bains III: Well, I d had my own band, called Arkadelphia, prior to joining the Dexateens in 2008. I kept the two going at the same time for a while, but the Dexateens wound up playing so much that I couldn t play with Arkadelphia very often. Then, Arkadelphia s bass player Justin moved to Huntsville, Alabama, and that was the nail in the coffin. But, anyway, when the Dexateens pretty much quit playing in 2010, I immediately started putting another band together around a batch of songs I d written. Justin had moved back from Huntsville at that point, and we got Blake and Matt onboard shortly after that. I mean, I was really into the Dexateens when they asked me to jump in on third guitar. They were my favorite band, really.
PRM: Both Lee Bains III & the Glory Fires and the Alabama Shakes bring some Southern roots rock, and have been recipients of very high praise. Did their recent explosion onto the music scene help you guys or did you guys learn anything from their rise to fame? And what was it like touring with them?
Lee Bains III: Well, you re kind to say we ve been recipients of high praise! The Shakes definitely helped us a lot by asking us to go on that tour with them. On that tour, we played in cities we d played before, but to crowds many times the size we d ever seen. I mean, I ve gotten pretty accustomed to playing New York in front of 15 or maybe 30 people. But with the Shakes, we got to play in front of hundreds. It was the most fun tour I ve ever been on, for sure. The Shakes are really great people, and the folks at the shows got there early enough to see us and were curious to see what we were about. That s absolutely as much as you can ask for as an opening band.
PRM: Your personality really comes through in your music and performance. I ve been impressed that on your first album you were able to create an identity, and convince fans of your earnestness with your performance. With the larger crowds you saw with the Alabama Shakes were you intimated at all? (a few hundred people would shake me a bit compared to 30).
Lee Bains III: Man, even though this is this band s first album, I ve been writing and performing music for quite a while with different people, and have played a lot of shows in different places and venues. I ve worked really hard, and right now am pretty confident in who I am as a writer. Granted, I hope that understanding and confidence continues to deepen and evolve over my lifetime, but I m pretty comfortable with myself as a songwriter and musician. And it s funny you mention playing to big crowds, but playing to a small crowd is far more intimidating to me than a big one. When there are a ton of people watching a band, the folks in the crowd tend to be less self-conscious and have more fun. But it s pretty awkward playing a show when the people on the stage outnumber the people on the floor. It s times like those that I have to remember why I play music: because I ve always loved playing music with other people, whether it s on my porch, or in a garage, or on a stage.
PRM: Being featured on Rolling Stone is one thing, but you also were compared to a second coming of Creedence. Is CCR a big influence in your music? How did you react to the comparison?
Lee Bains III: To be honest, CCR isn t an influence at all, so that was kind of funny to read. But, I love a lot of the music that I m sure those guys listened to. They strike me as a take-off on a lot of the  60s Southern soul and swamp pop stuff that was happening at the time, as well as Buddy Holly, etc. And I love most all of that stuff.
PRM: PastaRun Music has a lot of followers in the Northeast, can we expect some shows in our neck of the woods anytime soon?
Lee Bains III: Hell yeah! We ll be up there in late summer/early fall.
http://pastarunmusic.com/category/folk/country/
THE FIRE NOTE (online music site)– Positive album review with album art and related links
Lee Bains III & The Glory Fires: There Is A Bomb In Gilead
Alive Natural Sound Records [2012]
Fire Note Says: Lee Bains III & The Glory Fires rekindle a classic Southern style of rock on their solid debut There Is A Bomb In Gilead.
Album Review:
Right from the monstrous Southern flare in opening track "Ain't No Stranger" you get an excellent sample of what the debut from Lee Bains III & The Glory Fires is going to bring. The group hails from Alabama and their debut There Is A Bomb In Gilead is a nice mix of roots rock, R&B, garage and a tiny bit of punk attitude that gives it swagger.
The band offers up big rousing rockers like "Centreville", Southern anthem sing alongs such as the chanting "Magic City Stomp!" and even a cool R&B flavor on the grooved "Everything You Took". All of these tracks benefit from the quality song writing of Lee Bains III, as his New York college studies of literature seemed to pay off while his likable small country twang to his vocals make you feel right at home. This Southern charm runs through the entire record right up the swaying closing title track.
Lee Bains III & The Glory Fires present a very confident debut with There Is A Bomb In Gilead that does not really break any new ground but rekindles a Southern style of rock for a new generation that has been popularized in the past to the masses by likes of The Allman Brothers and The Black Crowes. What makes Lee Bains III & The Glory Fires stand out is that this record comes off with such ease that it is an easy listen which gets more addictive upon repeat listens and is a possible template for a bright future.
Key Tracks: "Ain't No Stranger", "Magic City Stomp!", "There Is A Bomb In Gilead"
Bands With Similar Fire:
Alabama Shakes
The Allman Brothers
The Dexateens
http://thefirenote.blogspot.com/2012/06/lee-bains-iii-glory-fires-there-is-bomb.html
LONDON MUSIC BLOG– Positive album review with album art and related links
Lee Bains III & The Glory Fires – There is a Bomb in Gilead (Alive Records)
Before listening to  Lee Bains III and Glory Fires' debut album, There Is A Bomb In Gilead, I was informed that they hail from the Deep South of the good ol' USA and their sound was southern rock. This was all I needed to know to intrigue and excite me. A cornerstone of my musical education growing up was a number of long family car journeys listening to a classic southern rock and blues albums. I'll never forget early encounters with artists such as The Allman Brothers, Lynyrd Skynyrd, Canned Heat and Creedence Clearwater Revival. The southern iconography and vivid imagery these bands lyrics conjure combined with the bluesy/country rock certainly typify the sound of the deep south to me.
Having some knowledge and appreciation of the musical heritage of the south and southern rock I excitedly pressed play for my first listen of There Is A Bomb In Gilead….but it just didn't really grab me by the balls. It wasn't what I'd expected from a Deep South rock band. If you read any of the blurb that I did, it is easy to be bombarded in to mistakenly pigeon holing Lee Bains III and The Glory Fires as old fashion southern rock.  All of the members have roots in the south, and the band is based in Birmingham, Alabama. The album was recorded in Water Valley, Mississippi and even the name of the record owes to the colloquialism of the south; as a child Bains mistakenly heard some elders refer to an old gospel hymn There Is A Balm In Gilead. Due to their southern accents it sounded like 'There is a bomb' and the line clearly stuck with Bains.
Shedding my expectations, the second listen was far more enjoyable. Southern rock centric this may be, but this is southern rock in a different time and with a different perspective to the forefathers who defined the genre. It is an album of more than just southern rock; blues, country, soul, gospel and punk are all audible here.
Ain't No Stranger kicks the album off with a genuine rock and roll bang. The pulsating and catchy Centreville follows with nuances of The Strokes and The Hives about it without straying from The Glory Fires' own distinctive sound. Being a huge Rolling Stones fan I can't help but tip my hat to them for Magic City Stomp and their use of 'I can't get no satisfaction'. Although there is rock 'n' roll energy throughout, the ballads of Reba and Righteous, Ragged Songs certainly aren't weak links. Opelika is country and bluesy jaunt that comes as close to Creedence as anything on the album while the stripped back title track and Roebuck Parkway will both have you reaching for the repeat button. Production does feel a little rough in places but this is surely intentional as it helps give an honesty to the record that many bands strive and fail to manufacture.
Bands and music from the south have always been prominent in popular music. Modern day greats such as REM and Kings of Leon are testament to this and Lee Bains III and The Glory Fires certainly have potential. This is a genuine album that demonstrates song writing craft of intelligence and humour. Only time will tell where they settle among the pantheon of deep-south greats, but this is definitely an accomplished start.
http://www.thelondonmusicblog.co.uk/lee-bains-iii-the-glory-fires-album
REVERBERATIONS– Positive album review with album art and related links
Lee Bains III & The Glory Fires – There is a Bomb in Gilead (Alive Records)
Lee Bains III is the prodigal son, raised on the Good Book Jesus, corrupted by punk-rock and working out his own adult reconciliations between the two. It's the blessing and curse of being Southern. From Jerry Lee Lewis to Tyler Keith (Preacher's Kids), and all the way back to Robert Johnson, artists, black and white alike, have been torn between Saturday night and Sunday morning; ever since moonshine and lusty women first presented a challenge to the Christian life. Crap – that was probably in the fifth Century; in southern … France, or somewhere.  Hell, I'd have to get out my History books. Like I say, it's nothing' new. Bains and his Alabama boys, the Glory Fires, aren't reinventing the wheel, just grinding the sucker. And it yields a great ride.
Even if there's nothing new under the sun, each generation and every new artist has the opportunity to put its and his or her own spin on the eternal conflicts. On There is a Bomb in Gilead, the Glory Fires debut, Bains brings the sensibilities of a literary education to his talks with Jesus and his hallelujahs to Joey Ramone. I don't say this just because he makes literary references, like the one to Walker Percy ("go ahead take my Walker Percy, go ahead and take the t-shirt by brother got when he saw the Ramones"), but because his melancholy and moral musings are offspring of Faulkner and O'Connor's world. "Everything You Took," the ditty with the Percy/Ramones lyric, establishes the artist's lifestyle essentials: rock 'n' roll t-shirts and books. And essential they may as well be since he's losing his gal. He's clearly hanging on to a thread, clinging to "every little hope that you give me." But the lady sounds to me like she's moved on.
The singer's wrestling with virtue resounds in "Ain't No Stranger," rhyming contrition and perdition, by God – and reminding the almighty that he may be prodigal, but he' s "no stranger." Bains and lead guitarist Matt Wurtele slash through the Willie Mitchell groove with guitars that are more Keith Richards and Ron Asheton than anything Memphis or Muscle Shoals. "Centreville" sustains the rocking pace. It's Skynyrd after the Pistols (and Some Girls), Bains spitting out lyrics about guys who are "over educated and under-employed." Perfect, it captures the new Birmingham, or hell – Boston, as the United States becomes the new Spain. Imagine Tony Joe White amped up and all pissed off. That's what Bains sounds like on "Centreville."
Bains works his connection to the lords of the garage in "Righteous, Ragged Songs" ('say a prayer for punk rock, and say a prayer for me') like a man who  believes that there just might be some soul saving potential in the  devil's music, music, like gospel, that can surely be righteous and ragged. The Dixie-punk of "Red, Red Dirt of Home" neatly paraphrases country classic (you know, "Green, Green Grass of Home, the Curly Putnam Jr. warhorse recorded by Porter Wagoner, Bobby Bare, Tom Jones and your cousin Daryl); akin to a digital age version of "The  Letter," Bains reflects on having his "momma and daddy on speed dial." Wurtele's "Honky Tonk Women" guitar carries him home. Here, Bains effortlessly strikes the Southern grit and groove that John Hiatt labors to achieve.
Simmering laments like "Reba" and "Choctaw Summer" rock country like country rocked before it became the fucking Eagles with fiddles. I hear the ghost of real, honest to God country singers like John Anderson in these tunes. But I also hear a band that sounds like they just might have listened to a Richard Thompson record or two. "Roebuck Parkway," waxes nostalgic for a childhood idyll, and features some flat lovely acoustic picking. Wurtele breaks out some Wayne Perkins style licks for "Opelika," Bains slyly referencing Johnny and June's "Jackson" as he locates the boys position ('3,000 miles east of L.A., 1,000 miles south of N.Y.C.').
"Magic City Stomp" is probably more fun live. It's a chant wrapped in an instrumental workout that's as much MC5 as it is M.G.'s. In the context of the album it sounds like filler, or a fun b-side.
The title cut references a youthful malapropism of Bains' (he heard the gospel soother "Balm in Gilead" as "Bomb in Gilead" as a churchgoing kid). The Glory Fires strip things down to simplicity and soul. Bains stretches out phrases, wringing out nuance like the great soul stirring singers. There are some fine singers operating in the Southern (garage) rock idiom (the twin sons of the Oblivians, Jack Yarber and Greg Cartwright come to mind – Patterson Hood, too), but few make you think – damn, I could listen to this son of a gun sing James Carr and O.V. Wright songs.
Produced by Bains and Lynn Bridges in Water Valley, Mississippi, Gilead was mixed by the Jim Dickinson of Detroit garage-rock, Jim Diamond, at his Ghetto Recorders. In this instance, the locales speak volumes. This is rock 'n' roll from the South, dirty and distinguished, polished (but not too much) to a Motor City shine. Fresh, soulful, assured, There is a Bomb in Gilead is a damn fine debut from Lee Bains III and the Glory Fires.
Oh, I didn't work in references to bassist Justin Colburn and drummer Blake Williamson in graceful rock critic style. They kick ass.
Reverberating: 8.6
http://stevemahoot.blogspot.com/2012/05/lee-bains-iii-glory-fires-there-is-bomb.html
AL.COM– Positive Tuscaloosa show preview with band photo and related links.
Rip-roaring Lee Bains & Glory Fires to rock Tuscaloosa
You better catch Lee Bains III & The Glory Fires while you can at venues like Green Bar and Egan's.
By Ben Flanagan, al.com
TUSCALOOSA, Alabama — While the Tuscaloosa Amphitheater, Bama Theatre and other venues in town occasionally bring in marquee acts, the Druid City still serves as a ground where you must catch up-and-comers before it's too late.
Not that you won't get other opportunities to see these musicians live in the future, Tuscaloosa venues let you see them in intimate, closer-knit settings that make the experience all the more special (and face-melting).
Lee Bains III & The Glory Fires got a nice shoutout in the latest issue of the pre-eminent rock magazine Rolling Stone, which made note of their song "Opelika." A reviewer said the song "choogles like the second coming of Creedence." That's high praise.
Bains and his band have toured with The Alabama Shakes and continue to dig their boot heels into the rest of the region. Tonight, they plan to rock Green Bar in downtown Tuscaloosa, along with 13ghosts. Don't miss it. [Learn more about The Glory Fires' new album, "There is a Bomb in Gilead]
http://www.al.com/entertainment/index.ssf/2012/05/rip-roaring_lee_bains_glory_fi.html
ROLLO & GRADY (Los Angeles-based music site) – "Everything You Took" download with band photo and related links.
http://www.rollogrady.com/lee-bains-iii-there-is-a-bomb-in-gilead/
MOD MOBILIAN (Mobile, AL A&E site) – Show preview with photo and Centreville audio stream.
Alabama Music Box & Mod Mobilian Present
Lee Bains III and the Glory Fires (Birmingham)
with Nightmare Boyzzz (Muscle Shoals)
Mod Mobilian Presents is a music concert series presented in conjuction with Alabama Music Boxwith the goal of exposing Mobile audiences to new Southern bands – from Austin to Nashville to the Carolinas to Jacksonville.
Just off tour with Alabama Shakes, former Dexateen and Arkadelphia member Lee Bains III & the Glory Fires bring the Southern Rock along with Muscle Shoals' powerpop punk Nightmare Boyzzzz.
Video is from Birmingham's recent Secret Stages with the Glory Fires and Nightmare Boyzzz playing at Rogue Tavern
http://modmobilian.com/2012/05/23/ambmm-presents-lee-bains-iii-the-glory-fires-nightmare-boyzzz-at-amb-524-secret-stages-vid
MOD MOBILIAN (Mobile, AL A&E site) – Positive review.
Lee Bains III & The Glory Fires
by Wess Floyd
I first heard the name Lee Bains was back in the days of MYSPACE – remember, if you wanted someone to hear your music or book a show you just directed them there. I can't remember who "friended" who – BUT at some point I started trading emails with a guy named Lee in a band from Birmingham called Arkadelphia.
After the long struggle to get my first full length released, the time came to play some shows. And my own foothold in the old home state meant I wanted to play shows in B'ham…and you need get bands in the area to trade shows with and work together.  A lot of life long friendships were born on the road.  One that I truly cherish is my friendship with Lee Bains III.
The first show the Daisycutters and I played with Arkadelphia was at Speakeasy in downtown Birmingham (a stones throw from the Alabama Theater). This little 3 piece Rock and Soul band got up and ripped my 5 to 6 piece band, everyone in the crowd, and the venue itself a new exit. Lee sang a song called "Walker County Loathing" and I literally had to pick my jaw up off the ground…it was equal parts Al Green, Alabama, and Black Flag.
As the months past I went to hear the Tuscaloosa legends The Dexateens at the Basement here in Nashville. As an Auburn grad, the sight of hounds-tooth makes me un-easy, but for some reason it looked a lot more "Bad-Ass" as the grill cloth on a Fender Twin than it ever did sitting on top of a drunk frat-boy/sorority-girl's head. There was a familiar face (and old school-70's Auburn belt-buckle) on the other guitar player – it was Lee Bains III. Completely free of having to hold it down in a 3 piece, Lee unleashed a sonic assault of lead guitar lick that recalled Dwayne Allman & Johnny Thunders all at the same time. If my respect for the man could have gone more – it did that night.
Time, miles, money, and age is not easy on struggling Rock and Roll bands. It was not kind to the Dexateens, Arkadelphia, or my "Blood Sworn Enemies" era Dasiycutter line up. But I started to hear rumbling of Lee's new project "The Glory Fires" – and I began to get excited. I had worn out the unreleased "White Whale" recordings by Arkadelphia…and anything Lee touches pretty much turns to Rock and Roll.
As the tracks began to leak out on ALIVE Records' Soundcloud page, and I caught a couple of shows – I only got MORE excited. Surely, the actual record could not live up to my own expectations. There is a Bomb in Gilead is a spiritual, carnal explosion of Punk, Rock & Roll, Soul, and Gospel that grabs you by the throat and forces you to convert at the tip of the sword.
Lee and the Glory Fire boys have manage to transcend even the long shadow The Dexateens cast. This is not a record by a former member of a great southern rock and roll band. This is a record BY a Great Southern Rock and Roll Band! Each track takes the best parts of growing up inAlabama and pours it into an unrelentingly joyous record. It is dripping with sweat, and it's hands covered with the "Red, Red Dirt of Home." It's the musical equivalent to a greasy Barbeque sandwich at Byron's on Opelika Rd. It's a rural A.M.E. church service you attend with both William Faulkner and Ronnie Van Zant.
Wess Floyd originated in Dothan and, after a spell in Auburn, now plays in Nashville.  He and his bands have recorded 3 albums and an EP – the most recent being Foxhole Confessions. He played at Mobile's SouthSounds Music Festival (see the video here). Read more by Wess on his blog.
http://modmobilian.com/2012/05/23/wess-floyd-on-lee-bains-the-glory-fires/

SYDNEY MORNING HERALD (Syndey, AU daily) –Brief positive review… in their Sports section!
IF YOU'RE NOT PLAYING SPORT YOU SHOULD BE LISTENING TO …
There is a Bomb in Gilead: Lee Bains III & The Glory Fires. Drag The Stooges through some deep-south barbecued-pork spare ribs, a gospel church and put a ten-gallon hat on its head, and this is what you get.- Ears McEvoy