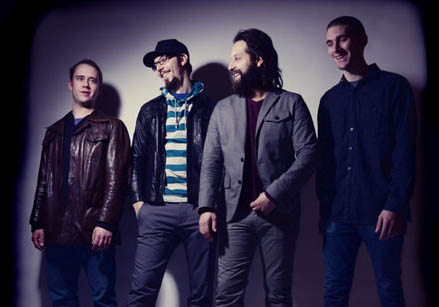 It started out as live tribute last November. Lenny Kaye, Arto Lindsay, Voidoids' Ivan Julian and others convened at NYC's Bowery Electric to pay homage to the late, great Lou Reed. The Queens-based roots-rock band Hollis Brown were also invited to perform the Velvet Underground's 1970 album Loaded in its entirety.
What began as live memorial to a fallen legend has now been preserved on wax for the ages. Hollis Brown Gets Loaded finds the foursome turning in earthy studio takes on all 10 of perhaps the VU's most accessible tracks. From the cocky strut of classics such as "Sweet Jane" and "Rock & Roll" to the lovely balladry of "New Age," "I Found A Reason" and the pile-driving rock of "Head Held High," Hollis Brown pays tribute to this time-honored album with takes that don't stray too far from the originals, yet still unfold as beautiful new songs with their own unmistakable rootsy approach. And not unlike the running order of the tracks – which goes from last to first, opening with "Oh! Sweet Nuthin'" and closing with "Who Loves The Sun" – this is one great young NYC rock band putting a refreshing new spin on, arguably, the greatest of NYC rock bands.
Hollis Brown Gets Loaded will be available at independent record stores from coast-to-coast on April 19th as a Record Store Day exclusive on hand-mixed three-color starburst vinyl.
HOLLIS BROWN GETS LOADED TRACK LISTING:
1 Oh Sweet Nuthin'
2 Train Round The Bend
3 I Found A Reason
4 Lonesome Cowboy Bill
5 Head Held High
6 New Age
7 Cool It Down
8 Rock & Roll
9 Sweet Jane
10 Who Loves The Sun
HOLLIS BROWN (photo: Shervin Lainez)
HOLLIS BROWN US & EUROPE TOUR DATES:
3/06 Asbury Park, NJ @ The Saint
3/07 Cleveland, OH @ Beachland Ballroom
3/08 Columbus, OH @ Woodlands Tavern
3/09 Louisville, KY @ The New Vintage
3/15 Austin, TX @ NFT Showcase SXSW
5/26 Philadelphia, PA @ Gloria Dei Old Swedes Church
5/29 Heerleen, NE @ Nieuwe Nor
5/30 Den Haag, NE @ Supermarkt
5/31 Norderstedt, DE @ Waldbuhne Stadtpark
6/02 Eindhoven, NL @ Meneer Fritz
6/03 Birmingham, UK @Hare and Hounds
6/04 Newcastle, UK @ The Cluny 2
6/05 Nottingham, UK @ The Maze
6/06 Liverpool, UK @ Zanzibar
6/08 London, UK @ Garage Upstairs
6/10 Lille, FR @ El Diablo
6/11 Paris, FR @ La Mecanique Ondulatiore
6/12 Tulle, FR @ Des Lendemains Qui Chantent
6/17 Bern, CH @ Rossli
6/19 Vignola, IT @ Stones Cafe
6/20 Ferrara, IT @The Secret Garden Festival
6/23 Zurich, CH @ Bar Rossi
6/25 Krefeld, DE @ Kulturrampe
6/26 Moorslede, BE @De Nodige Deugd
6/27 Berlin, DE @ Bassy Club
6/28 Lauchammer, DE @ Real Music Club
6/29 Groningen, NL @Vera
HEAR'S WHAT PEOPLE HAVE BEEN SAYING ABOUT HOLLIS BROWN:
Hollis Brown make music that sounds just as alive today as it would've in 1966 and will 40 years from now. – SPIN
Through this consistently impressive first long player, Hollis Brown have carved out their own space with a set of timeless, rustic and eminently tuneful and soulful sounds. – SHINDIG!
It's easy to see how Hollis Brown's sound could be as relevant years down the road as it is today. – PASTE
Packed to the brim with sterling songs that measure up to those covers they're so fond of playing live. – KUT RADIO /AUSTIN
Their well-crafted songs are rooted in the blues and feature pop hooks that sink in and don't let go. – CMT
"Ride On The Train" is the group's debut full-length album, and it's a gem, full of memorable songs and a sharp, taut sound that only includes what is necessary to put the song over. – ALL MUSIC
Everything you'd expect from a band named after a Bob Dylan tune, mixing Americana and Bible Belt blues with a heavy dose of no-frills Southern rock. – AMERICAN SONGWRITER
A bracing mixture of something akin to blues-based Southern rock and pure British Invasion-influenced pop. – WHEN YOU MOTOR AWAY
Like a refined version of the late '60s era rock and roll that sort of trembles into '70s rock / folk /country territory. – MUSIC SAVAGE
"Ride On The Train" is an album that a lot of people are going to love for its multi-generational appeal. But besides that, it's just good rock music. It's hard to peg a specific sound on it. There are no "skip" songs on this album though. Be prepared to keep it in your player, on repeat, for a long time. – EAR TO THE GROUND
A remarkable debut from a band that shows a lot of promise. – PENNY BLACK MUSIC
Their debut is something to behold. – HEAR YA
Hollis Brown conjures a dozen things I've liked or loved from the last 30 years. But it sounds exactly like no one else. – BLURT
A band that's a little bit classic pop, a little bit Americana and a whole lot of sweet rock n' roll. – PULSE MAGAZINE
FOR MORE INFO ON HOLLIS BROWN:
http://hollisbrown.com
FOR MORE INFO ON ALIVE RECORDS:
http://www.alive-totalenergy.com
FOR MEDIA AND INTERVIEW REQUESTS:
Tony Bonyata
Pavement PR
p: 262.903.7775
e: tony@pavementpr.com
https://pavementpr.com