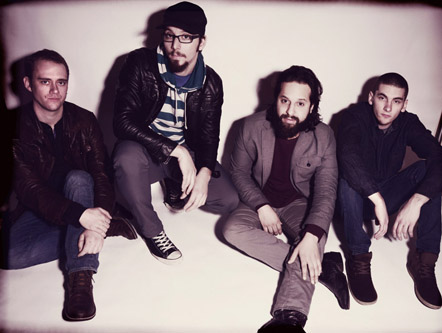 Taking queues from classic pop, rock'n'roll, and Americana, Hollis Brown combines raw rock sensibilities with sweet melodies and hearfelt lyrics to create a rich, warm sound that can fill any room. Principal songwriters Mike Montali (vocals) and Jon Bonilla (lead guitar) grew up listening to the classics. These native New Yorkers were born in the late '80s when the city was identified by its grit, passion and authenticity. The combination of an urban upbringing and throwback musical influences of traditional blues contributed heavily to the band's sound. However, contrary to most blues-influenced bands, Hollis Brown leans heavily toward melodic pop as well. You'd be hard-pressed to find a Beatles song these boys don't know by heart, and you can hear it in the music. Classic rock with a New York state of mind, Hollis Brown is a throwback to an era when music felt fresh, songwriting was revered and performances routinely inspired.
HOLLIS BROWN SUMMER 2013 TOUR DATES:
August 3 @ Midd Summer Festival – Middlebury, VT
August 22 @ Rumba Cafe – Columbus, OH
August 23 @ Tonic Room – Chicago, IL
August 24 @ Dog Dayz Afternoon Fest – Neenah, WI
August 26 @ Crunchy Frog – Greenbay, WI
August 27 @ 1st Ave & 7th St Entry – Minneapolis, MN
August 29 @ MOTR Pub – Cincinnati, OH
August 31 @ Paper City Music Fest – Chillicothe, OH
HERE'S WHAT PEOPLE HAVE BEEN SAYING ABOUT HOLLIS BROWN'S RECENT ALBUM RIDE ON THE TRAIN:
Hollis Brown make music that sounds just as alive today as it would've in 1966 and will 40 years from now. – SPIN
Through this consistently impressive first long player, Hollis Brown have carved out their own space with a set of timeless, rustic and eminently tuneful and soulful sounds. –  SHINDIG!
It's easy to see how Hollis Brown's sound could be as relevant years down the road as it is today. – PASTE
Packed to the brim with sterling songs that measure up to those covers they're so fond of playing live. – KUT RADIO /AUSTIN
Their well-crafted songs are rooted in the blues and feature pop hooks that sink in and don't let go. – CMT
Ride On The Train is the group's debut full-length album, and it's a gem, full of memorable songs and a sharp, taut sound that only includes what is necessary to put the song over. – ALL MUSIC
Everything you'd expect from a band named after a Bob Dylan tune, mixing Americana and Bible Belt blues with a heavy dose of no-frills Southern rock. – AMERICAN SONGWRITER
A bracing mixture of something akin to blues-based Southern rock and pure British Invasion-influenced pop. – WHEN YOU MOTOR AWAY
Like a refined version of the late '60s era rock and roll that sort of trembles into '70s rock / folk /country territory. – MUSIC SAVAGE
Ride On The Train is an album that a lot of people are going to love for its multi-generational appeal. But besides that, it's just good rock music. It's hard to peg a specific sound on it. There are no "skip" songs on this album though. Be prepared to keep it in your player, on repeat, for a long time. – EAR TO THE GROUND
A remarkable debut from a band that shows a lot of promise. – PENNY BLACK MUSIC
Their debut is something to behold. – HEAR YA
Hollis Brown conjures a dozen things I've liked or loved from the last 30 years. But it sounds exactly like no one else. – BLURT
A band that's a little bit classic pop, a little bit Americana and a whole lot of sweet rock n' roll. – PULSE MAGAZINE
CLICK HERE TO LISTEN TO & SHARE HOLLIS BROWN'S SONG "DOGHOUSE BLUES" FROM RIDE ON THE TRAIN
Hollis Brown's Ride On The Train is available now in all formats. Limited Edition Color Vinyl available through Bomp-mailorder.
FOR MORE INFO ON HOLLIS BROWN:
http://hollisbrown.com
FOR MORE INFO ON ALIVE RECORDS:
http://www.alive-totalenergy.com
FOR MEDIA AND INTERVIEW REQUESTS:
Tony Bonyata
Pavement PR
p: 262.903.7775
e: bonyata@wi.rr.com
https://pavementpr.com