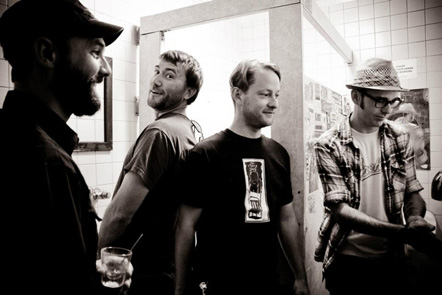 Bradenton, Florida's Have Gun, Will Travel have a natural instinct for combining folk, pop, rock and classic country influences to create a sound all their own. "Their music has a great energy to it with infectious, sing-along choruses and refrains" remarked NPR's Robin Hilton. American Songwriter called HGWT's music "organic, infectious Americana Pop. Their music has a refreshing immediacy to it."
Over the course of three acclaimed albums, hundreds of shows and copious populist-radio airplay, they've nurtured a tradition of inviting all manner of gifted musicians to join the fray. The group's inclusive nature allows it to flesh out tunes that run the gamut from foot-stomping front-porch spirituals and evocative Texas swing to strum-punk rave-ups, hill-country historicals and more.
HGWT's music has been featured in a national Chevy TV commercial; multiple episodes of the PBS series Roadtrip Nation; and an episode of CBS's The Good Wife. Their previous albums have spent months on the CMJ Radio Top 200 chart. And their live performances have been described as rousing, rollicking, energetic and dynamic.
The band's highly anticipated, fourth full-length album Fiction, Fact or Folktale? will be available September 10th on CD and digital formats through This Is American Music. The album was mixed by HGWT's own Scott Anderson and mastered by Rodney Mills (Allman Brothers, Lynyrd Skynyrd, Drive-By Truckers).
CLICK HERE TO DOWNLOAD & SHARE HAVE GUN, WILL TRAVEL'S NEW SINGLE "STANDING AT THE END OF THE WORLD"
Turns out that music isn't the only thing Have Gun, Will Travel are passionate about. The band recently partnered with Tampa's award-winning Cigar City Brewing to create their own craft beer inspired by their unique tastes in both music and brew. Their High Road Ale (a pale ale with a hint of citrus, and named after their song "High Road" from their new album Fiction, Fact of Folktale?) recently won the National Grand Championship at the United States Beer Tasting Competition in the Pale Ale category. Not bad for a bunch of beer-loving musicians.

HAVE GUN, WILL TRAVEL TOUR DATES:
09/13 – Miami, FL @ Will Call
09/14 – Lake Worth, FL @ Bamboo Room
09/27 – Columbus, GA @ The Loft
10/03 – Sullivan's Island, SC @ Home Team BBQ
10/05 – Gainesville, FL @ High Dive
10/18 – Tampa, FL @ New World Brewery
[more Fall 2013 tour dates to be announced soon]

FICTION, FACT OR FOLKTALE? TRACK LISTING:
1. Standing at the End of the World
2. Trouble
3. High Road
4.The Places
5. The Show Must Go On
6. Another Fine Mess
7. Silver and the Age of Opulence
8. Finer Things
9. Fairweather
10. Take Me Home, Alice
FOR MORE INFO ON HAVE GUN, WILL TRAVEL:
https://www.facebook.com/hgwtmusic
FOR MORE INFO ON THIS IS AMERICAN MUSIC:
http://thisisamericanmusic.com
FOR MEDIA AND INTERVIEW REQUESTS:
Tony Bonyata
Pavement PR
p: 262.903.7775
e: tony@pavementpr.com
https://pavementpr.com