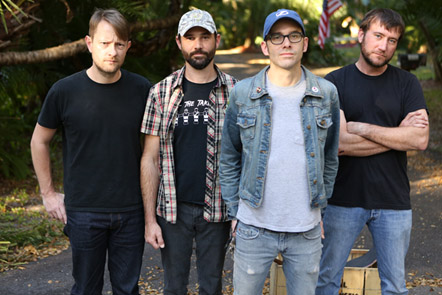 CLICK HERE TO WATCH THE PREMIERE OF HAVE GUN, WILL TRAVEL'S NEW "TRUE BELIEVERS" VIDEO VIA DIFFUSER.FM!
On July 31, Florida's Have Gun, Will Travel will celebrate the release of their fifth studio effort, Science From an Easy Chair, via This Is American Music. The new disc is a concept album, based entirely on British explorer Sir Ernest Shackleton and his Imperial Trans-Antarctic Expedition of 1914-1916, and today (July 14), Diffuser is thrilled to partner with the roots rockers for the unveiling of the music video for "True Believers" — check it out above.
With the musical sensibility of Old 97′s and the lyrical prowess of Lucero, Have Gun, Will Travel paint a mesmerizing picture with the new song and its accompanying visuals (that seem to perfectly match the concept of the record).
"'True Believers' is a song about perseverance. It's about endurance in the face of adversity," frontman Matt Burke explains. "While the video is a salute to Shackleton and the crew of the Endurance, the song itself is very personal and relevant to the band."
Have Gun, Will Travel have several dates scheduled throughout the next few months, so make sure to catch them on the road when they come through your city. And if you like what you hear with "True Believers," we feel confident you'll quickly fall in love with Science From an Easy Chair; pre-order the album on CD and digital formats, as well as white vinyl, here.
Have Gun, Will Travel, 'True Believers' – Video Premiere | http://diffuser.fm/have-gun-will-travel-true-believers-video-premiere/?trackback=tsmclip