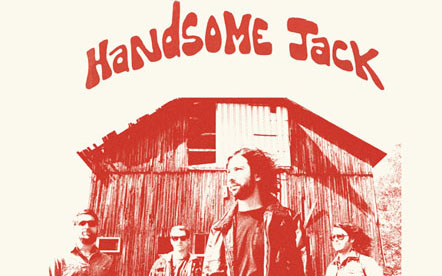 CLICK HERE TO LISTEN TO & SHARE HANDSOME JACK'S NEW SINGLE "ECHOES"
Some people call it a vibe and some people call it a groove. We call it boogie soul. It's the sound of Handsome Jack on their new album Do What Comes Naturally. Produced by Zachary Gabbard of the Buffalo Killers and featuring Bob Nave (of the legendary Lemon Pipers) on Hammond organ, among others, the music of this album seamlessly flows through deep, dark mid-tempo boogies, smoky upbeat burners and soulful feel-good rockers all with a natural ease.
Handsome Jack hails from Buffalo, NY and began as a blues garage-rock band. After high school they moved out of the garage and developed their sound into a natural soulful boogie that remains rooted in raw blues. They've shared the stage with The Sheepdogs, Blue Cheer, Gov't Mule, J. Geils, The Hold Steady and Robert Randolph to name a few.
Handsome Jack's Do What Comes Naturally will be available October 7, 2014 on CD, digital and limited edition colored vinyl through Alive Naturalsound Records.
Tour dates to be announced soon.
DO WHAT COMES NATURALLY TRACKLISTING:
1. Echoes
2. Creepin'
3. Between The Lines
4. Dead Tracks
5. Leave it All Behind
6. Right On
7. Dry Spell
8. Ropes and Chains
9. You and Me
10. Wasted Time
FOR MORE INFO ON HANDSOME JACK:
https://www.facebook.com/handsomejackband
FOR MORE INFO ON ALIVE NATURALSOUND RECORDS:
http://www.alive-records.com
FOR MEDIA & INTERVIEW REQUESTS:
Tony Bonyata
Pavement PR
e: tony@pavementpr.com
http://pavementpr.wpengine.com